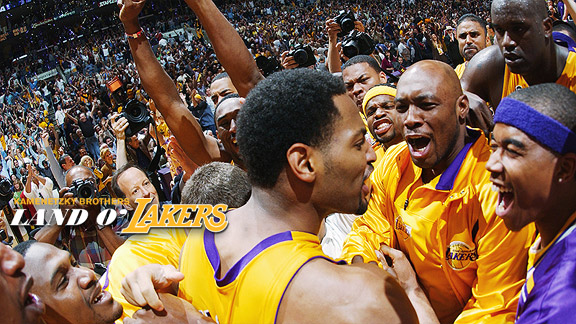 Catherine Steenkeste
Man of the Hour: Robert Horry saved the day for the Lakers in Game 4 of the Western Conference Finals against the Kings with a buzzer-beating triple. The Lakers would win the series in seven. May 26, 2002.
Rick Fox stood on the right sideline, waiting to be handed the ball by the official. The Lakers were 11.8 seconds away from falling down three-games-to-one in the Western Conference finals against the Sacramento Kings.
Fox inbounded to Shaq near the right wing. O'Neal dished left to Robert Horry, who quickly gave it up to Kobe Bryant with about nine seconds remaining. Bryant faced up on Sacto's Doug Christie, then put the ball on the floor, beating him off the dribble with the right hand. He missed a floater in the paint. Shaq, coming off the weak side, grabbed the rebound, but missed what seemed like a near-gimmie at the rim. With time melting away, former Laker Vlade Divac slapped the rock out of the paint.
"I thought the time was going to run out," Divac would later explain.
It didn't.
Instead, Divac unwittingly executed a perfect bounce pass to Horry, who was hanging out at the top of the arc. With a lack of hurry perhaps drawn from his roots in molasses-paced Alabama, Horry reached for the ball, stepped into the shot, rose and launched. "It'll count if it goes," Chick Hearn said over the radio. The roar from the Staples Center crowd left no doubt.
"I wanted the three all the way," Horry, who scored 18 points and added 14 rebounds and five assists, said later. "I stayed right where I could get it. When it came rolling out, it was like, "Oh, look what I got."
Indeed. And look what the Lakers got, too.When Horry's shot fell, it preserved any realistic chance the Lakers had to beat the Kings and advance to the Finals. If he misses, the Lakers face three elimination games. They almost assuredly lose one, and Sacramento advances. The purple and gold never steamroll New Jersey one round later, and the historic, dynastic Threepeat is an impressive- but not iconic- back-to-back.
So indelible was the shot, it was recently voted the top moment in Staples Center history.
"Thank God for Robert Horry," Shaq said. "And thank God his father met his mother, too."
ESPNLA.com and Land O' Lakers are counting down the ten greatest playoff moments in Laker history. Upon completion, fans will be asked to vote on the single greatest moment of all. Previous moments include:
-Shaquille O'Neal's near quadruple-double in the 2001 NBA Finals, Game 2
-Elgin goes for 61 in '62
-Worthy's Game 7 Trip-Dub in 1988
-Kareem's sky hook marks the end of Boston's dominance over L.A.