Since Andrew Bynum suffered the tear in his right meniscus last month in the series clinching game against Oklahoma City, on again/off again performances have been the norm. He opened the series against Utah with a pair of productive games (on), then fell completely off the radar in Games 3 and 4, averaging only three points and 5.5 boards (off).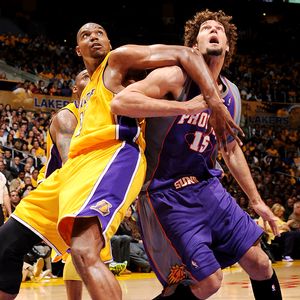 Noah Graham/NBAE via Getty Images
In the battle of starting centers, Andrew Bynum has lagged behind Robin Lopez. Should Phil Jackson sit him down Tuesday night?
In Game 1 against Phoenix, Bynum logged a mere four points and four boards in 19 minutes (off). He followed that with 13 points and seven boards on a perfect five-of-five from the floor in Game 2 (on).
Sunday night, though, had to mark his low point for the postseason. Two points, two rebounds, and four fouls in eight minutes. He picked up his second foul three minutes into the first quarter, his third three minutes into the second, and his fourth barely a minute into the third. (As C.A. Clark of Silver Screen and Roll put it, "Travis Knight thinks that's awful.") As a result, L.A.'s rotations were scrambled from the start, a problem only exacerbated by Lamar Odom's foul trouble.
After the game, Phil Jackson said he's considering resting Bynum for Tuesday's Game 4. Bynum acknowledged the weak showing Sunday night, but wants to stay on the floor. "(Sitting out) is not going to do anything," he said. "The surgery is going to do something." Bynum has already made it clear he'll put off any procedure until the end of the season.
I have respect for the way Bynum has approached the injury. He badly wants to contribute to a title run in any way he can. He understands the value of his presence, even if he's not fully able to do what he's otherwise capable of. This isn't about focus or misplaced priorities or anything else for which Bynum has been criticized to this point in his career (save criticisms he's injured all the time). The guy is hurt, needs surgery, and after two years of non/limited participation in deep playoff runs, is trying to give something to his teammates while proving something to himself.
Even Kobe Bryant showed this season discretion can be the better part of valor, but if Bynum begged out or made excuses, it would be a lot worse.
Almost none of the hand-wringing over Bynum is related to the current series with Phoenix, where Drew's presence is more luxury than necessity (though he's hardly incidental), but has everything to do with a potential Finals matchup against the frontcourt heavy, physical Celtics. Memories of 2008 . . . linger. Lakers fans look at Bynum's absence as a major reason L.A. couldn't get over the hump against Boston. This year, things can be different, if Bynum is capable.
So should the Lakers shut him down, and save whatever he's got left for the presumed trip to the Finals?
There's no evidence rest will help Bynum's injury. He had plenty of it between the Utah and Phoenix series, and at least in terms of pain and swelling still admitted the knee was getting worse. On the flip side, we're told playing can't do any more damage from a structural standpoint. It's about pain management, and doing what can be done under the circumstances. Of course, I'm not a doctor. While experience says additional rest may not help, logic says at the very least it can't hurt.
Bill Plaschke of the L.A. Times, while expressing respect for Bynum's desire to play, believes Jackson should sit him down until the Finals. The preservation issues are as much mental as physical:
"...End the charade. Begin his rest. From this point, he will have at least a week off before the start of the NBA Finals. Time won't heal the torn meniscus, but perhaps it will strengthen everything around it, including his spirit, and better prepare him for more important battles ahead. It's a longshot. But it's the only shot the Lakers have. They can't continue shoving their big man on to a court where he grows smaller and smaller. They can't continue allowing him to stumble through a plodding, painful effort of barely seven minutes, which is what happened Sunday here during the Lakers' 118-109 loss to the Phoenix Suns in Game 3 of the Western Conference finals..."
I get the sentiment, but don't agree.
Unless it can be demonstrated that Bynum's condition would truly improve, pulling him out of the lineup could do a lot more damage to his psyche than a few bad games along the way would do. He has invested a great deal in the process of getting out on the floor, particularly given his injury history. Earlier in the playoffs, Bynum said he didn't feel like a veteran despite being in his fifth year because he hasn't accomplished enough as a player.
This, in part, is his attempt to rectify that.
Moreover, while Bynum is clearly is diminished, he's not useless. Even against the Suns, no question a poor matchup for him, Bynum impacts their penetration. He earned the Lakers 13 highly efficient points in only 18 minutes of work in Game 2. He may not be winning the Lakers many games right now, but last night was the first in this series where Bynum legitimately hurt the team's effort.
Let him suit up and do what he can. If he's not playing well, Jackson can sit him down. His minutes and practice time can be managed. I suspect, as Bynum did after the game, floating the idea of shutting him down was as much a motivational tactic as anything.
But if he's going to stay stuck in injury purgatory, unable to heal but not likely to do more damage, let the kid try to play.