The Threepeat era is often remembered as an era of instant gratification. Phil Jackson arrives in 2000. The Lakers capture the title that season, then reel off another two in succession. No fuss, no muss. But the glare of three trophies can blind one from the details. It's easy to forget how dangerously close Shaquille O'Neal and Kobe Bryant came to stalling their arrival as the decade's most dominant duo.
After gaining a 3-1 Western Conference Finals advantage over the highly talented (and even more dysfunctional) Portland Trail Blazers, the Lakers appeared to have turned a corner on their recent history of postseason flame outs. Then came a 96-88 Game 5 loss in L.A. Followed by a 103-93 fall in the Rose Garden. Followed by a Game 7 in which Portland took a 16-point lead after three quarters. A 67-win season appeared to be all for naught. Phil Jackson would go down at the hands of a guy he guided to six rings (Scottie Pippen). Shaq would endure another offseason hearing the critics claim he couldn't lead a team to a title.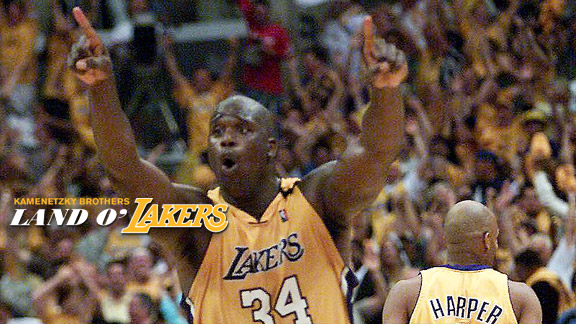 John Mabanglo/AP Photos
Can you dig it????????????!!!!!!!!!!!!
Instead, in keeping with the drama so often defining this franchise, it was merely a dramatic setup for the biggest fourth quarter Game 7 comeback in NBA history, an epic 25-4 run waged on both sides of the floor, with everyone finding a way to contribute.
Brian Shaw drained a pair of three-pointers to help start the party. The Lakers defense hunkered down, denying Portland on ten consecutive possessions and limiting them to just 22 percent from the field during the fourth quarter. Shaq, held in check throughout the game by Portland's double/triple teams, came alive during the final frame with nine points. He also hit a pair of crucial free throws to force a 77-77 tie with 2:44 remaining.
But above all, there was the sequence now synonymous with this victory.
Kobe drives the lane as Shaq drifts towards the basket while signaling for a lob. The alley oop goes up. O'Neal stuffs it down one-handed, then races upcourt, mouth agape, two index fingers out in salute of everyone in his sight line.
These two superstars had spent four years together alternately making each other better and making each other crazy. At this moment, however, their chemistry, mindset and talents were perfectly aligned with one goal in mind.
It was a moment bigger than either of them, and together Kobe and Shaq put the ultimate stamp on a game now legendary in Lakers lore.
ESPNLA.com and Land O' Lakers are counting down the ten greatest playoff moments in Laker history. Upon completion, fans will be asked to vote on the single greatest moment of all. Previous moments include:
-Shaquille O'Neal's near quadruple-double in the 2001 NBA Finals, Game 2
-Elgin goes for 61 in '62
-Worthy's Game 7 Trip-Dub in 1988
-Kareem's sky hook marks the end of Boston's dominance over L.A.
-Horry wins Game 4, Western Conference Finals, 2002