Wednesday afternoon at practice, Phil Jackson repeated one of his favorite expressions about the game, that everything can change "on a trifle." The small things can add up. Little moments turn into bigger ones. The same can be said for playoff runs. On the path to a championship, there are those moments able to turn history if they go the other way. If the Denver Nuggets can get the ball in bounds during last year's Western Conference Finals, or Courtney Lee doesn't blow a layup at the end of regulation in Game 2 of the Finals.
If, if, if...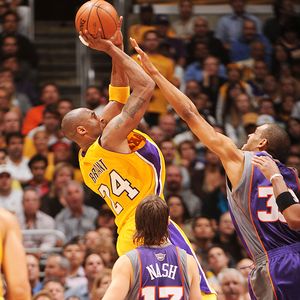 Andrew D. Bernstein/NBAE/Getty Images
If Grant Hill's defense isn't this good, Kobe's buzzer beater wouldn't have been an airball for Ron Artest to gather. What would have happened then?
These are plays more on the massive end of the Jackson Trifle Scale, but even they can, in the course of a 20-plus game playoff marathon, get lost in the fabric of things, obscured by the end result if it comes with a trophy.
The alchemy of dumb luck, dogged play, and fundamental breakdowns can turn a game, a series, and perhaps a run for a repeat. The Lakers saw it Oklahoma City, when Pau Gasol put back a Kobe Bryant miss to end the series at the buzzer in Game 6. Or in Game 3 in Utah, when a Wes Matthews tip in the final seconds didn't fall. And they had another one tonight, when Ron Artest made one of the fastest goat-to-hero swings in basketball history.
After Jason Richardson stunned the Staples crowd with a three-pointer off the glass, tying the game at 101 and finally erasing a Lakers lead as large as 18 points in the third quarter, Lamar Odom stood on the sidelines to inbound the ball. No surprise, he searched for Kobe Bryant, cutting towards Odom at the right wing. Accepting the pass, Kobe rose, thinking he only had to shoot over Steve Nash, with Grant Hill closing.
"I felt I had a good look," Kobe said. "Hill stuck his hand in there at the last second, forced me to double pump. Other than that, I was going to shoot over Steve."
The Lakes should send Hill a nice gift basket, something with a nice pinot and some fancy cheeses, thanking him for not giving up on the play.
If Kobe has a little more space, maybe he gets a better look over Nash. If he does, it's safe to assume he won't shoot an airball. Now maybe he makes it- he is Kobe Bryant, after all- but maybe he doesn't and the game goes into overtime. Who knows what happens then?
Instead, he has to double-clutch the ball falls well short of the rim, into the waiting arms of Artest, who made a layup that one day may end up on this sort of list. Too long, and he draws iron. Too short, and Artest doesn't have time to gather the miss and lay the ball in. Or maybe Artest isn't on the floor at all for the final possession, given his miserable one-for-eight shooting line to that point, punctuated by some horrible decision making along the way, including a pair of ill-advised jumpers within five seconds of each other with about a minute to play in the fourth.
His presence certainly wasn't a foregone conclusion.
"I don't know why I left him in the game," Jackson said after. "I actually questioned it myself when I put him out there on the floor, and there he was. Made the key play."
A 48 minute game is filled with these sorts of moments. Fire up the DVR, and you'll probably find a dozen in the second half alone where a little bit of luck combined with solid fundamentals- Artest, like most of humanity, could have stopped playing when Kobe's shot went up but instead he followed the play- alters the course of action.
Derek Fisher has seen a million of them. "There's always some things that happen you can't or don't plan for when you are out there playing a game. Sometimes the ball bounces funny. A guy shoots an airball, and that changes your ability to get a rebound," he said. "Something happens. A guy's dribble the ball kicks off his foot and somebody picks it up and lays it in. There's a lot of things that happen in the game that you can't necessarily plan for. But the key is to keep playing and keep fighting, not really worrying about... how it looks."
If the Lakers go on to eliminate the Suns, they'll make their third straight Finals. That series will likely contain moments overshadowing this one. Undoubtedly it will have "trifles," lucky bounces, and hidden opportunities of its own, perhaps enough of them to mandate another parade from Staples to the Coliseum. Frankly, if it doesn't the celebration will likely be somewhere on the east coast.
Tonight, though, just as it was in Game 6 against Oklahoma City or Game 3 against Utah (remember how L.A., like Phoenix tonight, was caught ball watching against Matthews?), the Lakers found themselves in the right place at the right time. Perhaps it's something championship teams manage to do?
"It's just amazing," Kobe said. "You go through all this preparation and all this stuff. It comes down to just fundamental things. They knocked down a three-pointer because we didn't box out. They wind up losing the game because they didn't box out. It's just little things like that that are the difference between winning big games and losing them."
I doubt, though, Artest is thinking that hard about it.
"I figured it was going to be short," he said with a shrug and a smile, "And it was a little short."
--Brian Kamenetzky
THE GANG COMES THROUGH
If Game 4 had a theme, it was "Kobe vs. the Suns." Bryant was brilliant, going 15-22 from the floor en route to 38 points to go along with 10 assists, seven rebounds, a steal and a block. But in the fourth quarter when the Suns crowded him and forced the ball in other directions, he didn't get enough support.
Not the case Thursday night.
While Kobe was still strong distributing the ball in the final quarter (three dimes) his shot was off (three-of-nine from the floor, and nary a trip to the line). In the final eight minutes he scored only four points, but the Lakers compensated with production from up and down the roster. There was Artest's unlikely putback, but also a triple from Sasha Vujacic. Derek Fisher hit two clutch jumpers, and Pau Gasol a layup and two key free throws. Lamar Odom had a bucket as well.
13 points from players without any sort of reptilian nickname.
The guy has been Superman, but in the fourth quarter of Game 5, Kobe needed some help. Unlike Tuesday night, he got it.
-BK
SASHA STAYS READY
Phil Jackson mentioned during Tuesday's practice an inclination to give Sasha Vujacic a little more playing time. Considering the guard's role in this series so far, "a little more" is basically "any whatsoever." Heading into tonight's game, he'd clocked a whopping 1:23 of burn. (Even worse, so little time on the court didn't prevent him from picking up an absolutely horrendous foul against Grant Hill as the first half was elapsing.) After missing the opening two postseason series with a severely sprained ankle, Vujacic's already tenuous spot in the rotation had turned non-existent, and over the course of Sasha's career, limited minutes have often resulted in a desperate urge to "produce." Typically, this approach has resulted in rushed shots and avoidable fouls. After a month and change on the sidelines, I'd be lying if I claimed not to be worried about that tendency rearing its ugly head again.
Chalk one up for The Machine.
On both sides of the ball, Sasha's 11:36 of burn were a controlled effort of doing what was needed and nothing more. He drilled a three-pointer after trailing Jordan Farmar on a break, then spotting up to receive a fantastic backward bounce pass as the UCLA product penetrated the lane. His deuce came after making the wise decision to pass up on a trey, instead using a great screen from Lamar Odom to take a few dribbles inside before pulling up. Even better, his pair of misses were simply misses as opposed to bad shots. You can live with the former, but the latter can be deadly.
Defensively, Vujacic was similarly efficient as he hounded fellow Slovenian Goran Dragic without picking up overzealous fouls. Everywhere the rapidly-improving point guard turned, Vujacic seemed to be there waiting. After a game-changing performance just two days ago, Dragic came back down to Earth, accumulating just three points against four personals.
Even better, Vujacic managed to get under Dragic's skin, baiting the Phoenix reserve into a technical foul. He got one as well, but the Phoenician appeared the more perturbed among the penalized.
When the uptick in burn was initially brought up us reporters, Vujacic didn't "want to talk about it too much," which I took as a nod to his reputation for barely being able to have a conversation without expressing displeasure over PT. But when I later asked about staying ready for this opportunity just in case, Vujacic finally shared some thoughts.
"You gotta stay ready and I can't get discouraged, if you don't play. Whatever happens, you just gotta be professional and believe in your game. Believe that you can help the team. If you're a winner, you can't quit. And that's what I did. I wanted to work hard. I wanted to stay ready. And whatever happens..."
... in this case, happened nicely.
--Andy Kamenetzky
BIG NUMBERS
9: The number of free throws missed by the Suns. I'm no mathe-ma-genius, but in a two point loss, those bricks strike as game-changing. The Suns have drained nearly 78 percent of their freebies during the postseason and hit 77 percent during the regular season season. I have to imagine tonight's 69 percent showing will eat at them heading into Game 6.
For that matter, this wasn't the only area where Phoenix didn't get the most possible charity out of the stripe. The Lakers' disastrous first quarter put them in penalty after just 3:42 of play, leaving their foe with oodles of time to rack cheap points. Know how many free throws they took by the frame's end? One. And not even from a foul, but rather a defensive three second violation.
The only thing more mindblowing than the Lakers getting into such drastic foul trouble is Phoenix finishing up the frame with so little so show for it. Again, a critically wasted opportinity by Phoenix.
19: The offensive rebound tally for the Lakers. Obviously, no bit of work on that glass was bigger than the game-winner from Artest, but his heroics reflected a tenaciousness displayed by the Lakers all game on the glass. 18 second chance points were the result of their troubles.
90.4: The percentage of second half baskets created by an assist. 21 field goals in all, with 19 coming via the dime. That's just incredible, driving home just how well the Lakers were moving the ball at times. You wouldn't know it just by looking at the field goal percentage, a meager 42 percent. But truth be told, even a fair amount of misses were set up nicely and simply didn't go down. After a shaky start, once the purple and gold got rolling, the rock whipped around nicely.
3: The number of games in this series where Kobe's been in screaming distance of a triple-double. Tonight, just assist separated him and the benchmark. A combined total of four rebounds were the difference in Games 3 and 4. He's got (hopefully) one more game to make it happen against Phoenix. At worst, two. It would be nice to see him break through, but ultimately, it doesn't really matter, because the larger point's been firmly established. Dude's just been flat out unreal during these Western Conference Finals.
--AK
VIDEO
Lamar Odom, on Artest, losing the lead, and looking to Game 6:
Shannon Brown, on the potential impact of the finish on the Suns:
Luke Walton, on Phoenix's comeback, Artest, and big shots from Fisher:
Andrew Bynum, on his defense, and the state of his knee:
Sasha Vujacic on Artest, his contributions, and the play of the bench: