I didn't think it would happen at the start of the season, nor when the playoffs began, but here we are.
Lakers vs. Celtics.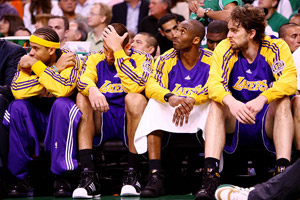 Garrett Ellwood/Getty Images
The last memory of the Celtics in the Finals is not a pleasant one for the Lakers. Game 6, a day which will live in infamy...
It was fun in 2008 when the simple rekindling of a classic rivalry was enough to get basketball fans all geeked. This time around, there's recent history to color things. The plot lines are richer, the themes more interesting. And it's not just grainy film, shorter shorts and a seemingly endless array of Hall of Fame alumni lining the sidelines making it interesting. The potential for seven games of intensely satisfying basketball is substantial.
Between now and Thursday, you can fairly well expect every nook and cranny of the series will be deconstructed, then reconstructed and taken apart again for good measure. But to get the gray matter firing, here are 20 questions to chew on:
1. Given how he apparently carried around resentment toward the Suns for playoff losses in '06 and '07 (on teams without a prayer of winning anything important), is it even possible to identify the dark place from where Kobe Bryant seethes about '08?
2. In '08, Kobe came into the Finals averaging 31.9 points a game on 51 percent shooting through the first three rounds. In four of the six games, Boston held him to 38 percent shooting and below. This year, his performance against Phoenix was quite possibly the best of the 38 series he's played in his career. Can he sustain the momentum against a far better defense?
3. Ron Artest was brought to L.A. to match up with guys like Paul Pierce, who averaged 13 points and only 10 field goal attempts against the Lakers in two regular season games. Can Artest do to Pierce in the Finals what he did to Kevin Durant in the opening round?
4. Pau Gasol took a big hit to his reputation after the series, in no small part thanks to Game 6. What will people think of him when this series is over?
5. Now that he's led the team to its third straight Finals, can we officially say the Lakers have no choice but to bring Phil Jackson back?
6. Russell Westbrook, Deron Williams, Steve Nash, now Rajon Rondo. When was the last time one guy had to face the kind of round-to-round talent as Derek Fisher has seen this postseason?
7. Given how much Ray Allen moves off the ball and runs through screens, would it actually be less work for Kobe to guard Rondo? He did it a lot during L.A.'s win in Boston Jan. 31 (and in '08, though not really since Bryant took every opportunity to sag off Rondo and help other places) but can he do it for seven games against the improved version of Boston's PG?
8. What constitutes the greatest change in context from '08 to '10: Artest's addition, Andrew Bynum's presence (whatever it may be), Rondo's improvement, L.A.'s championship experience, or ________ (insert your own)?
9. Just how much Bynum is enough Bynum?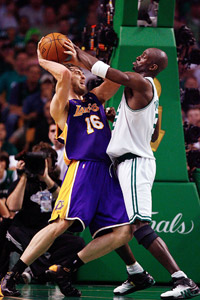 Jim Rogash/Getty Images
Pau Gasol took a hit to his reputation after the '08 Finals. What will people think of him after this series is over?
10. Boston was better on the road (26-15) than at home (24-17), and is 5-3 away from the Garden this postseason, including two wins in both Orlando and Cleveland. L.A. has closed out five straight series as a visiting team, and hasn't lost at home in the playoffs. Just how much does home court matter here?
11. Where would a fifth title -- one gained at the expense of the Celtics, no less -- put Kobe in the G.O.A.T. and G.L(aker).O.A.T. conversations?
12. If Jackson sticks with a rotation of two reserve guards off the bench and Jordan Farmar fills one slot (guaranteed, since he's the only true back-court ball-handler on the bench) who gets the rest of the PT,Sasha Vujacic or Shannon Brown?
13. Is either team's offense enough to overcome the quality of the other's defense?
14. Who plays the James Posey role on Kobe for Boston over seven games?
15. Kendrick Perkins is one technical foul from a suspension. Does that come into play?
16. In the first go-round,the Lakers had 16 fewer offensive rebounds, 30 fewer total rebounds. The Celtics had 21 more free throws and blocked more shots. Losing these categories contributed to the "soft" label they played with through the next season. The Lakers have proven their grit repeatedly since, but is there a chance they try to overcompensate against the Celtics this time around to the detriment of their game plan?
17. Boston punishes teams that don't make quick decisions with the ball. For all his potential to impact the proceedings from a defensive standpoint, how does Artest fit into this part of the equation? He'll have an impact, but who will it benefit?
18. Given how different a path each team took to get to the Finals, is it possible to use the first three rounds as a predicting factor?
19. Rematches are a rarity in the modern game. Are two series enough to give these editions of Boston and L.A. a lofty place in the history of the rivalry?
20. Is this series a referendum on revenge? Couldn't the same be said about Lakers teams who for years couldn't break through against the Celtics?