Tough.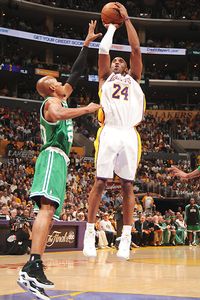 Andrew D. Bernstein/NBAE/Getty Images
We know Kobe Bryant is tough. Will the rest of the Lakers be tough enough to get some revenge on the Celtics?
There may not be an adjective you'll hear more this series. Are the Lakers tough enough? Do they lack toughness? Can they stand up to Boston's KG/Kendrick Perkins scowl-laden brand of tough? (Note: Other acceptable synonyms include, but are not limited to, brawny, fibrous, flinty, resilient, robust, rugged, unyielding, tenacious, hard-boiled, hard-nosed, leathery, and resolute.) A shortage of toughness is widely seen as a -- if not the -- big reason the Lakers lost to Boston in 2008: They were a finesse squad unable to stand up to punishment.
Like many narratives there's an element of truth, but it was also overstated. The blowout in Game 6 colors the perception of a series more competitive than people tend to remember. Besides, the notion L.A. is still at its core a soft team lacking toughness is ludicrous. They've become one of the league's best defenses, and qualified for three straight Finals -- winning one with a chance to win a second. A team lacking toughness simply can't do these things. From a personnel standpoint, they have a second big body available in Andrew Bynum, and swapped out Vlad Radmanovic at small forward in '08 for Ron Artest. The Lakers will be required to play hard, physical ball to beat Boston and earn consecutive titles.
They'll have to be tough, but their own brand.
Monday at practice, I asked Phil Jackson to define the concept as it relates to the Lakers:
"We don't have a smackdown mentality. You might have seen that with Garnett on Howard in Game number six there in Boston, where he's smacking Howard's arm and was finally called for an offensive foul. That's not our kind of team. We don't go out there to smack people around. I call it more resiliency. We're a more resilient ball club. We try to stay strong and play hard. But we're going to have to withstand some of that. We're going to have to play through it."
Particularly the bigs, Jackson said.
Set aside the swipe at KG and the Celtics. His message is directed far more at his own guys than the referees or Boston. L.A.'s toughness manifests itself not by pushing and shoving (or over-the-top taunting or crawling on all fours) but proving they can impose their will in the face of physical play. They're not the Knicks of the mid-90's, but the Lakers have played enough games in the mud since Game 6 to know they can win that way. The knowledge needs to be enough.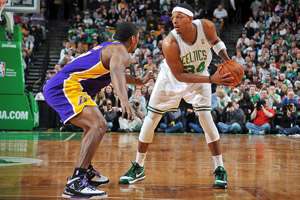 Brian Babineau/NBAE/Getty Images
The addition of Ron Artest adds an element of toughness Vlad Radmanovic couldn't quite provide in '08.
They can't let chest puffery get in the way of the gameplan.
"I think there's a danger in trying to be what other people want you to be. That's where the danger lies. You have to be who you are, and in a situation where you're playing in the Finals, you have to be as close to the best of who you are game after game after game after game," Derek Fisher says. "And so I don't think it's about trying to grow more hair on your chest or trying to lift more weights and have bigger muscles. It's really about playing hard, playing strong, playing tough, but playing smarter. Being more efficient, making better decisions. Something as simple as making free throws. Not turning the basketball over. Things that have zero to do with physical toughness, but more mental toughness."
Nothing in there mandates the Lakers be passive, or accept shots from the Celtics if they choose to deliver them (as most think they will). They just can't try to transform themselves into something their not.
Or as Lamar Odom told me, "We're going to be the Lakers."
Odom absolutely believes the storyline the Lakers were physically dominated is overrated, but they may have been outdone above the shoulders. "They were mentally tough to come back from 24 [points down in Game 4], you know?" The implication being the Lakers weren't. Not that day, at least. Nobody will argue his point. This is the sort of toughness L.A. was lacking in '08. They hadn't quite developed the extra reserve necessary to win a Finals.
Bynum believes it's a matter of cohesion and trust. "We're going to have to play together as a team. That's what being tough is," he says. "It's not physically "I'm scared to get beat up," or scared to get hit. It's [knowing] if I show out on this play, my teammate is going to get there and cover my back. Everybody has to cover each other's backs. That's what they have, so that's what we need to strive to get to."
There's another interesting aspect to the portrayal of physical toughness. I can't be the only one who often sees the storyline as shorthand for "Is Pau Gasol tough enough?" He won a title last season, manning up Dwight Howard for five games in the process, but the questions linger. Like Odom, whose bad games are almost always ascribed to inconsistency and an inability to play to his skill level, it's hard for Gasol to have an ordinary, run-of-the-mill bad game. When he isn't his normal, efficient, All-Star self, it'll often get chalked up to him shrinking physically.
Like all stereotypes, there's an element of truth, but not enough to make it reality. Gasol had good moments and bad in '08, and was particularly tainted by Game 6, in which he scored 11 points with five turnovers. Except Boston's defense made everyone, including Kobe, look bad because they were historically good on that side of the ball. Gasol ping-ponged between Perkins and a healthy, uber-motivated Garnett- no easy task. Boiling the series down to L.A.'s inability to handle a shove in the back devalues what the Celtics accomplished.
Even with the ring, Gasol knows people will be watching, and judging. "I've worked hard to be able to be more effective in that kind of style of game," he says. "It's a mindset. Sacrificing your body every single play, and going hard no matter what."
Jackson believes Pau will be ready. "I just think he knows what he has to do. He has to be efficient, not get knocked off the ball. He has to hold his ground in the post and not get run off it, and take advantage of the situations that present themselves."
I'm picking the Lakers to win, but it's not hard to picture either team taking the chip. But if they don't win, it won't be because they were out-worked or couldn't handle Boston's physical play. There are matchup issues potentially problematic for the Lakers. The wrong guys might just go cold at the wrong time. Luck, good and bad, always plays a factor. But should they lose, even in seven tight and physical games, likely the storyline again has Lakers being "exposed" for what they are: A little too soft to get it done against the Celtic.
They can't possibly want another summer of that. Should the Lakers spend the series trying to prove how tough they are, it's exactly what could happen.