After what feels like eons, the NBA Finals are one game away from reaching their conclusion. Game 7. Lakers versus Celtics. As the saying goes, it doesn't get much better than that.
These finals have been a maddening exercise in futile attempts to forecast. Momentum has failed to surface. Home court has been stolen, then stolen back. Kobe Bryant has been consistently good, but nonetheless unable to can his legendary fourth-quarter shots. Derek Fisher's Game 3 heroics came sandwiched between five games' worth of severe 3-point drought. Kevin Garnett went from "too old" to "too good." Ray Allen has been either en fuego or bien frio, with no middle ground. Both benches have been all over the map. It's led to plenty of pregame prognostication gone wrong for yours truly.
Before the series kicked off, however, I predicted "Lakers in 7." I sit now in the rare position of actually being right about something. Here's why I will be.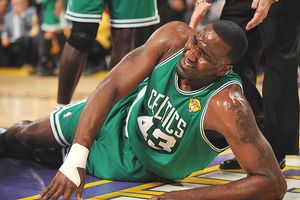 Daniel Pellegrino/NBAE via Getty Images
Kendrick Perkins is hurting, and the Celts will be
hurting without him.
1) The loss of Kendrick Perkins will hurt Boston.
First, my sympathies to Kendrick Perkins over his torn MCL and PCL. Injuries are always crummy, much more so when they prevent participation in a championship game. But as bad a blow as this must be to Perkins' psyche, I have a feeling the hit will be even worse for the C's. Perkins will likely never increase membership in "The Big Four" by one, and his face doesn't move Gatorade off the shelves. But his importance to Boston can't be underestimated
For starters, his absence makes Boston's paint vulnerable. He's the Celtics' most physical interior defender and makes baskets at the rim a considerably more difficult prospect. According to ESPN Stats & Information, Perkins ranked first in points per play allowed (0.62) and second in FG percentage allowed (31.2) for post-up situations among participants in this year's postseason (min. 20 plays).
Perk's also enjoyed success against Andrew Bynum and Pau Gasol. Against the Celtics center, the duo is five-for-14 from the floor posting up for a paltry 35.4 shooting percentage and .9 points per play. Against everyone in the postseason, they've combined to go 55-for-109 (50.5 percent) and 1.03 points per play.
Beyond the disparity itself, what caught my eye was how little Perkins has been posted up by L.A. Only 14 times over six games and 141 minutes? Just goes to show how much the dude's strength and physicality can alter things. The whole reason the Lakers had been concerned about the minutes Bynum could provide on a torn meniscus was over Gasol having to surrender muscle and girth against Perk. Drew's availability now becomes less crucial. Obviously, the Lakers still crave contributions from Drew, but his ability to stay on the court becomes less critical from a strategic standpoint.
In the meantime, Rasheed Wallace (Perkins' likely replacement) is a good defender, but not nearly as physically imposing and can pick up whistles in a flurry. Glen Davis is a wide body, but short and not a particularly great defender. Both, along with KG, will have to be much more cautious on defense, lest they pick up fouls and be forced to enter the "Shel and Scal" business. Look for the Lakers to actively attack the middle and put Boston's D on its heels.
Perkins is most valuable as a defender, but there will be other areas where the Celtics will miss having him on the court. In the midst of a finals chock full of wacky inconsistency, one constant has emerged: Whichever team grabbed the most rebounds won that particular game. Perkins has grabbed 35 total boards in this series, putting him just one behind Rajon Rondo and Garnett for a three-way tie as Boston's leader, and is just two-tenths of a board behind Glen Davis (2.5) for co-ownership of the team's best offensive rebound average. The glass-eating factor makes Perkins anything but expendable. Even when the Celts have the ball, Perk may be the sixth option in a five-man unit, but the screens he sets are a critical part of freeing up, among others, Ray Allen.
I guarantee Boston won't assume the fetal position with Perk out, but determination nonetheless won't overcome need.
2) Defending champs do well in Game 7s.
According to Elias Sports Bureau, in the seven previous games where a defending champ played in a Game 7, the title has stayed put six times. Moreover, the defending champs have been 5-0 at home. I'm not a huge fan of stats either tracking the history of two teams (Lakers-Celtics in 1963 has precisely zip to do with Lakers-Celtics in 2010) or stats not specifically referencing the two teams involved, but this one actually strikes me as relevant. I think it speaks to the urgency created by being one game away from retaining a title -- as opposed to winning it -- and the value of a crowd on your side. Jordan Farmar told me at yesterday's practice that Game 6's atmosphere was the best he's seen at Staples Center in a really long time. I can only imagine there will be more of that vital energy on display this evening.
3) Pau Gasol is one win away from burying "Gasoft" forever.
It's no secret how much damage the 2008 Finals loss did to Gasol's reputation. Before that series, Gasol was known as the guy who turned the Lakers into instant favorites and turned the league upside-down trying to adjust to his arrival in L.A. Six Finals games later, he became Gasoft. Pau-la. The gangly, finesse Euro undeniably skilled but lacking in huevos. This rep was already part of his Memphis identity, but the Finals blew it up as the singular way of defining him.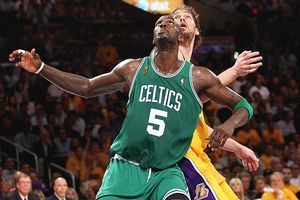 Stephen Dunn/Getty Images
In 2008, KG boxed Pau out for a title, and the Laker big has yet to fully live it down.
Doesn't matter Gasol spent those playoffs banging with the likes of Nene, Kenyon Martin and Tim Duncan en route to a Finals where he actually played good defense against Garnett. Doesn't matter how the experience kick-started a new dedication to the weight room. Doesn't matter Gasol's defense evolved from "admitted non-priority" to "underrated." Doesn't matter the Lakers won the 2009 title in part because of Gasol bodying up Dwight Howard. And it doesn't matter Gasol leads all players in this series with 63 rebounds (10.5 per game), leads all players with 16 blocks and has demonstrated an overall willingness to go rough and tumble. As we all learned, one invisible Game 5 against the Celts means Soft-Gate all over again.
The cycle will never end until Pau takes down this particular team. Should the Lakers win, the refrain grows considerably more difficult to repeat. Pau knows this and has grown considerably sick of seeing this label attached to his name. This is a big opportunity, and along with a certain superstar (more on him later), I'm expecting a really good game out of Gasol.
4) Revenge is a dish best served cold.
You know how Bruce Wayne's parents were murdered in a random act of senseless violence, and the experience shook young Bruce to the core so much he devoted his life and staggering wealth toward ridding Gotham City's streets of crime, a quest manifesting itself in what's essentially vigilante justice in a rubber bat suit and fairly unstable behavior, torpedoing the ability to maintain a relationship with Kim Basinger, Nicole Kidman, Katie Holmes and Maggie Gyllenhaal...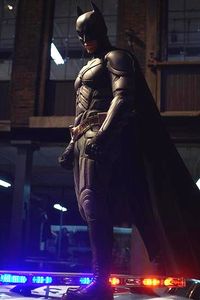 Warner Brothers
Batman harbors many unhealthy obsessions.
... Well, that's nothing compared to how badly this roster of Lakers wants to get back at the Celtics over the 2008 Finals.
The experience fueled their entire 2009 championship run, and not just because they learned the awful taste of coming up short. Like Gasol individually, failure forced the Lakers to re-establish their NBA manhood over the past two seasons. It's been a humiliating process and there's no way to reach true closure, even with everything they've accomplished since, even after the willingness to get physical against Boston, unless they finally take down their former bullies. As I recently wrote in regard to Kobe and Phil, losing TWICE to the same team could mean a descent into madness.
The greenies obviously want this championship in a bad way, but not in the same way.
Plus, the Lakers have the chance to cleanse themselves on the exact two year anniversary of the crime. You can't deny that kind of kismet, right?
5) Kobe Bryant will not allow anything less than a Laker victory.
For me, the most convincing reason banner 16 will be hanging next fall.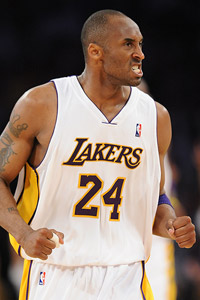 Noah Graham/NBA via Getty Images
This is not the look of a man to be trifled with.
Kobe Bryant is somewhere between "arguably" and "definitely" the best player in the NBA. He's been hands-down the best player of the entire postseason, much less this series. He's come through in more do-or-die moments than anybody who'll take the floor (and for what it's worth, the runner-up is quite possibly Derek Fisher, who happens to be his teammate). Despite some well-documented fourth-quarter shooting struggles in this series, he's still considered the game's best closer. He's occasionally prone to making bad decisions, but he's absolutely immune to pressure. His competitiveness borders on psychotic. Staples is his house. It's a Game 7. He lives for moments of the highest drama and stakes. Some are labeling this a potentially defining chapter of the already-epic story that is 24's career.
Plus, the man's got one helluva jaw jut.
Add it all up, and I simply can't wrap my head around Kobe allowing a loss under these circumstances under his watch. I just can't fathom it. Call me a homer mesmerized by too many games spent watching Kobe pull off the seemingly impossible, but would you honestly bet against the cat in this situation? Really? Truly?
Unless his teammates collectively pull another Game 5 bed-crapper even he can't salvage, Kobe's the round ball equivalent of pocket aces with another ace showing on a rainbow flop. Technically speaking, a win against trip aces is possible. But you're way behind the eight ball and depending on luck over events within your control.