It took three hours or so to get there, but when the Lakers finally had an opportunity to participate in the 2010 NBA Draft, they managed to snag a reasonably interesting prospect.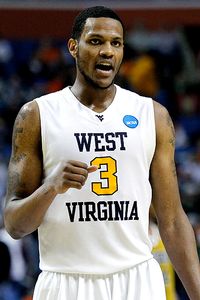 Michael Heiman/Getty Images
With the 43rd pick in the 2010 draft, the Lakers took West Virginia forward Devin Ebanks, who has been compared to Trevor Ariza (unpolished early TA, not the guy who blew up in last year's playoffs).
With the 43rd pick, they selected 6'9" forward Devin Ebanks, who played two seasons at West Virginia. He's not a polished offensive player, but Ebanks is considered a very effective perimeter defender and averaged over eight rebounds a game as a sophomore with the Mountaineers. Rebounding is considered one of the better-translating skills from the college level to the pros, so his numbers are a positive sign. He's very raw offensively and can't shoot- Ebanks hit only eight of the 70 three-pointers launched in his collegiate career- and is also a skinny fella, making the comparisons to Trevor Ariza pretty natural.
Will he eventually become a good player? I though Marcus Fizer would be great, so what do I know? ESPN.com's Chad Ford (who knows a lot) calls him "a great value," and trolling around the web Ebanks is referred to often as a guy with first round potential who probably would have benefited from staying in school. If nothing else, he looks great in this highlight video.
He's got some negatives, but if he didn't, Ebanks wouldn't have been available at 43. I like that the Lakers didn't force a "need" pick in a spot they'd be unlikely to find a rotation player for next season. Instead, they took a guy they think could be good, regardless of position, and in defense and rebounding Ebanks has two very specific skills that could become useful should he make the team. More likely, he'll be asked to work hard in practice, develop his skills, and carry luggage.
All in all, it's a solid choice.
(For more on L.A.'s draft, including video from Mitch Kupchak, click below.)
At 58, the Lakers selected Derrick Caracter, a 6'9", 280 lb. junior out of UTEP. He spent two years at Louisville, frequently running into trouble with Rick Pitino for a variety of reasons, getting himself suspended multiple times, struggling with his weight and academic obligations before ultimately transferring. But last season with the Miners, Caracter, once a high school phenom and walking cautionary tale, seemed to rebound, averaging 14/8 on a very good team. He also stayed out of trouble.
Caracter is said to have a very strong offensive game, despite being a little undersized for the NBA level. Good footwork, a nice face-up game, solid on the offensive glass, and so on. No surprise to see a lot of comparisons to guys like Craig Smith and Glen Davis. (And, thanks to the weight problems, Tractor Traylor.)
Again, we're talking about a guy with a lot of question marks, but is highly regarded from a skills standpoint. The discipline issues knocked him down a lot, as have weight questions. Maybe he can't get it together at the pro level. It's possible he's fallen too far behind the curve. But for the Lakers, it's a true no-harm, no-foul situation. If the 58th pick doesn't pan out- and while Ebanks seems reasonably likely to make the team, the same can't be said for Caracter- the impact is almost zero. If he continues on the path apparently found at UTEP, the Lakers may have landed a potentially useful piece down the road.
Again, another smart pick that far down in the draft.
A few notes of interest from Mitch Kupchak's post-draft media session
-Kupchak noted how Ebanks was selected in part because of the uncertainty surrounding Luke Walton's back. Recurrent problems limited him to just 29 regular season games, a sporadic playoff presence and hoping to avoid offseason surgery. "We're not sure what the future holds for him," admitted Kupchak. "If Luke can't really make a contribution next year, we probably had to get somebody to back him up. That's not to say that Devin makes the team, or if he does make the team that he's good enough to back up Ron Artest. But he is young player at a position that we may need some help at."
Like Kupchak noted, Ebanks isn't guaranteed to land on the roster. But I do think they were drafted more specifically for need than typically the case with the 43rd pick. And assuming a good showing, I would give Ebanks somewhat better odds than your garden-variety 43rd pick. It also unfortunately makes you wonder just how bad Walton's injury is and how much he'll be able to contribute down the road. Fingers crossed, everything will shake out fine and the Lakers will have three useful small forwards. There are worse situations to be saddled with.
-Brian noted the natural comparison between Ebanks and Trevor Ariza on paper. The same notion popped into my mind, and when I brought this up to Kupchak, he concurred:
"They're similar in a lot of ways. I think Devin may be able to shoot the ball a little bit better than Trevor did when he came out of college. And Trevor, when he was with us, got to the point where he could shoot the ball really well. He worked at his game. If I had to pick one dramatic difference, I would say Devin is a more rounded, maybe a better offensive player than Trevor was coming out of college. When Trevor came out of college, he was primarily a defensive player."
-Kupchak was asked about reports of"off court issues" involving teammates with Ebanks. Kupchak didn't go into much detail, but said the necessary homework was completed and they were satisfied.
-Ebanks is from Queens and knew Ron Artest and Lamar Odom growing up. I asked if the franchise liked this aspect of familiarity. "It's probably not a bad thing," answered Kupchak, adding how the team's veterans in general would provide good influences. For those keeping score, note how Kupchak included free agent Derek Fisher among those who could mentor the kid. As Brian and I have said many times, it would be very surprising not to see Fish in the fold next season.
-AK