Exhale, people!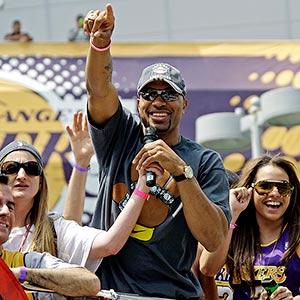 AP Photo/Reed Saxon
This is not a man who belongs in Miami.
ESPNLA.com's Ramona Shelburne reports Derek Fisher has decided to remain in purple and gold after engaging in talks with other teams, most notably the Miami Heat. The deal is definitely for three years (the last a player option) and reportedly worth $9 million. A formal meeting in South Beach with Pat Riley and an airport chat with LeBron James led to nervous times in Laker Land, as fans pictured a three-peat attempt without the aid of basketball's Barack Obama. (Or even worse, they pictured the Heat's evil super-team powered by The Prez.)
But in the end, order was restored.
While Brian and I have maintained a steadfast insistence this is how events would eventually shake out, the impact isn't diminished due to (in our minds) predictability. This is a big development for both the team and the player himself, even if our collective short-term memories are a given to ironically treat it as a negative next season. Fans will undoubtedly celebrate Fish's return all summer, then predictably complain about his slowness defending speedy point guards and declining offensive production. After being celebrated as a savior, he'll return to being "too old" and a "liability."
It's as predictable as death, taxes and, should history hold, Fisher proving himself well enough to maintain a recurring cycle.
Has Old Man No. 2 lost a step? Without question, which is why Steve Blake will eat up a lot of Fish's minutes, and maybe even play more than him from off the bench. But at the same time, it's somewhat irrelevant, considering nobody in the league can regularly shut down the league's fastest lead guards, particularly if allowed transition opportunities. Keep the Westbrook's and Rondo's of the world in a half-court set (often as much about running the offense, controlling tempo and offensive rebounding as the D itself), and the playoffs demonstrated Fisher's competence. Besides, speed and smarts are separate issues, and the man's steeped in the latter. Case in point, all the charges drawn and passes broken up, which can pay as big a dividend as staying with a ball handler.
Bottom line, Fisher finds a way to play D, even with all the wear on the tires.
On the offensive end, I don't think Fisher's points themselves (or lack thereof) were as problematic as his shot selection at times. The "three dribbles and a pull up" shot. Head-down drives to the rack when you see the block coming like Jason with his chain saw. Plays in general in which he looks to create for himself. These sequences have a tendency to come outside of the offense, and aren't good ideas, make or miss. He's also been a maddeningly streaky shooter his entire career, and this won't change upon taking the court at age 36. Dry spells are a given, and they'll simply have to be endured.
Then again, these issues have proven a small trade-off for an uncanny ability to hit shots requiring huevos grande. I mean, big ol' onions. Dude's as clutch as players come, and until we see him turn "Robert Horry in the 2003 playoffs," I refuse to stop extending Fisher a benefit of the doubt. One or two more biggies are guaranteed to drop before the sneaks are hung up for good.
Ultimately, Fisher's impact is felt heaviest in the locker room and along the sidelines during games. His speeches are now the stuff of legend, the reason he has the ear of everybody on the roster, including Kobe Bryant. Some might even say especially Kobe -- who stayed in Fish's ear constantly while the situation was mulled -- since the Mamba has labeled his longtime teammate the one player he's absolutely willing to give audience, no questions asked.
With all sincere respect to the strides Kobe has made as a leader, he's still not the easiest guy in the world to play with, nor the easiest guy to discover common ground. The value of a different but equally important and respected voice, the Yin to the Yang, can't be underestimated. Fisher makes teammates believe they can win simply because he tells them so. Brian wisely equated it to Linus' security blanket and at some point, the team will need to outgrow it. But it's nice knowing the weening process will be gradual versus cold turkey.
And if anybody needs further evidence of the guy's mental fortitude, dude's apparently the only man alive capable of resisting Riles' Jedi-like powers of persuasion.
I'm also very happy to see Fisher avoid potentially altering a beloved legacy and career by ending it somewhere other than L.A. In particular, because of a contract dispute. Fairly or not, as my buddy Dave McMenamin noted, Fish would be seen in a different, unflattering light. He'd come off like a player willing to forego his legacy out of spite over dollars that should ultimately be secondary at this stage. Less "character driven" than presented, if you will. Again, that may not be an accurate depiction, but such is the world we live in. Either way, it would be a shame.
Fisher's time in the NBA hasn't just been important for the Lakers, it's been unique for the NBA. Role players don't typically gain Fish's clout, acclaim and universal respect. He's been a special player in the truest sense, and the memories created, save one for the ages with the Jazz, have all come in the same uni.
It's only fitting to see this storyline set up for the ideal final chapter.