Kobe Bryant got what he wanted with Derek Fisher. Now he's back to looking for other guys on the recruiting trail.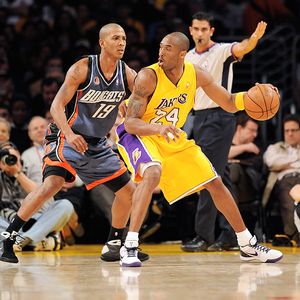 Noah Graham/NBAE/Getty Images
Kobe Bryant made his pitch for Derek Fisher, now he's focusing on Raja Bell.
ESPN.com's Marc Stein reports Bryant will meet with free agent guard (and former Los Angeles Public Enemy #1) Raja Bell Wednesday, when Bell hits town to see the ESPY's. Bell has been on L.A.'s radar for a while, nor will this be the first time Kobe has reached out. Talking to ESPNLA.com's Dave McMenamin last week, Bell said Bryant hasn't been shy about connecting via the phone. But it's one thing to call a guy, it's another thing to fire up the Kobe-copter and chopper in for a meeting*. Or, even better, send it to pick up Bell**. Or, best of all, fly the thing himself, pick up Bell, and pitch him while they soar over metropolitan Los Angeles.***
There will undoubtedly be fans wringing their hands at the prospect of signing Bell, unable to shake the memories of the clothesline Bell laid on Bryant during Game 5 of the 2006 playoffs.
Those people are silly. Get over it. Kobe clearly has. Bell is a classic example of a player fans hate when he's on the other team, and love when he's on theirs. It's not an unusual phenomenon. (For example, Fisher the player- as opposed to Fisher the person- isn't exactly beloved by fans outside of L.A.) Bell has a great rep as a teammate, and when it gets down to it, Kobe likely wants the guy specifically because he'll clothesline an opposing team's superstar in Game 5 of the playoffs.
In Bell, the Lakers would continue gain some stability to their backcourt and add another shooter. For his career, Bell has hit 41.1 percent of his career three-pointers, and while he isn't quite the defender he was in his prime, at 6'5" he's still very long and active on that side of the ball. Playing with an elite defensive team like the Lakers would help paper over any slippage.
He's not perfect. Bell doesn't put the ball on the floor (leaving L.A. a little short of guys who do), is coming off a pretty major wrist injury, and at 33 is closer to the end than the beginning. And signing Bell would almost certainly end any chance of Shannon Brown returning to the team. All things being equal, the Lakers could use at least one young guard with more athleticism than the other non-Bryant players currently on the roster. In a vacuum I'd take Brown before Bell. Except the Lakers can't necessarily wait to see how the market will play out for Brown before moving on a potential replacement.
For the type of money the Lakers have available, Bell would be as good a fit as can be hoped, and obviously brings a great deal to the table.
*Not actually sure he's going to take the helicopter. He might just drive.
**Not sure where Bell is staying, but wherever it is may not be equipped with a helipad.
***Kobe, to my knowledge, doesn't actually have a pilot's license, so while very dramatic this scenario is totally unsafe.