Time again to answer a few questions from the ol' Land O'Lakers mailbag!
Q: Hi, K brothers! I have questions. Do you think the Miami Heat have a legit chance to break the Lakers' 33 wins in a row? How about Chicago's 72 wins?
--Zibo, Newcastle, England
A: Over the past couple of seasons, we've been asked a bunch of times about 73 wins, but usually its in reference to the Lakers, not another squad. ABC/ESPN's Jeff Van Gundy told the Miami Herald he thinks the Heat will break Chicago's record for regular season victories, and have a "legit shot" at busting through the consecutive wins streak set by the '71-'72 Lakers. As for the latter, absolutely not. No team, Super! or otherwise, is going to bust through 33 consecutive wins. It's just not going to happen. As for 73 wins, I'm not going there, either. Asking an NBA team, even an outstanding one (as Miami will be) to lose only nine games in a season is a tall order. There are too many good teams, too many off nights, too many long flights from south Florida.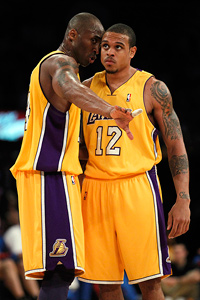 Chris Carlson/AP Photo
The return of Shannon Brown means instead of being Kobe's primary backup, Sasha Vujacic will be a primary guy watching 24 from the bench.
The Heat will be very, very good. So will the Lakers. In theory, both could make a run at 72, but in the end neither will get there. With good health, L.A. and Miami seem like a good bets to land in the mid-60's, which ain't bad, dueling along the way for the top seed come playoff time.
Q: Hey guys! Now that the team is set, how do you see [Phil Jackson] using the bench guys on the rotation? Does he leave Sasha to dry until Mitch can trade him? Thanks!
--Nadya, Los Angeles
A: Nadya, there's always a chance Vujacic earns himself a reasonable amount of minutes ... but it'll take someone else playing his way out of the rotation. The current setup will demand Sasha get closely acquainted with his warmup suit. Had the Lakers not been able to re-sign Shannon Brown, it could have been different. The Lakers didn't add another few mil to their luxury tax bill just to watch Brown sit around, and as we learned last season it's very difficult to work five guards into a rotation. So look for Blake and Fisher to hold down the point, while Brown helps the Lakers try and limit Kobe's minutes at the two.
As for the rest of the rotation, Ron Artest will still get the bulk of the minutes at small forward and Kobe will play there, too, meaning Matt Barnes won't have overwhelming amounts of playing time at his disposal. The Lakers will look for creative ways to get him on the floor, but there are only so many credible options. There could be fairly big swings night to night. The PF/C rotation will look much like it did last year, with Andrew Bynum, Pau Gasol, and Lamar Odom cycling through. Theo Ratliff, like D.J. Mbenga before him, will play based on need.
Overall, P.J. will have options available to limit minutes for his frontline and/or aging players, given the depth and positional versatility at his disposal. If all goes well, Kobe, Artest, Fisher, and Gasol will get more rest compared to last year. Enough to give Sasha excellent company from time to time while he watches.
Q: You mentioned that the potential lockout could increase Phil Jackson's chances of retiring after this season. But don't you think if there is a shorter season, it would increase his chances of coming back? He would only have to do 2/3 or so of the work for a potential ring. Also, not that I want to see a lockout (would be devastated if the whole season was lost), but fewer games may give the Laker players some rest that they'll never have the opportunity to otherwise get.
--Jason, San Luis Obispo, CA
A: Hey Jason. I don't think I said the lockout would make it less likely for Jackson to return, but it could lower the team's desire to bring him back. As a team employee, he'd be getting paid during a work stoppage, and depending on how things shake out the Lakers may not want to shell out eight or nine mil (or whatever he might get) for half a season's work. As it was last season, much will be determined by how the Lakers finish, and how Jackson's health holds up.
From his end, though, you're probably right. The idea of only coaching half a regular season -- there's a very good chance games will be lost next year (many smart people think it's a near certainty) -- will likely have a lot of appeal for P.J., and from a competitive standpoint, the Lakers will be set up well to succeed after a work stoppage. As it stands, the Lakers will enter next season with largely the same group they have now, meaning they won't need 82 games to develop championship continuity. Fifty-something ought to do just fine.
Hopefully we don't have to find out, but I'm not optimistic.
Q: Do you agree the Thunder or the Nuggets are most likely the biggest challenges for the Lakers in the West? Possibly a team like Portland or Dallas could give Lakers a run for their money too, but what two teams do you guys think could challenge the Lakers the most?
--Will, Los Angeles
A: I'm totally on board with the Thunder, who should see a lot of natural improvement this season, and benefit from small scale additions like Cole Aldrich. One thing about OKC -- they were remarkably healthy last season. The five starters combined for six -- six! -- missed games last season, and all six belonged to Nenad Krstic, easily the least important member of that crew. James Harden missed a few games, as did Nick Collison, but no core rotation player suited up for fewer than 73 games. I can't imagine they'll be so lucky this season. Someone is going to get hurt, and how the Thunder respond will have a serious impact on the Western Conference race.
On the flip side, I give you the Blazers, who missed about 17,287 man games because of injury last year, and still cracked 50 wins. It would be almost impossible for Portland to suffer this year in the same way. If they're healthy, an already strong rotation, bolstered by additions like Wes Matthews and a full season of Marcus Camby, make Portland a very dangerous team.
Denver is a wild card. So much seems to depend on George Karl's health. If he's back and strong -- we all hope he is -- Denver is obviously a contender. As for Dallas, I'm not sure how that'll work. Are they going to be better than the group last year? How does Tyson Chandler fit? I still feel like there's a ceiling here, and it's lower than a Western Conference title.
Q: Now that the Lakers sign Shannon Brown do the Lakers have room for [Devin] Ebanks and [Derrick] Caracter on there roster?
-Ruben Gonzalez, Lakewood, CA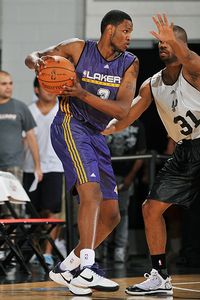 Garrett W. Ellwood/NBAE/Getty Images
Devin Ebanks seems a near-lock to be one of 14 players on the Lakers this season.
A: Yep! NBA teams can carry 15 players, and carrying Ebanks and Caracter would give the Lakers 14. That's one more than they had last season, but when Mitch Kupchak spoke to the media after the signings of Barnes and Ratliff (while still negotiating with Brown) he made it clear the team was comfortable carrying an additional body. It helps that neither is likely to make much more than the minimum (about half a mil), but considerations go deeper than cash. Caracter is currently slotted in to fill the Josh Powell role, and Luke Walton's poor health means the Lakers could also need one more body on the wing. It's a big reason they drafted Ebanks in the first place.
Plus, a little youth around El Segundo can't hurt. The Lakers traded away draft picks in the Gasol deal (worth it, I'd say) and the ones they get to keep come late and are speculative at best. Down the road, they'll need younger, cheaper players to fill holes in the rotation, and both Caracter and Ebanks have potential as legit NBA players.
Neither rook will be relied on to provide important minutes, and both could spend substantial time in the D-League. But expect both to make the roster.
Finally, a few responses from what has been a busy week discussing legacy, which Andy and I discussed on this week's show, from Shaq to Fish to a special wing or even induction into the HOF for Robert Horry and his uber-role player ilk...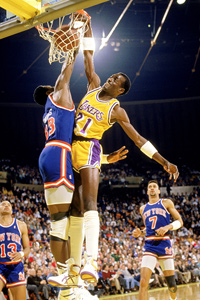 Tim Defrisco/Getty Images
For at least one fan, nobody else should get into the rafters before Michael Cooper.
Shaquille O'Neal is a traitor. He was one of the all-time great Lakers and should have had a deeper respect for the tradition and heritage of the franchise that he won multiple championships with. He claimed to be a student of the game but has proven once again to be disloyal even to his own legacy. I know that Shaquille is a media darling, but no journalist should overlook the strong sentiment that Laker fans feel about O'Neal's latest slap in the face. It was bad enough L.A. fans endured his championship in Miami but this is a new low.
--Frustrated Fan, Long Beach, CA
Couldn't disagree more regarding retired numbers. [Michael] Cooper and Fisher should both be up there. Number one, Cooper has five rings, and coached the Sparks to a pair as well. Cooper was widely recognized as the finest defensive player of his day, and continues to maintain his relationship with the organization. Retiring numbers isn't about how good a player you were, it's about what you mean to the franchise. Cooper was part of a nucleus of guys who brought five championships to L.A., and is beloved. His number should be up there. Same thing for Fisher. The man has multiple legendary postseason shots, including some in the finals. He has a special relationship with the franchise, and represents the players union as its president. He is an esteemed player who had brought honor and glory to the purple and gold, and his number should be retired.
Andy has entirely the wrong idea about the Hall of Fame, as well. It's not the hall if really good players, it's the Hall of FAME. Players don't have to be really good to get in, they just need to have significance. Tommy John isn't that good of a pitcher, he's just in the MLB HOF because of the surgery. There should be space in the b-ball HOF for memorable role players.
--Joe, Santa Barbara, CA
*Note: For the record, Joe is disagreeing with me, not Andy, who has a more expansive idea of who can/should get into the Hall of Fame, or have his number retired by the Lakers. He's more in favor of Fisher, where I wouldn't raise No. 2.
I don't want to hear about retiring anybody's number until Michael Cooper's No. 21 is up there. I think it's a travesty that one of the best and best loved Lakers of all time doesn't have his number retired. Thanks for listening.
--Henry Boynton, Caldwell, IN
I love the Lakers and I love Fisher, but you don't have your jersey retired if you are not a Hall of Famer, you water down the honor if you start retiring role players' numbers. Why not retire Robert Horry and Rick Fox too? As much as I love Fish the honor should be for all-time greats only.
--Frank, Holbrook, NY