With Shannon Brown deciding a Three-peat shot is too great to pass up, the Laker roster appears to be set, for all intents and purposes. Yes, time still remains for a preseason trade (likely the kind where Sasha Vujacic is jettisoned for nothing but a "no give backs!"). The uncertain status of Luke Walton's back puts his upcoming campaign and even his career in jeopardy. Plus, the Lakers' pair of draft picks aren't actually Lakers yet, despite all expectations of this being a matter of time.
But barring the unexpected or impossible to predict, it's become reasonably safe to assume who'll be on board as the Lakers look to defend their championship for the second year running. With that in mind, we decided to take a player-by-player look at the principals on hand, their roles for the upcoming season, and the best and worst case scenarios down the road.
First up, the pups...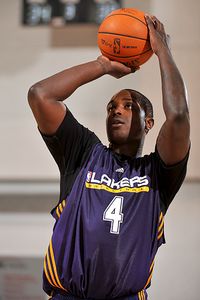 Garrett W. Ellwood/NBAE/Getty Images
Derrick Caracter (pictured) and Devin Ebanks have looked like keepers so far. Keepers who won't play, but keepers still.
Player(s)
Power forward Derrick Caracter/small forward Devin Ebanks
Salary
N/A, since a deal for neither second round draft pick, much less the dollars in their weekly paycheck, hasn't been formalized.
Role For The Lakers In 2010-2011
Be prepared to do a lot of the following: Push veterans and rotation players hard during practice. Clean up Gatorade bottles and towels after said practices. Carry luggage to and from the team bus during road games. Enthusiastically cheer from the bench during games when good things happen for the Lakers. Enthusiastically curse from the bench during games when detrimental things happen to the Lakers. Offer hearty high fives, butt slaps and "dap" during time outs. (Maybe even assume Josh Powell's vacated role of "dude who gives out the man hugs and elaborate handshakes during pregame introductions," if that's not considered overstepping boundaries as a first-year baller.) Take whatever minerals Theo Ratliff insists become part of your diet. Make small talk with a pair of annoying brothers who cover the Lakers, and even laugh at their lame jokes if necessary, which will demonstrate the requisite "humility" expected from a rookie. Listen. Keep your mouth shut. Be ready.
Be prepared to do very little of the following: Play.
Obviously, it's not impossible for Caracter or Ebanks to find their way on the court. Injuries, foul trouble and Phil Jackson's proclivity for the occasional curve ball could create opportunities for either youngster to get his feet wet. And there's always the outside chance one of them steps up to eat the minutes of Matt Barnes or Lamar Odom (the established backups at Ebanks' and Caracter's respective positions). But if I had to make an educated guess on those odds, slim just left town, as the saying goes. Caracter and Ebanks won't have a glamorous gig, but if these guys are smart, they'll make the most of a fantastic atmosphere and opportunity.
Best Case Scenario
Caracter and Ebanks make reasonable cases as the steals of the 2010 draft -- or at the very least, the best second rounders. The PT is limited, but the flashes of potential can't be denied, even while negotiating the inevitable growing pains and mistakes. Ebanks in particular displays so much promise, the Laker brass makes a custom of adding a new player from Queens every season, paving the way for Daniel Artest to become a purple and gold version of Dennis Quaid in 2012.
Worst Case Scenario
What happens in Vegas stays in Vegas. Strong performances during the Summer Pro League quickly become yesterday's news, as both look completely overmatched at the NBA level, even based against modest expectations. Sporadic playing time leads to frustration, which leads to the resurfacing of the character issues which resulted in their mutual draft tumble. Both guys discover the L.A. nightlife. Caracter and his transformed body discovers Pink's.