As part of our look ahead at the Lakers' projected roster next season, we continue to work our way from the bottom to the top of the rotation. Next up...
Player
Sasha Vujacic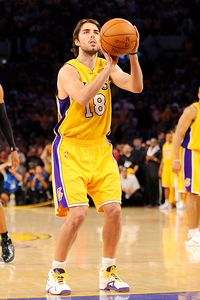 Noah Graham/NBAE via Getty Images
Sasha hit two clutch freebies to clinch a title, but his season was mostly frustrating.
Salary
Role For The Lakers In 2010-2011
Everyone loves to finish on a high note. Sasha managed to do that in Game 7 of the Finals by canning a crucial pair of free throws with eleven seconds left, despite having sat almost the entire fourth quarter. Unfortunately, this note was among few qualifying as "high" for Vujacic last season. He was yanked in and (mostly) out of the rotation. Shoulder and ankle injuries pushed him off the floor even more. Ditto his spat with Assistant Coach Brian Shaw. (As for a seriously ill-timed feud with Goran Dragic, Sasha's just lucky Kobe Bryant opted for saving his ass over the first impulse, which involved a fist to the jaw.)
There were reports a-plenty of the Lakers attempting to move Sasha as a pure salary dump in order to make signing Shannon Brown financially easier. Brown was signed anyway, but I'm guessing avenues for relocation will continue to be explored. I'm also guessing the Lakers won't find a taker, or at least not until the deadline approaches.
For the time being, that leaves Sasha as the fifth guard and furthest down the pecking order. Moreover, Matt Barnes on board likely means less time for Kobe at small forward, which creates even less action for a backup two, much less the backup to the backup. Specific matchups, foul trouble or the need to stretch the floor will offer some opportunities, but unless he performs at a very high level, The Machine will be mostly on the outside looking in. I could see him playing even less in 2011.
Best Case Scenario
Sasha rediscovers his 2007-2008 form (another contract year, for those faithful to lightly-established precedents). That could mean rediscovering his stroke. That could mean rediscovering an ability to play pesky D without picking up ridiculous fouls. But before rediscovery comes discovery itself, and with that in mind, the true ideal would be discover how to consistently make the most of inconsistent playing time.
This means letting the game come to him and not trying to force the action in an effort to bump stats, and in turn, PT. This means accepting a role and making the most of it, even if he doesn't like it. (Truth be told, whether he likes the role or not is irrelevant, as long as it gets accepted in earnest.) This means preventing frustration from resulting in pointlessly emotional episodes. Sasha's always been a high strung player, a trait rarely doing him any favors. There have been times when Vujacic demonstrated the requisite professionalism, but others when he didn't quite seem to buy in. He needs to.
If Sasha does all that, I would consider 2011 a positive season, regardless of how his numbers shake out when the dust settles. It would also do his reputation a solid come next season when he hits the open market.
Worst Case Scenario
Displeasure over limited minutes upon entering free agency prompts a reversion into bad habits. At this point, with his time in L.A. approaching a fixed expiration date, considerably less patience will be exercised. He'll simply get buried, end of story. That would be a poor way to wrap up seven years in purple and gold.
Previous Breakdowns