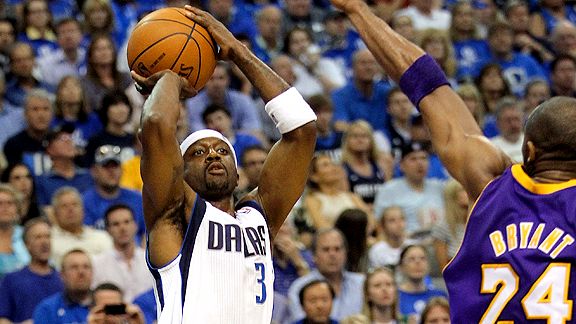 Ronald Martinez/Getty Images
Jason Terry and the Mavs shot Kobe Bryant and the Lakers straight into the offseason.
DALLAS -- Japanese monster movies are filled with scenarios in which otherwise manageable creatures are irradiated, mutate, and develop enough destructive power to take out a few cities. Godzilla, for example. Something similar happened to the Lakers on Sunday afternoon, as the Mavs unleashed a monster wiping out L.A.'s three-peat chase.
Call him Threezilla.
We saw glimpses in the fourth quarter of Game 3, when Dallas canned five of eight tries from beyond the arc, swallowing an eight-point lead for the Lakers and, for all intents and purposes, ending the series. Sunday, however, he finished the job. In the first quarter of Game 4, Dallas hit four of seven from downtown, enough to create four points of separation from L.A. despite putting the Lakers at the line eight times and giving up 13 to Kobe Bryant. In the second, the Mavericks poured it on, overwhelming the increasingly confused visitors. Seven makes in eight tries, including five from Jason Terry, as part of a 36-16 quarter. By halftime, the Mavs had only three fewer triples (11) than the Lakers had field goals and a 24-point lead.
If this were boxing, the ref would have stopped the fight. Game -- and season -- over.
"They just hit three after three after three," Bryant said after the Mavs made 20 in all.
In total, Game 4 was a supersized version of everything plaguing the Lakers throughout the series, save an opportunity to blow a late lead. They lacked any sense of continuity defensively, missing assignments and rotations helping spring the Mavs for open looks. The Lakers, meanwhile, hit only five of 24 from distance Sunday, and 19.7 percent for the series. J.J. Barea, with 22 points and eight assists, again sliced-and-diced the Lakers, combining with Terry (32 points) and Peja Stojakovic (21 points) for 20 makes on 28 tries, part of an 86-point bench performance for Dallas, a painful reminder of their superiority over the Lakers' reserves. And, of course, it was the Mavs keeping their composure while the Lakers shamefully lost theirs. Sunday offered no opportunity to blow a late lead, but the Lakers did pick up a pair of Flagrant-2 fouls in the space of 45 seconds, the most egregious and inexcusable belonging to Andrew Bynum and his cheap shot of a driving Barea.
"They executed extremely well, their spacing was excellent, they shot the ball extremely well. Their depth hurt us. Every night it was another player stepping up and performing, and making big plays. The credit belongs [with them]," Bryant said.
What they had was what the Lakers lacked all season.
"When I think about this series and I think about this game," a somber Lamar Odom said, "their bond on the basketball court was better than ours, it seemed like. They were able to come back from 16 [in Game 1]. Come back from seven or eight with three minutes to go, and there was something missing [from us]."
It was something the championship Lakers had, and this team simply didn't. "I don't know where we lost it. That certain drive and bond that we had, that we had in the past. That cohesive drive in order to overcome adversity," Odom said.
The signs were there all season. After a hot start, the Lakers stumbled and tripped, failing to gain any sense of momentum. They looked like a different team, but were given the benefit of the doubt based on previous work. The 17 wins in 18 games was a grand illusion, an echo of previous greatness and distraction from problems there all along. They won 57 games in spite of themselves.
"We never clicked," Luke Walton said. "We were talented enough that when we played well we were going to beat most teams, but to be a championship team, you have to get to the point where you win even when you don't play well and that's where we never got."
The aesthetics of Game 4 were atrocious, and the Lakers should and will feel deep regret for the manner in which the curtain fell on their title run. If nothing else, they owed Phil Jackson a more complete effort in his final game on the bench. Ultimately, though, this was a team playing to win a title, and from their perspective it made no difference whether they lost in four, five or six. Only that they lost.
Whether 122-86 will ultimately be remembered in the same way as 131-92 remains to be seen, as does the team's response to the end of a title run and the retirement of perhaps the greatest coach team sports has ever seen.
It seems bad now, and Lakers fans have every right to be upset by how this season unraveled, and the waste of so much promise. It wasn't a fun year. In the end, though, the dust will settle, the team will survey the damage, and move on.
The monster has decimated the city, but this is an organization with an excellent record of rebuilding.