Sometimes only certain players can adequately answer a team's "Help Wanted" ad.
The Lakers, for example, don't have an amorphous need for someone with good handle and passing skills, but a genuine need to upgrade at point guard, which can only be satisfied with a point guard. Unfortunately for them (but fortunately for me, at least in regards to this post), the free agent rolls at the 1 are so thin and their means of improving the roster so limited, for the Lakers to solve that particular problem through a straight signing is basically impossible.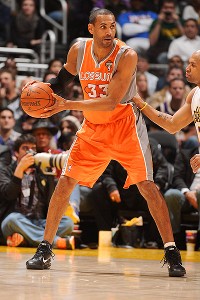 Andrew D. Bernstein/NBAE/Getty Images
On the list of players L.A. has even a reasonable chance to sign, Grant Hill fills a lot of needs. Plus, he plays the piano.
Other needs remain relatively position specific, but it's easy to get bogged down in the classification on a player's bubble gum card and lose something often far more important: Skill set. Much of what the Lakers can use might be provided just as easily from a power forward as a shooting guard.
What follows, then, is the Skill Set Guide to Free Agency. I limited this list to players the Lakers might realistically have a chance to sign with only a mini mid-level (worth just over $9 million for three years) and veterans minimum deals, all relatively disheartening stuff when pitted against the excitement of Chris Paul/Dwight Howard talk.
But let's assume for a mundane minute the Lakers have to improve without blockbuster trades. They have a lot of boxes to tick, and in the end the players ticking the most good ones might be best, even if positionally the fit isn't perfect.
SHOOTERS - Players who can help stretch the floor in one way or another...
• Grant Hill, F, UFA (Phoenix)- Not traditionally thought of as a shooter, Hill has in his last two seasons shot 39.5 and 43.8 percent from 3, and is a high end mid-range shooter, both of which would come in handy.
• Shane Battier, F, UFA (Memphis)- Big on the corner 3, generally in the mid-to-high 30 percent range from downtown. Not a deadeye, but limits poor shot choices.
• Mike Dunleavy, G/F, UFA (Indiana)- In theory, at least. In the last two seasons in which he was (more or less) healthy, Dunleavy was strong from downtown and in long twos.
• James Jones, SF, UFA (Miami)- Per John Hollinger, Jones took exactly one shot at the rim in over 1,500 minutes. Why? He's shooting lots and lots of 3's, with a career mark at 40 percent.
• Peja Stojakovic, SF, UFA (Dallas)- Certainly showed Lakers fans he can still bomb away. When healthy doesn't dip far below 40 percent from 3, often rises well above.
• Daequan Cook, SG, RFA (Oklahoma City)- Hit 42.2 of his 3's last year. Has advantage of youth, as well.
• DeShawn Stevenson, SG, UFA (Dallas)- In his last two healthy seasons ('07-'08, '10-'11) was around 38% from beyond the arc.
• Jason Kapono, F, UFA (Philadelphia)- Does almost nothing else well, but as a career 43.7 3-point shooter can space the floor. (NOTE: Kapono has already visited with the Lakers)
• Reggie Williams, SF, RFA (Golden State)- Almost surely out of L.A.'s price range, in part because he's 25 and shoots so well from downtown (42.3% last season).
• Marco Belinelli, SG, UFA (New Orleans)- Never worse than 38% from 3 during his four year career, and solid with long 2's, as well.
• Anthony Parker, G, UFA (Cleveland)- From 3, he's trending down from 44.1 percent in '06-'07 to 37.9 percent last year, but remains a productive performer from distance.
• Michael Redd, G, UFA (Milwaukee)- It' almost impossible to predict how the market will treat Redd, who was once a top shooter/scorer but has basically lost the last two seasons due to injury.
• Other candidates: Vladimir Radmanovic (seriously), Mo Peterson (in theory, though recent shooting numbers are very questionable), Steve Novak, Roger Mason Jr. (see Peterson, Mo).
FRONTCOURT DEPTH - Guys who can the burden on Pau Gasol and Andrew Bynum...
• Jeff Foster, C, UFA (Indiana)- When healthy, the 12 year vet is a smart, mobile, savvy big.
• Josh McRoberts, C, UFA (Indiana)- At 24, the former Duke standout has (generally) bumped his numbers in each of his four years in the league. Has good range for a big man (38.3 percent on 60 triples last year).
Aaron Gray, C, UFA (New Orleans)- Impressed against the Lakers in the playoffs, he uses his massive size effectively as a rebounder.
• Kurt Thomas, C, UFA (Chicago)- The 10th pick of the '95 Draft still has a little life, averaging almost 23 mpg last year. Were he to average that much in L.A., things will have undoubtedly gone horribly wrong.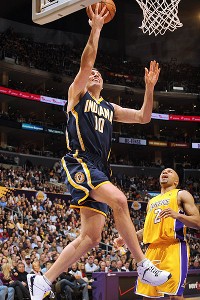 Noah Graham/NBAE/Getty Images
Jeff Foster would look great as a backup C in purple and gold, but prying him from Indiana won't be easy.
• Craig Smith, PF, UFA (Clippers)- Can't back up Bynum, but could bolster the front line and provide flexibility to get creative with Lamar Odom. Possibly the NBA's best 17-minute-a-night player.
• Etan Thomas, C, UFA (Atlanta)- Barely played last year (only 82 minutes, and just 627 in the two seasons prior), but happily didn't get any shorter.
• Joel Przybilla, C, UFA (Charlotte)- Whether he's healthy enough to contribute, or even wants to play, is a question. But if reasonably whole, he's a strong rebounder and physical floor presence.
• Kwame Brown, C, UFA (Charlotte)- Yes, Lakers fans would shudder, but he'd return as a third center, not a starter. Is now what he was then-- mobile, strong, hands like feet, no offensive instincts whatsoever.
• Chris Wilcox, PF, UFA (Detroit)- Like Smith, he doesn't solve the reserve C problem, but would add hop and is a great finisher around the rim. He's coming off his best season in years (more a threat than an endorsement).
Other candidates: Eric Dampier, D.J. Mbenga, Dan Gadzuric, Solomon Jones
DEFENSIVE HELP - Generally speaking are likely to contribute positively to team D...
• Hill. Long in the tooth, but still a very strong, very active defender on the wing.
• Battier. Not what he was three years ago, but remains one of the smartest you'll find on that side of the ball.
• Stevenson. Strong and long. Did admirable work on Kobe and LeBron James in last year's playoffs.
• Julian Wright, SF, UFA (Toronto)- Athletic and long. Imperfect, but has some tools.
• Parker. Slowing down, but still strong and smart enough to be effective in the right matchup.
• Brown. It's all he's good for, really. Strong body on the post, good feet in the pick and roll.
• Foster. Near maniacal rebounder, aggressive defender, good feet on the perimeter.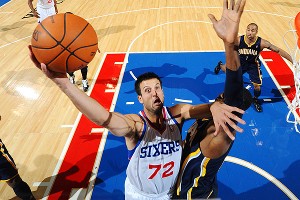 Jesse D. Garrabrandt/Getty Images
Jason Kapono won't normally be found this close to the basket, but would address L.A.'s need for a shooter.
• Earl Watson, G, UFA (Utah)- Strong +/- rates for an underwhelming defensive team.
• Other candidates- Ronnie Price, Marquis Daniels, Dominic McGuire, Acie Law, Mo Evans
FACILITATORS - Movers of the ball, wheel greasers offensively...
• Battier. Willing passer, rarely makes mistakes with the ball.
• Hill. Via Hollinger, third among SF's in pure point rating.
• Tracy McGrady, G/F, UFA (Detroit)- At times, served as the Pistons de facto point guard, and played the role well, posting a career high assist rate. At 6'8", he sees the floor very well.
• Watson. Turns the ball over a lot, but among available PG's, Watson qualifies as a high end distributor.
• T.J. Ford, PG, UFA (Indiana)- Pushes pace. Not great distribution numbers for a point guard... but at least he's a point guard.
• Ben Uzoh, G, UFA (New Jersey)- College SG playing point as a rookie. Young (23) and athletic, he's one of the few guys on the market with true youth on his side. Benefits, if they come, arrive down the road.
SUPPLEMENTAL SCORER - Alternative sources of points, bolstering bench scoring, offensive depth...
• Hill. 13.2 ppg last season in Phoenix.
• Dunleavy. 14.6 points per 36 minutes last season.
• Williams. 16.5 points per 36 minutes in two NBA seasons.
• Belinelli. 30 games with 14 points or more last season.
• McGrady. Not what he once was by any stretch, but can still score. Support of high end talent would help.
• Redd. If he's healthy, Redd was once one of the league's better point producers.
• Wilcox. Points per 36 minutes over the last four seasons: 17.1, 15.3, 12.4, 15.3.
ATHLETES
• Wright, Uzoh, Price, Wilcox, Al Thornton (SF, UFA, Washington)
So that's the good stuff. Now, boxes in which players don't want to land...
HEALTH RISK - Can't contribute if you can't play...
• McGrady. 72 games last season, 65 the three previous combined.
• Stevenson. 72 games last season, but averaged only 32 in the three coming before, thanks to back trouble.
• Stojakovic. Back problems have plagued him for a while, now.
• Dunleavy. Has played 70 games or more only once since '05-'06.
Przybilla. Two major knee surgeries have severely undercut his last • two seasons.
• K. Thomas. He's 39.
• E. Thomas. 26 games in '08-'09, 23 in '09-'10, 13 in '10-'11. Fair to say he's trending down.
• Peterson. Only 93 games over the last three seasons.
• Foster. Back problem have severely hampered him in the last two seasons.
• Redd. Games played between '02-'03 and '05-'06: 82, 82, 75, 80. Between '08-'09 and '10-'11: 33, 18, 10.
• Daniels. Suffered bruised spine, one of last year's scariest injuries. Averaged just over 50 game a season in last three.
DEFENSIVE LIABILITY- Shortcomings on defensive end could mitigate positives elsewhere...
• McGrady, Kapono, McRoberts, Peterson, Redd, Wilcox, Novak
CONCLUSION
It's going to be a strange couple of weeks. The speed of negotiations likely means some players quickly get overpaid, others settle for less than they might have otherwise received, and surprising stragglers will be left out in the cold. The Lakers ought to be able to address a few needs, but every player they're likely to bring in (save higher end guys like Hill) comes with trade offs, and none will be game changers.
Such is the reality of shopping in the bargain aisle.
To subscribe to the K-Bros podcast via iTunes, click here. Subscribe to our YouTube channel for full video coverage of the Lakers.