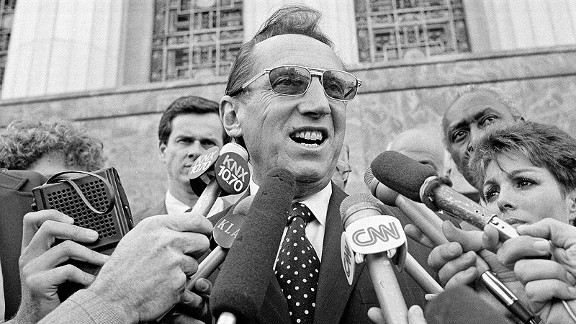 AP Photo/Nick Ut
Al Davis always kept it interesting for those who covered his team.
In 2001, I wound up sitting next to Al Davis in his second favorite place, a courtroom. For those opponents -- and there were many -- Davis couldn't battle on the field, he wouldn't hesitate to call in the lawyers.
On this occasion, he was suing the NFL, claiming it had sabotaged his efforts to build a football stadium at Hollywood Park.
In covering the Raiders in their final three years in Los Angeles for the L.A. Times, I had formed a unique relationship with Davis. He fiercely disapproved of the Times' coverage of the Raiders, but he still wanted an avenue to vent his feelings in one of the nation's largest newspapers. So, during my tenure on the beat, he gave me a lot of access.
On that day in 2001, however, seven years removed from the last Raiders game in Los Angeles, his feelings had changed.
"When you first joined the team," he said to me during a lull in the testimony, "we thought you were one of us. But you turned out to be one of them."
"What do you mean by them?" I asked.
"You know exactly what I mean," he said in a menacing tone, flashing the glare that has melted friend and foe alike.
Former Lakers coach Pat Riley used to refer to the media as "peripheral opponents." To Davis, no opponents were peripheral. You were either on his side or on their side. And the media was no exception.
For Davis, who died Saturday at 82, the key to his all-consuming passion for his beloved Raiders, the measuring stick by which he judged those around him, wasn't yards gained or tackles made or even games won. It was loyalty.
He demanded it, rewarded those who demonstrated it and shunned those who did not.
Marcus Allen was one of the most complete players to ever put on a Raiders helmet, a Heisman Trophy winner, Super Bowl MVP, game-breaking runner, skilled receiver and highly effective blocker. Yet for reasons unexplained, Davis turned on Allen and benched him, robbing the team of one of its most valuable weapons.
While Davis may have been a complex character riddled with quirks, history will judge him by his accomplishments that will extend well beyond his lifetime. He helped create the merger that turned the NFL into most powerful entity in American sports.
In defying the NFL by moving to L.A. for 13 seasons beginning in 1982, Davis launched a colorful, rewarding era in the city's sports history, an era that many local fans still cling to. It's been almost 17 years since the Raiders returned to Oakland, yet every Sunday when the team is home, L.A. fans pack flights headed up to the Bay Area, dressed in their silver and black, loudly proclaiming their belief in "the greatness of the Raiders." Silver and black is still prevalent everywhere in L.A., rivaling the purple and gold in popularity.
While fans in droves have deserted the Dodgers, mired in mediocrity and controversy, local Raiders supporters remain steadfast for a team long gone. It is that loyalty that has been a driving force in the effort to bring pro football back to L.A.
Demanding devotion
Davis' insistence on devotion to the cause knew no limits.
Receiver Bob Chandler once told me that when he ruptured his spleen, the injury so severe he had received the last rites, he got a call from Davis while in the recovery room.
Still in a mental twilight zone, Chandler clutched a phone handed to him by a nurse and heard a voice say, "Bob, this is Al Davis."
"Hello," said Chandler, expecting to hear his owner wish him a full and complete recovery.
"You know, Bob," said the voice on the line, "you can play football without a spleen."
With such a single-minded view, Davis certainly had no patience for any media opinions that strayed from the party line.
Once, when a beat writer wrote something Davis didn't like, he banned the writer from the team's Oxnard, Calif., training camp.
Since Davis was still willing to grant me an audience, I confronted him after practice during a stroll across the field, telling him how I thought it was wrong to single out one writer.
"Sometimes," said Davis, the passion rising in his voice, "you have to take a stand for yourself, your team and your country."
Your country?
Yes, to Davis, the Raider Nation was a country onto itself.
The writer was eventually allowed back in, but Davis' antagonistic relationship with the media continued.
When United Press International was on the verge of financial collapse, Davis asked me how much I thought it was worth.
"Why?" I said.
"Because I'm thinking of buying it," he replied. "That way, I can have my own stories written and run side by side with all the s--- you guys write."
On one occasion, when all the beat writers had written something that was perceived as negative by the Raiders, we all returned to the press room after practice to discover that our computers had been turned upside down.
No damage, just a message shot across the keyboard.
Never a dull moment
There were, however, other sides to Davis' personality, sides that would be surprising to those who just thought of him as an insanely driven man, incapable of veering from his "Just win, baby" mantra. He could be personable and humorous and was faithful to his religious roots.
The Raiders were scheduled to play a preseason day game on the road against the then-Houston Oilers in 1994. All of us on the beat were staying in the same hotel as the team, several blocks from the stadium.
As the players filed out of the lobby and onto the idling buses outside, I came up with a really dumb idea. It's a nice summer day, I told the other writers. Let's walk to the game.
A nice summer day in Houston means high temperatures and equally high humidity. So it was that day. As we set out on the ill-advised trek, the buses, with Davis in command in the front seat of the lead vehicle, pulled away from the curb and slowly followed us.
By the time we reached the first traffic light, we all looked as if we had just stepped out of a shower, our clothes soaked in sweat.
The door of the first bus opened, Davis poked his head out and motioned for us to join him. Sheepishly, we all got on the bus.
When the Raiders played a preseason game in Barcelona, Spain, Davis rented out a palace hall, threw a party and invited the entire traveling group, media included. He even took time out to sit down and talk to my wife about the sights of the city.
I am Jewish, as is Davis, and that led to one of the strangest conversations I ever had with any sports figure.
It was 1991. Boris Yeltsin had just become president of Russia, but was faced with a potential coup.
I was watching practice on the sidelines when Davis came up to me. Staring straight ahead without looking in my direction, he said, "Yeltsin is going to be all right."
"What?" I responded, thinking he must be talking about some obscure kicker named Yeltsin.
"Boris Yeltsin," Davis said. "He's going to be OK. He's got a lot of Jews around him."
Momentarily speechless, feeling like I was in the middle of a "Saturday Night Live" routine, I finally blurted out, "How do you know this?"
"I talked to him," Davis said. "I called him last night."
And with that, he walked away, leaving behind a trail of mystery, doubt and disbelief. Just the way he liked it, ever playing his mind games.
There was no doubt that Davis honored his religious heritage.
Every year on Yom Kippur, the Jewish Day of Atonement, Davis would arrive by limousine at an out-of-way synagogue in time to say Yiskor, the prayer for the dead, leave a generous donation and then disappear back into his limo.
His death Saturday came on the Day of Atonement.
The subject of death always haunted Davis.
When former big league pitcher Don McMahon, a high school classmate of Davis' back in Brooklyn, N.Y., died suddenly, Davis was at the team's El Segundo, Calif., headquarters. I was there, too, along with my son Alan, then 8 years old.
Davis, in obvious distress, pulled Alan aside and told him, "We still haven't dominated this death thing."
Davis said it as if he believed it was only a matter of time until death was defeated like some opponent on the field.
Davis ran out of time Saturday, but, to the end, he never ran out of resolve.
Steve Springer is a freelance journalist and the author of 11 books, including "American Son: My Story," with Oscar De La Hoya. He was an award-winning sports writer with the Los Angeles Times for 25 years.