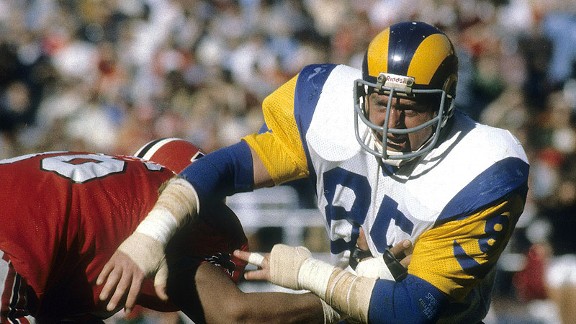 Focus on Sport/Getty Images
Jack Youngblood in action against the Falcons during a game at Atlanta-Fulton County Stadium in Atlanta. Youngblood played for the Rams from 1971 to 1984.
Even at the age of 61, Jack Youngblood would still pass for the toughest player in the NFL if he put on shoulder pads and wore his No. 85 blue-and-gold jersey Sunday.
The Hall Of Fame defensive lineman, who played through a broken leg in the 1979 playoffs, has a hard time watching today's game, where some players sit out with a sore throat or hangnail.
"I don't get it," Youngblood said. "I don't understand it sometimes."
Youngblood, who lives in Florida, is currently on tour promoting "Because It Was Sunday: The Legend of Jack Youngblood," written by D.W. Cooper. I caught up with Youngblood and asked him about his career with the Rams, playing with a broken leg and, of course, what he thinks about Los Angeles getting the NFL back.
Arash Markazi: You played your entire 14-year career in Los Angeles with the Rams. How surprising is it that the last time the NFL had a game in Los Angeles was Christmas Eve 1994?
Jack Youngblood: It's one of those things that's really hard to believe. Right after the Rams and Raiders left you had a little noise here and there that a team was coming and all of sudden time goes by and we're almost 17 years out since the last time the NFL was in L.A. It's amazing because it's a great football town. I witnessed that firsthand. If you have a good football team there you become their rock stars. But not to have one there for so long is incredible. You have to build a house first and then more than likely somebody is going to have to pony up the franchise fee.
Markazi: Have you followed the two proposals that are currently out there to bring the NFL back to Los Angeles. There's one in downtown Los Angeles and another in the City of Industry.
Youngblood: I have not studied them well enough to know the difference but the one thing I know about Los Angeles is that you have to have great access and egress and if you don't you're going to frustrate people even more. They have the 5 Freeway, the 10 Freeway and the 405 that drive people crazy Monday through Friday and they don't need that on a Sunday afternoon too.
Markazi: It seems Los Angeles is still predominantly a Raiders town, even though they were only in L.A. for 13 seasons and the Rams were in Southern California for close to 50 years. Do you think the Rams lost the Los Angeles market when the team moved to Anaheim in 1980?
Youngblood: I didn't think so. You had to redirect the fans but once they got used to coming to Anaheim and saw what a great facility was, at least at first anyway, it was fine. It was easy to get to. There was plenty of parking and all of that. It wasn't hard to convince them that it was a nice facility and a good home.
Markazi: So you play your entire career in Los Angeles and one of your rivals during that time is the St. Louis Cardinals. What is it like now when you go to St. Louis and are honored by the city along with those former Cardinals players?
Youngblood: Yeah, that's odd. You go there and they're Rams fans so they know the team's history, but there's this bittersweet thing going on with the local people because they used to hate us when we came to town and beat up on Jimmy Hart and Dan Dierdorf and all those guys. It's irony for sure. That's a business decision where they try to bring the St. Louis fans into the Los Angeles Rams history.
Markazi: The Rams can get out of their lease in St. Louis soon and there has been some talk of them coming back to Los Angeles. What would that mean to you, if the Rams did come back home?
Youngblood: Well, [Rams owner] Mr. [Stan] Kroenke is going to do make the best deal in the best interest of his franchise. I know that. He's a business man and he will do that for the value of his franchise. It's going to have to be lucrative to leave an established market in St. Louis even though Los Angeles would be even bigger. It's going to be interesting to see what happens.
Markazi: What was Los Angeles like when you played, especially from 1973 to 1979 when the Rams won seven straight NFC West titles and made it to Super Bowl XIV?
Youngblood: We were rock stars. We were absolute rock stars. Even through that strike-shortened 1982 season when we were 2-7 and not very good, we were still popular. Everywhere you went people recognized you and your face was on all kinds of marketing stuff. They loved us. Los Angeles loved their gold and blue.
Markazi: One of the perks of playing in Los Angeles was being close to Hollywood and after you retired you acted in a couple of television movies, where you worked with William Friedkin, who directed The Exorcist and "The French Connection." What was that like?
Youngblood: There were a couple of opportunities that came along because of who we were and the recognition we got. That's a whole different world than the football world. I tried it. I dabbled my hand in it. I wanted to see what it was like. Merlin [Olsen] was doing it. Freddy [Dryer] was doing it and some of the other boys like Deacon [Jones] had done some stuff. I wanted to see if I had a knack for that, but I had a vision of still being in the football business, so I stayed there.
Markazi: A lot of people don't know that after your acting career you were the co-host for ESPN's "NFL GameDay" show in 1985 and 1986, alongside Chris Berman, and eventually were succeeded by Tom Jackson in 1987 and they've been a team ever since.
Youngblood: That was a brilliant decision on my part wasn't it? [laughs] In fact, I recommended Tom. We had a ball that first couple of years; getting that show off the ground. I was in the awe of Boomer that entire time; watching him perform. He was a great partner to have; a great teammate. It was a lot of fun. I would look at something like that down the road. It's a great profession.
Markazi: You famously played with a broken leg through the 1979 playoffs and Pro Bowl. It was ranked by the NFL Network as the gutsiest performance in league history. Why did you do it? And are you still amazed people are talking about it over 30 years later?
Youngblood: Yeah, that's the kind of story that resonates through the ages really. When you hear somebody had a broken leg and played three football games, I mean, that's not normal. ... I did it because it was Sunday. I did not want to let my team down. I wanted to go and perform. I wanted to go and be with my football team and contribute to their success.
Markazi: I can understand you risking your health during the playoffs and the Super Bowl, but the Pro Bowl? Players today miss the Pro Bowl if they have a sprained pinkie. Why play through the pain of a broken leg in a game like that?
Youngblood: Well, you don't want to miss that party [laughs]. It was a great opportunity. We had I think seven or eight guys going from the Rams that year, and when you're going to Honolulu, that's not a bad destination. I knew they were going to take it easy on me and I wasn't going to have to do a whole lot, but I wanted to play in that game. You wanted to be a part of that party, trust me.
Markazi: What do you think about the toughness of current players in the NFL? Do you hold them to the same standards you had when in comes to play through injuries?
Youngblood: Absolutely. I have a big issue with the conditioning thing. I have a major issue. I don't understand how they expect to be compensating for playing half of a ball game. I just don't understand that logic there.
Markazi: What comes to mind when I bring up Super Bowl XIV against the Pittsburgh Steelers?
Youngblood: What comes to mind is that with six minutes left to go in the football game we're ahead 19-17. We're gaining the confidence that if we don't screw up and we don't throw it away, we have an opportunity to win this thing. It was about time. We had been at the door so many times before, going to the NFC championship game five times in six years and finally gotten to the Super Bowl. I turned and watched Terry [Bradshaw] throw a pass in the fourth quarter, I was right next to him when he threw it because I tried to put some pressure on him and Terry threw the ball and I turned around to watch the flight and I see [John] Stallworth go up and make that circus catch and I knew when that happened that was not good for us. That put them ahead and bent our back and we couldn't recover.
Markazi: What was it about game day that made you do things you wouldn't normally do?
Youngblood: I just had a passion to play the game. Once you learn that you can play it at this level and can be consistently good at it, why would you not want to go at it? I wanted to be the best every snap that we took. That was just my nature. That's what granddaddy handed down to me -- the DNA. You wanted to go out there and perform and do your job and be a part of it and be a part of a successful organization.
Markazi: What's Sunday like for you now during the football season? Do you still watch the games on Sunday?
Youngblood: There's an old clock in us old players that's still there. If you wind it up and think about it and have it started again you can feel the emotion, you can feel the tempo and you can feel the blood pressure. But now, this early in the season I may watch a game every now and then but it gets better as the season moves along. It's hard for a perfectionist to look at the game early on when you see the glaring errors, you see the missed blocks, you see the broken coverages. You see things most people don't see on the screen and it's hard to watch sometimes.