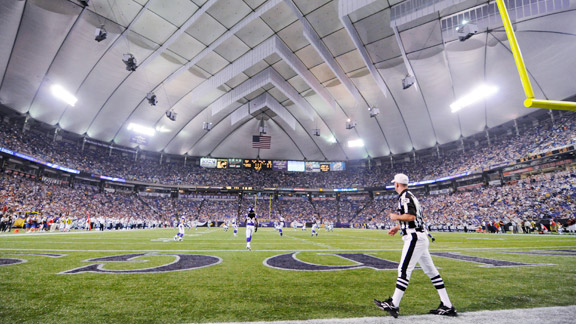 AP Photo/Jim Mone
The groups competing to bring the NFL back to L.A. are keeping a close watch as the Minnesota Vikings' ownership fights for new stadium funding.
The Minnesota Vikings don't need to be told how far along Los Angeles is in building a new football stadium. Their ownership group receives personal updates from AEG president and CEO Tim Leiweke whenever there is something new to report, which has been more often than not in recent weeks.
Last week Leiweke, who was the vice president of the Minnesota Timberwolves for four years and the team's first employee in 1988, informed them the California Senate passed a bill to expedite legal challenges against Farmers Field, AEG's proposed $1.2 billion downtown football stadium. The ruling could help the project begin construction as early as June 1.
"We've followed the situation in Los Angeles through the NFL and we know Tim Leiweke, who is a former sports executive in Minneapolis," said Lester Bagley, Vikings vice president of public affairs and stadium development. "We've been in contact with Tim and he provides us with updates but our focus is on getting a new stadium in Minnesota. That's our plan A and we don't have a plan B."
The Vikings have also been contacted by Ed Roski's Majestic Reality Co. which has permits in place to begin construction on a football stadium on a 600-acre lot in the City of Industry.
"It's no secret that the Vikings have been approached by other communities that have said, 'When your lease expires and if you don't get your deal done, we'd like to talk to you about an opportunity in our community," Bagley said. "Our owners are aware of that but we still have time left on our lease."
The Vikings don't have much time left on their lease at the Hubert H. Humphrey Metrodome. In fact, if they don't get a new stadium deal in place and extend their lease through the duration of construction by the end of the season, they will be the only team in the NFL without a lease and a stadium to call home.
There has always been a feeling among ownership and fans that the Vikings would eventually get a new stadium built in Minnesota. The Minnesota Twins got a new $545 million home in Target Field last year and the University of Minnesota football team got a new $289 million home in TCF Bank Stadium two years ago, both using significant public funding, both moving out of the 30-year-old Metrodome.
The problem in Minnesota, as is the case across the country right now during the recession, is there is little support for tax increases or public funding for sports complexes, especially one benefitting a team Forbes valued at $796 million this month. That the Vikings are asking the public to pay for a significant portion of their new stadium after a 0-2 start this season and a 6-10 record last season certainly doesn't help.
There is now a growing concern within Vikings ownership that their proposed plan to build a $1.1 billion stadium in Ramsey County could be in jeopardy.
Last May, the Vikings and Ramsey County reached an agreement on a partnership in which the Vikings would contribute $407 million and Ramsey County would contribute another $350 million toward a new stadium through a county-wide sales tax increase. Another $300 million would come from the state.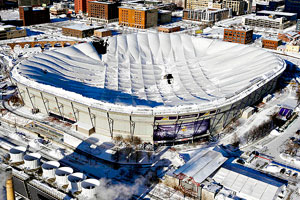 AP Photo/Ann Heisenfelt
The Vikings had been seeking a new stadium for years before last season's roof collapse at the Metrodome.
Even though the Vikings now say they're willing to increase their contribution -- which Minnesota Gov. Mark Dayton told reporters could reach $500 million -- to cover any cost overruns, in addition to paying $20 million a year in operational costs and capital improvements, they may not be able to get the $650 million they had hoped for from Ramsey County and the state.
Some legislators are now pushing for a referendum to be held in Ramsey County to decide on the half-percent sales tax increase that would fund the county's contribution, a move that could prove a significant obstacle.
It would be hard to imagine citizens voting to increase their taxes during a recession. The Ramsey County Charter Commission will host two public hearings (Sept. 28 and Oct. 11) on proposed ballot language that would prevent the county from using a new sales tax to fund the new stadium. After the hearings the charter commission would vote on whether to post a ballot question before voters for the November 2012 general election.
But the Vikings would like to have their stadium situation resolved long before then and be playing in a new stadium by 2015.
"There's certainly some frustration and concern no doubt within our ownership group, within our fan base and within our organization," said Bagley, who graduated from UCLA with a bachelor's degree in political science. "I think our owners have been good owners; they've been patient and made significant contributions to our community both on the football side as well as the community relations side. There's certainly some frustration but we also have hope that it will get done but we really believe it has to get done before the lease expires."
Minnesota governor Mark Dayton would like to get a deal done before the Vikings' lease expires as well.
"The reality is each year or even six months the cost of the stadium increases, so in our view it would be better to get a deal done sooner rather than later," said Katharine Tinucci, press secretary for Gov. Dayton. "But there is no deal at this point."
Bagley is hoping Gov. Dayton will call lawmakers back for a special session on a Vikings stadium bill in October or November. If a special session isn't called this fall, Minnesota's 2012 session doesn't begin until Jan. 24, more than three weeks after the end of the NFL regular season.
"The governor is not going to call a special session until the deal is done," Tinucci said. "It's not done at this point. There's still work that needs to be done before he calls a special session."
New Jersey real estate magnate Zygi Wilf and a group of investors bought the Vikings from Red McCombs in 2005 for $600 million and have been looking to build a new stadium ever since.
When the Twins worked out a deal with Hennepin County and the state to build Target Field, a referendum wasn't needed for a 0.15 percent Hennepin County sales tax. Under legislation, $392 million in public subsidy was provided through the sales tax increase for the ballpark. The bill was signed into law by then Minnesota governor Tim Pawlenty in 2006. Five years and a slew of new legislators later, it looks like the Vikings might not be able to work out a similar deal when it comes to tax increases and public funding.
"Allowing the Twins to move forward with their stadium in Hennepin County without a referendum but not allowing the Vikings to move forward with their stadium in Ramsey County without a referendum doesn't seem to be fair," Bagley said. "We just want to be held to the same standards and that issue will come to a head when there's a legislative hearing. We're just going to have to get the votes to hold it off. That's the best we can hope for at this point."
But the economic climate is different than it was five years ago, and there is a new governor who doesn't want the state to get involved with a potential local referendum.
"The governor wasn't the governor when the Twins got their stadium and Gov. Dayton's viewpoint on a referendum is that it's a local decision left up to the county," Tinucci said. "It's not in any way our choice. The governor wouldn't oppose a local referendum but we're not requiring one. It's not up to the state."
Long before the roof of the Metrodome roof collapsed last year, forcing the Vikings to play two home games at Detroit's Ford Field and then the University of Minnesota, the team's ownership has considered the venue inadequate. It is one of the 10 oldest stadiums in the NFL, and under the Vikings' lease with the Metropolitan Sports Facilities Commission, which was signed in 1979, the commission owns the stadium and the Vikings rent it.
"It's challenging from both a fan experience and from a revenue and competiveness experience," Bagley said. "Right now we're significantly subsidized by other NFL teams because of the Metrodome and the lack of revenue. The Metrodome is no longer an NFL facility and it can no longer sustain a team and is not a viable long-term solution."
Arash Markazi is a columnist and writer for ESPNLosAngeles.com. Follow him on Twitter.