The high school football season officially began Thursday night in Southern California, the designated Week 1 of prep football.
Westlake, the reigning CIF Southern Section Northern Division champions, played Oxnard and rolled to its first win of the season. On the same night, the Westlake football team memorialized A.J. Castro, a Westlake High graduate and U.S. Army soldier who died while serving in Afghanistan. Castro was a two-year varsity player at linebacker for the Westlake football team in 2006-07.
Meanwhile, the Valencia High girls' tennis team won a California High School Tennis Classic championship in Clovis.
1. The Agoura High football team has a rising star in sophomore Kyle London. He caught the game-winning touchdown for Agoura in its season opener against Ventura. More important, he has the trust of his coach, Charlie Wegher, and quarterback Gerard Poutier. Both Wegher and Poutier said they had no doubt London would catch the 13-yard touchdown pass with 1:01 to play that led to a one-point victory.
2. Ventura has its own rising star in junior running back Conner Armstrong. Ventura coach Brad Steward said he wanted to use Armstrong for maybe 25 carries against Agoura. He ended up using Armstrong 40 times to the tune of 287 yards and four touchdowns. Armstrong did everything he could score his fifth touchdown, but fumbled on the goal line and gave Agoura a chance to win the game. Agoura drove 98 yards for the game-winning touchdown, and Armstrong said after the game the loss hurt more than all the yards he gained and all the touchdowns he scored.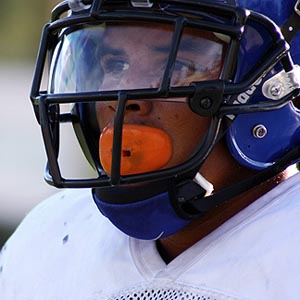 Tim Haddock/For ESPNLA.com
Tavior Mowry had 99 yards in his first three carries during Westlake's easy win over Oxnard.
3. The questions being asked after Valencia's 49-32 win over Sherman Oaks Notre Dame is: Are the Vikings this good? Or is Notre Dame this bad? Valencia running back Steven Manfro scored five touchdowns and gained 324 yards from scrimmage. He rushed for 174 yards and three touchdowns. He caught five passes for 184 yards and two touchdowns. Valencia quarterback Alex Bishop was 15-of-22 passing for 370 yards and four touchdowns. He averaged 24.7 yards per completion.
4. The Westlake football team easily handled Oxnard, 42-14, in the season opener for both teams. Westlake barely broke a sweat in this one. Running back Tavior Mowry rushed for 99 yards and a touchdown on his first three carries. Receiver Nelson Spruce caught two touchdown passes in the first half. Quarterback Nick Isham was 8-for-9 passing for 99 yards and three touchdowns in the first half. He didn't play in the second half.
5. The Valencia girls' tennis team won the California High School Tennis Classic Division 2 championship in Clovis over the weekend. The Vikings beat Corona del Mar, 6-0, in the championship match. The two-day tournament attracted 112 teams from across the state. Valencia beat Bakersfield Christian, Oak Ridge and Marin Catholic in pool play. Valencia beat San Marin in the semifinals before sweeping Corona del Mar in the finals. Clarice Fraczek led Valencia as the team's No. 1 singles player for most of the tournament. Emily Fraczek and Brigitta Benitez swept through their singles matches for Valencia. The Valencia boys tennis team won the Division 3 championship at the same tournament in the spring.