1. (1) Westlake (1-0)
The Warriors were up 35-0 at halftime against Oxnard. Most of the starters on offense sat out the second half. Quarterback Nick Isham completed 8-of-9 passes for 102 yards and three touchdowns. Running back Tavior Mowry gained 108 yards on four carries. It will be interesting to see what kind of numbers Westlake can put up in a full four quarters. Next up is Thousand Oaks in the Marmonte League opener on Thursday night.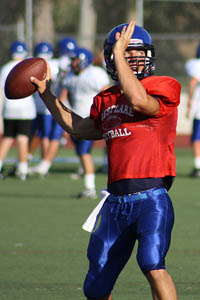 Tim Haddock/For ESPNLA.com
Nick Isham threw only nine passes in Westlake's season-opening victory over Oxnard.
2. (2) Valencia (1-0)
Steven Manfro had a monster night at running back for the Vikings against Sherman Oaks Notre Dame. He racked up 324 yards from scrimmage and scored five touchdowns in his team's 49-32 opening night win. Manfro rushed for 174 yards and three touchdowns on 14 carries. He caught five passes for 184 yards and two touchdowns. Next up for Valencia is Birmingham on Thursday night.
3. (4) Alemany (2-0)
Alemany running back C.J. Washington scored two touchdowns in his team's 44-20 win over Eastside. Alemany quarterback Vernon Adams threw for 184 yards and a touchdown. He also rushed for 84 yards on six carries and scored on a 46-yard run. Alemany kicker Martin Meza connected on another long field goal, hitting a 49-yarder in the second quarter. He made a 48-yard field goal against Oaks Christian.
4. (3) Loyola (1-1)
Loyola lost to Mission Viejo, 42-7. Jared Baker scored the only touchdown for Loyola on a 1-yard run. He gained 50 yards on 17 carries. Next up for Loyola is Newport Harbor on Friday night.
5. (5) Moorpark (0-1)
Moorpark has had two weeks to prepare for its Marmonte League opener against Newbury Park on Thursday night. Moorpark lost to Eastlake, 24-21, in its season opener on Sept. 3. Newbury Park won its season opener, 21-14, over Buena on Sept. 3.
6. (6) Oaks Christian (0-1)
Oaks Christian opens Marmonte League play against St. Bonaventure on Friday night. Both teams are new to the Marmonte League, the only 10-team league in the state. Oaks Christian lost to Alemany, 20-17, in its opening night game on Sept. 3. St. Bonaventure beat Long Beach Poly in impressive fashion, 32-7, on Friday night.
7. (8) St. Bonaventure (1-0)
St. Bonaventure quarterback Marc Evans was 18-of-25 passing for 254 yards in his team's 32-7 win over highly touted Long Beach Poly. He threw a 12-yard touchdown pass to Jeremy Sanchez and scored another touchdown on 1-yard keeper. Tanner Souza returned an interception for a touchdown and caught five passes for 101 yards.
8. (10) Newbury Park (1-0)
Running back Taylor Zander rushed for 122 yards on 20 carries in his team's 21-14 win over Buena. Newbury Park quarterback Jake Gerringer rushed for two touchdowns and threw a touchdown pass to Dakota Dunlea. Newbury Park opens Marmonte League play on the road against Moorpark on Thursday night.
9. (NR) Crespi (1-1)
Crespi erupted for 29 points in the third quarter in its 51-8 win over L.A. Jordan. Devin Lucien caught eight passes for 151 yards and three touchdowns. He caught a 7-yard touchdown pass from quarterback Kenneth Stenhouse in the third-quarter barrage. Crespi will get a tough test on Friday night against Clovis West. Clovis West is 2-0 and has averaged 44.5 points per game.
10. (NR) Palmdale (1-0)
Palmdale sophomore Michael Richards put on quite a show in his team's 42-7 win over Hart. He had three interceptions, one that he returned for a touchdown, and a fumble recovery. He scored two touchdowns and produced 107 yards from scrimmage. Palmdale quarterback Shaun Gutierrez had a nice night too, rushing for 129 yards and four touchdowns on 11 carries. Next up for Palmdale is Granada Hills Kennedy on Friday night.