WESTLAKE VILLAGE -- If the Thousand Oaks High football team thought it was going to somehow, someway, pull off an improbable victory over heavily favored Westlake on Friday night, the Lancers were sadly mistaken.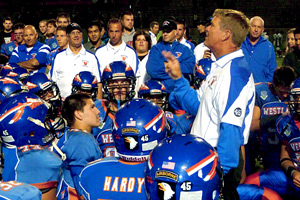 Sean Ceglinsky/For ESPNLA.com
Westlake coach Jim Benkert addresses his team after its Marmonte League-opening win over Thousand Oaks on Thursday night.
The Warriors reminded visiting Thousand Oaks who was the superior program and did so from the opening kickoff until the final whistle en route to a 31-3 victory in a Marmonte League opener for both schools.
"We came out and did our thing tonight, losing wasn't an option,'' Westlake quarterback Nick Isham said. "This was a statement game for us. We want to be known as one of the best teams around and this win means a lot.''
The Warriors (2-0, 1-0) are No.2 in the ESPNLosAngeles.com Top 25 rankings and they looked every bit the part. Opening up what proved to be an insurmountable 21-3 halftime lead certainly helped matters and ruined any momentum the Lancers (1-1, 0-1) might have had initially.
Westlake entered the fourth quarter with a 25-point advantage, but that didn't stop it from putting more points on the board. Alex Ball kicked a 20-yard field goal to give the Warriors a 31-3 lead at the 11:55 mark, but only after the drive was kept alive by Tavior Mowry, who converted a crucial fourth-and-short opportunity at the Lancers' 25-yard line.
The Warriors started the second half with good field position, starting a pair of drives at midfield, the second of which led to a score. First, Isham connected with backup quarterback Justin Moore on a 33-yard pass play. And soon thereafter, Mowry scored on a 3-yard touchdown run to give Westlake a 28-3 lead with 5:50 remaining in the third quarter.
"We have a big target on our back, so it was important for us to be focused, not get surprised by Thousand Oaks, and build a big lead so they couldn't ever come back,'' Westlake senior Nelson Spruce said. "We know where we stand, we know what our ranking is, our coaches remind us all the time. We're out to prove that we belong in the talk about the best teams.''
Apparently, the Warriors weren't at all happy with their 7-3 second-quarter lead. Accordingly, Mowry picked up 55 yards on three consecutive carries, the final of which resulted in a 12-yard touchdown run up the middle to give Westlake a 14-3 advantage with 2:19 left before halftime.
The Lancers didn't do themselves any favors the next time they got their hands on the ball. With less than a minute remaining on the first-half clock, Avondre Bollar threw an interception that Dashon Hunt returned 52 yards for a score to give Westlake a 21-3 lead at intermission.
"We made some mistakes tonight and that hurt us, once bad things started happening, we couldn't stop the snowball,'' Thousand Oaks senior Richard Mullaney said. "We can learn a lot from this game, for sure,''
The Lancers received some good fortune early on in the second quarter when the Warriors' Johnny Stuart caught a 12-yard pass from Isham but fumbled and Thousand Oaks recovered at the Westlake 37-yard line. The Lancers, however, could not capitalize on the good field position as the offense went three and out.
On their first drive of the game, the Lancers marched downfield with relative ease, although they were put to the test on two different occasions before Jamie Sutcliffe kicked a 32-yard field goal to give Thousand Oaks a 3-0 lead with 3:26 left in first quarter.
Make no mistake, it didn't take long for Westlake to answer.
On the Warriors' second play from scrimmage, they used a gimmick to find the endzone. Isham took the ball from center and handed the ball to Moore, who threw a 50-yard strike to Tre'Shon Wilson to give Westlake a 7-3 lead at the 3:01 mark of the first quarter.
"We controlled the tempo of the game from the start, we have a different mindset than Thousand Oaks, that's the difference,'' Isham said. "We're focused, we want to stay on top, nothing's going to stop us.''
Isham was 13-of-20 with 161 yards passing. Mowry finished with 93 yards on 13 carries. Spruce added five receptions for 41 yards.
Mullaney had four catches for 36 yards for the Lancers. Teammate Rickey Minyard carried the ball 14 times for 54 yards.