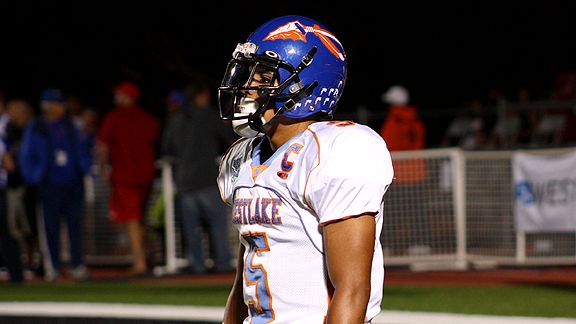 Tim Haddock/Special to ESPNLA.com
Westlake running back Tavior Mowry will be one of the offensive weapons Moorpark will need to worry about Friday.
The Moorpark football team lost only two games last season. Both were to Westlake.
The teams meet again Friday night and Westlake coach Jim Benkert knows Moorpark will be looking for a little revenge.
Westlake, the No. 2 team in the ESPNLA.com rankings, beat Moorpark the first time last year in Marmonte League play. The second time Westlake beat Moorpark was in the CIF-Southern Section Northern Division championship game. Westlake capped an undefeated season by beating Moorpark.
But Moorpark was one of the few teams that challenged Westlake last year.
"Moorpark can give us problems," Benkert said. "There's a lot of tradition over there. We're expecting to play four quarters. Our kids are ready to go."
Playing four quarters has been a rare occurrence for the Westlake starters. A good example is last week's 56-6 drubbing of Simi Valley.
Westlake returned the opening kickoff 90 yards for a touchdown. Running back Tavior Mowry carried the ball five times for 68 yards and a touchdown. Quarterback Nick Isham had two carries for 119 yards and a touchdown. Westlake was up 42-0 at halftime and rolled to its fifth win of the season
Moorpark already has two losses this season. Both losses were heartbreakers. Moorpark lost to Eastlake, 24-21, in its season opener. Two weeks ago, Moorpark lost to St. Bonaventure, 28-25, for its only loss in league play.
Moorpark is coming off a 34-7 win over Calabasas. Quarterback Grant Rohach threw for 154 yards and two touchdowns. Aaron Stanton was the leading rusher with 80 yards and a touchdown on eight carries.
Other games:
No. 22 Thousand Oaks (4-1) at No. 23 Oaks Christian (3-2), Friday, 7 p.m.
Both teams are tied for second place with 3-1 records in the Marmonte League. There are four teams tied for second place in league. The loser of this one will most likely be fighting for one of the last playoff spots to come out of the Marmonte League.
Canyon (5-0) vs. Saugus (3-2) at College of the Canyons, Friday, 7:30 p.m.
The Foothilll League season opens with undefeated Canyon against Saugus. Canyon is coming off an impressive 36-3 over Dos Pueblos. Saugus has had two weeks to prepare for its Foothill League opener against the suddenly resurgent Cowboys.
Loyola (3-3) at Sherman Oaks Notre Dame (1-5), Friday, 7 p.m.
On paper this game doesn't look as if it has much appeal. The Crespi vs. Bishop Amat game is the more interesting of the two Serra League openers. But Loyola and Notre Dame are in must-win situations if either team wants to challenge for the league title.
No. 5 Serra (5-0) at St. Francis (3-2), Saturday, 7:30 p.m.
Serra opens Mission League play on the road against St. Francis. Serra is undefeated and coming off a 48-22 win over Narbonne two weeks ago and had a bye last week. After starting the season 3-0, St. Francis has lost its last two games, the most recent, 42-28, against Paso Robles.