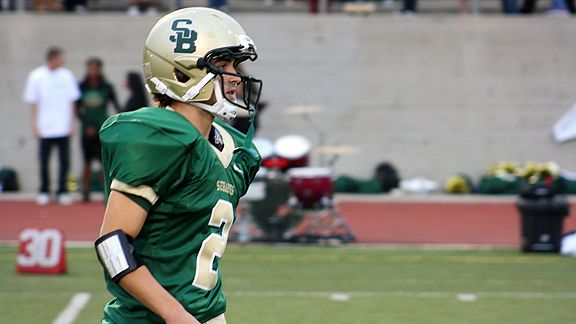 Tim Haddock/Special to ESPNLA.com
Tanner Souza figures to be a key player for St. Bonaventure on Friday in its big game at Westlake.
Big games are nothing new for the Westlake football team. They don't get much bigger than Friday night's game against St. Bonaventure.
Westlake, the No. 2 team in the ESPNLA.com poll, is undefeated and has a 22-game winning streak that includes a run through the CIF-Southern Section Northern Division playoffs last year.
St. Bonaventure has only one loss this year, 33-32 in overtime, to Oaks Christian in its Marmonte League opener.
If St. Bonaventure, the No. 8 team in the ESPNLA.com rankings, wants at least share of the league title, it needs to beat Westlake.
"We have something they want and they're used to winning," Westlake coach Jim Benkert said. "We need to match their hunger."
Benkert said stirring that hunger is sometimes challenging with high school players. His football team has conquered every challenge so far this season. But Benkert wants to keep his team focused on improving and preparing for another playoff run.
"It's what we play for," Benkert said. "We're going to go out there and have fun. We've been successful in games like this."
It should be a classic matchup of a top defense against a top offensive team.
St. Bonaventure has given up only one touchdown in its past three games and shut out its past two opponents. The St. Bonaventure offense has been clicking as well, scoring 57 points last week against Calabasas and 52 against Thousand Oaks two weeks ago.
St. Bonaventure linebacker Tanner Souza has anchored the defense. He has also scored four touchdowns in the past three games.
Westlake is averaging 41.7 points per game. Quarterback Nick Isham has thrown 19 touchdown passes and running back Tavior Mowry has scored 11 touchdowns in limited action. Both players have sat out the second halves of some games.
"We do it right. All our kids get in the game," Benkert said. "Statistically, it's a little misleading. In all categories, it's a good matchup."
Other games:
Canyon (7-1) vs. Hart (5-3) at College of the Canyons, Friday, 7:30 p.m.
One of the most heated rivalries in high school football has become a battle for third place in the Foothill League. Canyon is coming off an impressive 59-38 win over West Ranch. Hart has lost two games in a row, the latest, 24-17, to Valencia, the first-place team in the Foothill League.
No. 5 Serra (8-0) at No. 24 Chaminade (8-0), Friday, 7:30 p.m.
The Mission League championship comes down to this. Undefeated Gardena Serra travels to West Hills to play undefeated Chaminade. Serra has the flashy receivers and a state championship. Chaminade has the grinding ground game and home-field advantage. It should be a good one.
Sherman Oaks Notre Dame (2-6) at No. 7 Alemany (8-0), Friday, 7 p.m.
Alemany should have no problem getting past Notre Dame to stay undefeated heading into the Serra League season finale against Bishop Amat. Of course, Notre Dame, at 2-6, would like nothing more than to ruin Alemany's undefeated season.
Newbury Park (3-5) at Oaks Christian (6-2), Friday, 7 p.m.
There's another good game in the Marmonte League. If Oaks Christian wants to keep pace in the Marmonte League standings, it needs a win over Newbury Park. Oaks Christian has a four-game winning streak and is coming off a 21-14 win over Moorpark. Newbury Park is coming off a 34-31 win over Royal.