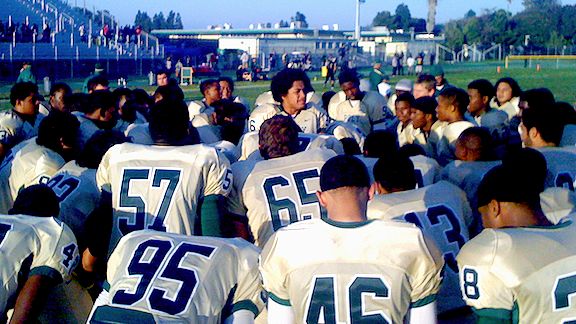 Blair Angulo/Special to ESPNLA.com
Long Beach Poly continues its tough schedule with a home game against Mission Viejo on Friday night.
Consider the tables turned.
Long Beach Poly isn't favored to leave Veterans Stadium with a victory on Friday night -- not with Mission Viejo, ranked No. 3 in ESPNLA.com's latest rankings, coming to town. The Jackrabbits have gone from walking targets to underdogs in a week.
It must be a weird transition for Poly coach Raul Lara, who following last week's three-point win at Narbonne told his players, "Everybody wants to beat you."
Now it's Poly wanting to beat somebody it's not supposed to. Mission Viejo (3-0) knows the feeling and has handled it well.
The same can't be said for No. 16 Poly (2-1), which would rather bury memories of the last time it played at Veterans Stadium. If there are any positives from Poly's embarrassing 32-7 to St. Bonaventure, it's that the Jackrabbits gained perspective.
Sometimes you need to get punched in the face to wake up -- at least that's how Poly defensive lineman Michael Teo tried to describe it.
"We have momentum heading into this week," defensive end Corey Waller said. "Now it's about carrying it over."
Three more to see:
* No. 21 Dorsey (3-0) at Compton (2-1), Friday -- A possible trap game for Dorsey's potent offensive attack. Compton's defense has played well.
* Mira Costa (0-2) at Narbonne (1-1), Friday -- The Mustangs have tested themselves against great competition but have nothing to show for it. Both teams desperately need a victory.
* West Covina (2-1) vs. Glendora (3-0) at Citrus College, Friday -- West Covina proved it can run the ball last week against South Hills. Meanwhile, Glendora looks to rise in the Inland Division rankings.