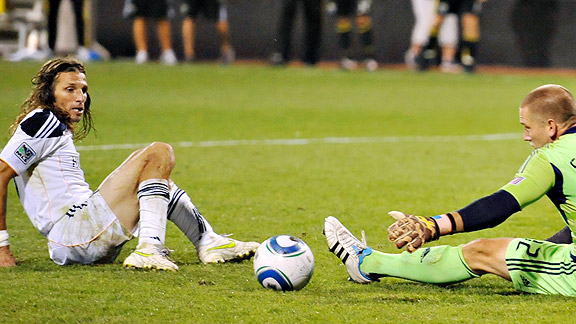 Jamie Sabau/Getty Images
Frankie Hejduk, left, helps Josh Saunders defend the Galaxy's goal Saturday against the Crew.
COLUMBUS, Ohio -- Frankie Hejduk spent eight ofttimes glorious years in Columbus before heading to the Galaxy last offseason, and his return was most memorable.
The veteran defender started at right back and wore the captain's armband for L.A.'s 1-0 triumph Saturday night over the Crew. He received enthusiastic cheers and spent nearly a half-hour after the game talking to fans and signing autographs.
Teammates and coaches even went out searching for him, and when he finally arrived at L.A.'s locker room -- with a Crew scarf in hand -- he was teased that the bus had been ready to go for quite some time, and he was holding everyone up.
"I'll go like this," the shirtless Hejduk responded, flashing a wide grin.
The victory, on Chad Barrett's stoppage-time goal, just made the day sweeter.
"Obviously, it was an emotional day for for me, an emotional game," said Hejduk, who was solid all night and made a big play in the 86th minute, denying an Emilio Renteria feed for Robbie Rogers at the right post. "Whenever you spend eight years of your life somewhere and won some championships and three Supporters' Shields and come back and play against them, it's a little weird."
Hejduk, a former Crew captain, was the right back on Columbus' 2008 MLS Cup title-winners.
He was the sixth Galaxy player to don the armband this season, and he has more wins as captain than David Beckham.
Landon Donovan is L.A.'s true captain, of course, and the club is 14-2-4 when he's in charge. Beckham's record is 0-1-5. Others who have served: Gregg Berhalter (0-0-1), Todd Dunivant (1-0-0) and Donovan Ricketts (1-0-0).
Hejduk said captaining the Galaxy on his old stamping grounds was "special."
"I'm really thankful to Bruce [Arena] for doing that for me," he said, adding, "To step on with the captain's armband brought back some great memories."