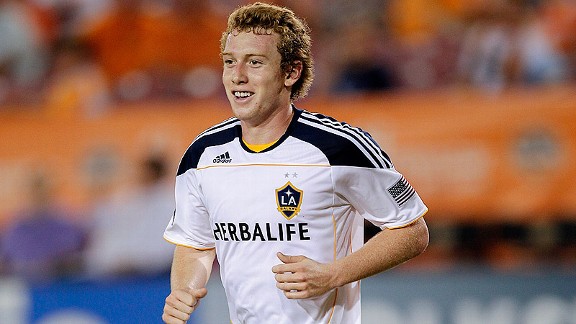 Bob Levey/Getty Images
Jack McBean turned pro at 16, a prospect so bright the Galaxy wanted to begin working with him now.
CARSON -- Scotty McBean knows Landon Donovan has taken his son under his wing, that David Beckham offers him encouragement, that Robbie Keane cracks him up.
He knows because he sees it when he visits Galaxy training sessions or when he attends the team's family events. But hear about it? Remember, Jack McBean is 16.
"Jack doesn't say much," Scotty reports. "He's pretty tough to get information out of."
Ah, teenagers. It's easy to forget just how young Jack McBean is. He'd only be a junior at Corona del Mar High School in Newport Beach, not 17 for another week and a half, if it weren't for his facility on a soccer field -- and the huge upside scouts see in him.
That's why he turned pro at 16, a prospect so bright the Galaxy wanted to begin working with him now, and offered enough cash and incentives to convince his parents to allow it to happen. He wraps up his first season with the club this week as a maturer person, stronger player.
"I go out to practice and watch," Scotty McBean says. "It's unbelievable to see my son out there with these guys. They treat him great, and I think he's starting to feel he's part of the squad. When you're starting, I'm sure it's 'I'm 16, and what's this all about?' Now I see him joking with the team.
"He's really good with you guys [in the media], says the right things. I'm sure he's good with his friends and his teammates. And he's really good at his [community] appearances, that I can see. He loves playing with the little kids -- I think he's very genuine at these events."
LEARNING EXPERIENCE: What Jack McBean does say is he's having a lot of fun.
"It's been really good," he says. "To come in here and feel at home, it's been awesome. I'm really thankful to all the guys and Bruce [Arena] and all the staff, all the veterans. All the guys have been really helpful and nice through the whole year. It's been fun."
It's been daunting, too -- Scotty notes how "very nervous" Jack was when he started working with the first team late last winter, and this year has been about making initial progress toward a future that seems so far away. There's a lot of work to be done between here and there, and the veterans clearly do have his back.
Donovan came down for dinner with the McBeans as soon as Jack signed, sharing his experiences -- the Galaxy captain also signed as a pro at 16, with Germany's Bayer Leverkusen -- and promising to mentor his youngest teammate. The Galaxy's other veterans, Beckham and Keane and Gregg Berhalter and Jovan Kirovski, have stepped up, too.
"I think off the field he's doing very well," Scotty McBean said. "I'm a soccer guy. I watch a lot of soccer, and so did Jack growing up, and I think he knows the game. He has an advantage there, because he really knows the game. It's different to watch than be part of it, and the difference from high school to club to Galaxy academy to the pro team -- it's a big step.
"It's very encouraging when you hear from other players how much they like him and how much potential he has. It's great for me to hear that. And the fact that he's getting minutes is huge."
Jack McBean has seen action in three games with the Galaxy's first team, in the July friendly against Manchester City, the full 90 in the MLS regular-season finale at Houston -- his official debut, which he greeted with a goal on his first shot -- and in Wednesday's victory over Indonesia in the first leg of L.A.'s postseason tour of Asia and Australia. He could see time again Tuesday when the trip wraps up against the Melbourne Victory.
He played in five games for the Galaxy's MLS Reserve League side, leading the team with four assists, and led the Galaxy's U-15/16 academy side to the U.S. Soccer Development Academy title.
The target forward vividly improved his first touch, gained a better box sense and understanding of playing with his back to goal, became more aware of the game -- and thus more involved -- and got a taste for how fast (and how good) is game at the MLS level. Small, simple steps.
"I still have a lot to improve on," McBean says. "But this year I've been really trying to keep it simple, not trying to force things or lose the ball at all. It started off a little rough, but I think toward the end of the year it's gotten a lot better.
"There were a few patches through the year where it's been hard to focus. It's different, 'cause I've never played every day for a whole year. But toward the end of the year, it's been fun, training has been a lot of fun, really competitive and wanting to win."
"Jack progressed a lot," Donovan said. "And the key for him now is to not be the young kid next year who's just happy to be here. We want him to contribute, and he needs to take ownership of that and show that he's ready to play."
'REAL DEAL': The roots of Jack McBean's sudden rise are in Scotty's past. He's a Scot, born in Troon, which also produced Liverpool great (and, until recently, the New England Revolution head coach) Steve Nicol, a family friend.
Scotty McBean is one of seven children, and he and his two brothers spent a lot of time on the pitch growing up. He played on, until he was 40, after immigrating to America in the 1980s.
Scotty is a life-long Manchester United fan, and Jack watched the Red Devils' games with his father, who taught him the finer points of what they were seeing. He played club ball as soon as he could, joining George Larsen's team within the Slammers club in Newport Beach when he was just 8.
Jack hit a growth spurt as he entered his teens and by 14 stood 6-foot, 175 pounds -- as Larsen says: "The body of a man" -- and that's when his game took off.
Jack Gorab, who played alongside McBean with Slammers and at Corona del Mar, had been a teammate since they were 6. "He was just another one of us, maybe a little better," he said, "and then he just soared."
Scotty McBean remembers the first time he saw that, too, when Jack led Slammers to a title at the San Diego Surf Cup, one of nation's top club events, and was selected tournament MVP.
"It was the first time I think he kind of warranted it, that he said, OK, I'll take it on myself ... ," Scotty says. " That tournament, I was like, 'Oh my god, he could be something.' "
McBean was a pivotal figure as freshman in Corona del Mar's run to CIF Southern Section and Southern California Regional titles -- the closest thing to a state championship as exists here -- then led the California-South state team to the Olympic Development Program regional and national titles. Then Slammers won the U-16 national championship.
The Galaxy came beckoning that summer. McBean signed up with the Academy in August, was talking pro contract before winter arrived -- he signed, according to figures released by the MLS Players Union, for a $55,000 salary, with annual guaranteed compensation of $76,000 -- and was in camp with the first team before this season kicked off. Then he was off to residency in Florida and to a World Cup in Mexico with the U.S. under-17 national team.
Suddenly he had fans ("Crazy ... humblng ... unreal ... kind of weird, but cool") and friends who treated him like a celebrity ("There's always the questions about David and stuff, but they've kind of gotten over it. I'm glad").
A real whirlwind.
"It's like a Freddy Adu story, you know," said Brian Ford, another Slammers/Corona del Mar teammate. "If there's anyone to do it, it would be Jack. ... He's great. Mentally, he's better than any kid I've seen. He's got the mental part of soccer down, which is the hardest part."
Larsen, McBean's coach for eight years with Slammers and at Corona del Mar, agrees.
"He's the real deal, yeah," he said. "He's a kid who's going to be playing pro a long time."
ALL ABOUT THE FUTURE: What's so special about him?
Part of it, his dad says, is grace under pressure, a "knack of making it happen when it counts."
"There's something about him that he has," Scotty McBean says. "He's not a nasty player. He's a very humble kid, Jack, but he's got a kind of winning instinct, even when he was a kid playing basketball and soccer. He didn't want to lose. Very aggressive, but always a gentleman with his opponent. Very seldom does he lose his head.
"Maybe it's from watching these game. He been watching Man United since he was a baby, you know."
Larsen says McBean is "as close to what a 16-year-old can be in terms of what makes a professional. Jack's got those qualities.
"One, he's humble. Two, he's hardworking. He's a good person. Those are the core values that you need to have if you're going to have longevity in any career, let alone professional sports, where you have all these pressures internally with your team and externally with the level of competition that is constantly being put on you.
"He's got that makeup that's going to allow him to show up. He's going to show up to work every day, he's going to have a humble approach and try just to get better. Then you add the fact that he knows the game as well as anybody ... I told him: Those were the things I've been trying to teach him, because I had learned years ago that he was learning the game faster than I could teach it. He knows the game."
McBean knows it a lot more after a year with Beckham and Donovan, Keane and Arena, Berhalter and Kirovski. After practicing every day for months on end, after treks to Central America and Indonesia and Australia, after watching all the work that goes into winning an MLS Supporters' Shield and MLS Cup championship.
Maybe these lessons will lead to something special.
"You dream a little," Scotty McBean admits, "but the game of soccer -- it's such a game that can change in one day. One day is good, the next is bad. You never know. I think if he keeps going, he could have a good future. I'd like to think that. It's hard to tell until you actually play with the big boys and play against them. Man City was his first game with the big boys, and it looked to me, you know, he can play in MLS. That's what that game showed me.
"But he hasn't really done anything yet. Once he gets in some serious games and gets some serious minutes, then you can say OK, he's doing something. Where he's at is great, don't get me wrong, but until he does something on the big stage, then you'll see."
Arena says he expects McBean "will get on the field at points next year," and McBean says his goal is "to see the field more with the first team. Just to be thought of next year would be awesome. I want to start playing next year, for sure."
It's all about the future. It doesn't matter a whole lot what McBean accomplishes at 17. When he's 22, 23, 24, 25 -- that's when this is meant to pay off.
"I think the more he plays, the more minutes he gets, the more time he goes on, he's going to [accelerate]," Scotty McBean says. "I can see a difference from when he started with these guys to where he is now. A big difference with his first touch, and he's got a lot of game that they haven't seen much. As he gets older and more confident, the full range of his game will show."