Former MLS striker Yura Movsisyan, an Azerbaijani-born Armenian whose family was granted political asylum in the U.S. nearly a decade ago, has chosen to represent Armenia internationally and made his debut for its national team in a friendly Wednesday against Iran.
Movsisyan, who played at Pasadena High School and jumped from Pasadena City College into Major League Soccer in 2006, decided in the past week to accept an offer from the Football Federation of Armenia. He wore the No. 11 jersey in a 3-1 loss to Iran in Yerevan, the Armenian capital.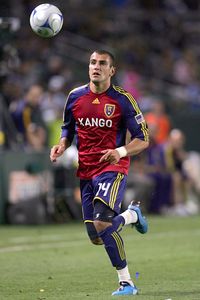 Victor Decolongon/Getty Images
Yura Movsisyan of Real Salt Lake, via Pasadena High School and Pasadena City College, has chosen to play internationally for Armenia.
Movsisyan, 23, remains eligible to play for the U.S. until he represents Armenia in official competition. Armenia opens its 2012 European Championship qualifying slate Sept. 3 against Ireland in Yerevan.
Movsisyan was mentored by Southern California coaching legend Cherif Zein and was brought to MLS by former Galaxy assistant coach Ralph Perez, now the head coach at the University of Redlands. He was the No. 5 pick, by Kansas City, in the 2006 SuperDraft, went to Real Salt Lake in 2007 and scored big goals to send the Utahns to the 2008 playoffs and deliver a first-round victory over Chivas USA.
He signed a pre-contract last summer with Denmark's Randers, joining trhe club after winning the MLS Cup title with RSL in November.
When he turned pro, he told me he hoped to "make the U.S. national team. That's my dream, that I can play for the U.S. national team, go to the World Cup, and that's how I can show my appreciation" for what the United States did for his family, which escaped Azerbaijani persecution to move to the "Little Armenia" section of Los Angeles, stretching from Pasadena through Glendale and into Hollywood.
Movsisyan certainly had the ability to play for the U.S., but when introduced at a news conference earlier this week in Yerevan, he said he decided to play for Armenia after talks with Randers teammate Robert Arzumanyan, an Armenia national-teamer, and with its federation president, Ruben Hayrapetyan.
"I was always interested in Armenian football and Armenia national team," Movsisyan said, according to a release on the Armenian federation's Web site. "(I) play with Robert Arzumanyan in the same club and (we) have always spoken about this. I think I can strengthen (the) Armenia national team. We can achieve good results together."
Armenia coach Vardan Minasyan called Movsisyan "a good player" and said "the results he achieved at his club matches are evidence of his high qualities."
"We keep on finding Armenian players performing abroad and inviting them to our national teams," Hayrapetyan said. "I am very glad that Yura preferred his country's team, having a good chance to play in USA national team. … I hope all our players living abroad will follow Yura's example."