Miguel Angel Ponce is an American, but shhh. Don't let the secret out.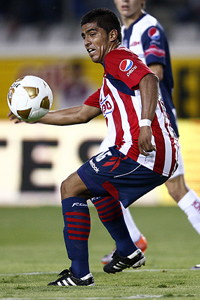 Mario Castillo/LatinContent/Getty Images
Miguel Angel Ponce struggles for the ball in a match earlier this month against Pachuca.
The 21-year-old left back, who has risen in Club Deportivo Guadalajara's system, from the youth teams to a starting job on Chivas' backline, knows well the guiding principle for Mexico's most storied club. Only Mexicans allowed.
Ponce is OK with that, and should the U.S. national team come calling, it's something he'd have to weigh very carefully before making a decision.
Ponce was born in Sacramento but moved to Tijuana, in his parents' native Mexico, when he was still a toddler. He learned the game on both sides of the border, playing at school in San Ysidro and for clubs in Baja California and south of San Diego until he was discovered in his mid-teens at a tournament in Aguascalientes, about 100 miles northeast of Guadalajara.
He climbed from Chivas' third-division team to its second-division team to its team in the old Primera A Division, the second tier of Mexican professional soccer, before making his debut with the big club last season. He has started all but one game during the current Apertura season as Guadalajara has started 2-2-3 in its bid to win a record 11th Primera Division championship.
"I feel so proud [of what I've done]," Ponce said last week. "In Mexico, playing [for Chivas] is the best thing, and I'm part of it. It's amazing."
Ponce, who lived on his own when he first joined the club "at 14 or 15" but was joined by his parents and brother once he was promoted to the 1A club, was back home Tuesday when Guadalajara played Chivas USA in a ChivaClasico friendly at San Diego's Petco Park. He called the emotion of representing the most Mexican of Mexico's clubs in front of family and friends "undescribable."
He's one of nine Americans with a top-division Mexican club -- and one of six that regularly plays -- but although he says he's proud of his American background, he's really "from T.J."
"I was born here [in the U.S.], but in my case, my family's Mexican, so I'm more Mexican than American," he said. "And I'm proud I'm playing at Chivas, the team I liked [while growing up], so I try to do my best always when I am on the field."
Ponce is aware he might one day have to choose between his native land and the country he calls home, but U.S. Soccer, to his knowledge, hasn't inquired about him, and he's not yet on Mexico's radar.
"I think if Mexico or the United States needs me to play for [their] team, I'll do what I'm doing right now …," he said. "Chivas is a Mexican team, so you have to be Mexican to play there, so if I play for the U.S., I can't play for Chivas."
That would influence his decision, he admits. Another American of Mexican descent, Omar Salgado of El Paso, Texas, was forced to leave Chivas in June after accepting an invitation to play for the U.S. under-20 team. He subsequently signed with Major League Soccer and was loaned to the Portland Timbers -- which plays in the second-tier USSF D2 Pro League but will join MLS next season -- through the end of the season. Salgado will be available in next January's MLS SuperDraft.
Ponce has impressed Guadalajara coach Jose Luis Real.
"He has a big future," Real said. "He's come to help us in a position where we had no player -- we don't have enough left-sided players -- and as a young player, he's still finding his way. He needs to be consistent and will get that by playing games."
He made his sixth league start Saturday in a 3-0 loss to Jaguares, the team from Chiapas, and although Chivas has won just once in its past five league matches -- a 3-0 decision Sept. 5 over crosstown rival Estudiantes Tecos, its only competitive victory at new Estadio Omnilife -- he thinks the club is on the rise. It's a matter of chemistry, and he's still developing his with teammates who include World Cup veterans Omar Bravo, Adolfo "Bofo" Bautista, Jonny Magallon and Luis Michel.
Michel, the goalkeeper and captain, and Hector Reynoso, a defender and vice-captain who has been with Chivas since 2000, have become influential mentors for Ponce, talking "to me about this and that, explain to me things. … I'm proud to play [with] them."
His Guadalajara experience: "It's a dream come true."
THAT LOSS: Guadalajara's loss wasn't nearly as bad as the score suggests. Jaguares, winless in its first six games this season, followed last week's 4-0 rout of Puebla with the triumph, but it held a narrow advantage until Carlos Ochoa finished his hat trick with two goals -- with Guadalajara pushed forward in search of an equalizer -- in second-half stoppage.
GROWING GAP: The distance between the top three -- Cruz Azul, Santos Laguna and Monterrey -- is expanding, with five points separating second and third place from fourth and fifth.
Cruz Azul's fifth straight win, Santos' bounce-back from last week's debacle in Queretaro and Monterrey's second straight shutout to extend its unbeaten streak gave them a towering advantage over eight clubs with 10 to 13 points plus Guadalajara, which has nine points and one game to make up.
Group 3 leader Cruz Azul's 3-0 romp over Gallos Blancos kept it atop the overall standings at 7-1-0 (21 points), with Group 1 leader Santos (6-2-0) ahead of Monterrey (5-0-3) on goal difference. Both clubs have 18 points.
Santos, beaten, 5-2-, last week at Gallos Blancos, nipped visiting Necaxa on Christian Benitez's goal nearly four minutes into stoppage, his league-leading ninth of the season. Benitez also assisted Felipe Baloy's strike, a give-and-go following Baloy's weaving run, in first-half stoppage.
Monterrey (5-0-3), which has lost just three times in its last 36 Primera Division games -- and two of those were in Pachuca's upset last May in the Clausura quarterfinals -- topped Atlas, 2-0, on goals five minutes apart from Aldo de Nigris and Humberto Suazo, who has eight goals.
The Rayados, who won last year's Apertura and were the top seed for the Clausura playoffs, have gotten goals from Chilean World Cup forward Humberto Suazo in the last five matches.
Toluca (3-1-4) and San Luis (4-3-1), which overtook America for the top two spots in Group 2, have 13 points, and America (3-2-3) has 12.
ETC.: Toluca fans gave America forward Vicente Sanchez -- their former hero -- as much grief as possible in their showdown, which the Diablos Rojos pulled out, 2-1. on Zinha's 78th-minute free kick. Matias Vuoso scored his fourth of the season for America. … Itamar Batista's hat trick carried UANL Tigres past Puebla, 3-1, Los Camoteros' second straight one-sided defeat. … Morelia has scored just two goals in five games since its 6-0 destruction of Gallos Blancos on Aug. 8. Atlante on Saturday handed the Monarcas their second successive 2-0 defeat. … Pachuca's winless streak hit seven games with a 1-0 loss at San Luis, which has won three in a row and four of its last five. The Tuneros (4-3-1), who on Saturday play at Jaguares in the week's most riveting encounter, got the only goal they needed from Othaniel Arce in the ninth minute. … Goal of the week had to be Jorge Zamogilny's 35-yard rocket to the upper-left corner in Estudiantes Tecos' 2-2 draw with Pumas UNAM.
LIGA DE ASCENSO: Juan Sara scored two minutes into second-half stoppage to give visiting Lobos BUAP a 1-1 draw with Club Tijuana Xoloitzcuintles de Caliente in a battle between the top two clubs in Mexico's second division. The much-traveled Argentine striker Juan Sara's sixth goal of the season was just the second the first-place Xolos (5-0-4) have conceded. Richard Ruiz scored for Tijuana in the 25th minute. … Leon won its first game, routing visiting Dorados de Sinaloa, 3-0, as Jared Borgetti and four-time Paraguayan World Cup selection (2010 included) Denis Caniza scored goals. … Former Chivas USA forward Roberto Nurse has scored in successive weeks for Cruz Azul Hidalgo, which watched a two-goal lead slip away at La Piedad. … The week's big upset: Correcaminos, with just its second victory, overcame an early deficit for a 2-1 decision over Indios de Ciudad Juarez, which dropped from fifth to sixth. Roberto Saucedo and Leo Castro scored for UAT. .. The week's most anticipated game, with Cuauhtemoc Blanco's new club (Irapuato) playing at his previous club (Veracruz), was postponed twice because of Hurricane Karl and is slated to go Tuesday.
AMERICANS IN ACTION: Three Yanks got 90 minutes -- Ponce for Chivas, Marco Antonio Vidal for Pachuca and Joe Corona for Tijuana -- and Riverside's Sonny Ochoa (83rd minute, for Estudiantes Tecos), Herculez Gomez (halftime, for Pachuca) and Jose Francisco Torres (71st, for Pachuca) came on as subs.
Past week's games (home teams listed first)
Friday
Estudiantes Tecos 2 (Zamogilny 20, Cejas 85), Pumas UNAM 2 (Chiapas 39, M. Bravo 47)
Saturday
Cruz Azul 3 (E. Villa 27, Biancucchi 34, A. Cortes 92+), Gallos Blancos de Queretaro 0
Monterrey 2 (de Nigris 52, Suazo 57), Atlas 0
Guadalajara 0, Jaguares de Chiapas 3 (C. Ochoa 15, 92+, 94+)
Santos 2 (Baloy 46+, C. Benitez 94+), Necaxa 1 (Mosqueda 41)
San Luis 1 (O. Arce 9), Pachuca 0
Atlante 2 (Carevic 63, Fano 82), Morelia 0
Sunday
Toluca 2 (Mancilla 25, Zinha 78), America 1 (Vuoso 49)
Puebla 1 (Pereyra 64), UANL Tigres 3 (I. Batista 22, 28, 36)
Standings
Group 1: Santos 18 points, Monterrey 18, UANL Tigres 11, Guadalajara 9, Estudiantes Tecos 8, Necaxa 7
Group 2: Toluca 13 points, San Luis 13, America 12, Atlante 7, Pachuca 6, Atlas 1
Group 3: Cruz Azul 21 points, Pumas UNAM 11, Puebla 11, Morelia 10, Gallos Blancos 10, Jaguares 9
Overall (top 8): 1. Cruz Azul 21 (+13 goal difference), 2. Santos 18 (+10), 3. Monterrey 18 (+8), 4. Toluca 13 (+3), 5. San Luis 13 (+1). 6. America 12 (+2), 7. Tigres 11 (+2), 8. Pumas 11 (-2). Playoffs: If season ended now, the top eight would qualify
Relegation percentage: 1. Necaxa (8 games/7 points) 0.8750; 2. Jaguares (76/86) 1.1316, 3. Atlas (76/86) 1.1316, 4. Gallos Blancos (42/49) 1.1667, 5. Atlante (76/90) 1.1842
This week's games (all times Pacific)
Friday
Pumas UNAM at Estudiantes Tecos, 6:10 p.m.
Saturday
Gallos Blancos de Queretaro at Cruz Azul, 3 p.m.
Atlas at Monterrey, 3 p.m.
Jaguares de Chiapas at Guadalajara, 5 p.m.
Necaxa at Santos, 5 p.m.
Pachuca at San Luis, 6:45 p.m.
Morelia at Atlante, 7 p.m.
Sunday
America at Toluca, 10 a.m.
UANL Tigres at Puebla, 10 a.m.
Schedule subject to change
Leading goalscorers
1. Christian Benitez (Santos) 9
2. Humberto Suazo (Monterrey) 8
3. Itamar Batista (UANL Tigres) 6
Javier Orozco (Cruz Azul) 6
5. Sergio Blanco (Gallos Blancos) 5
Carlos Ochoa (Jaguares) 5
7. Christian Gimenez (Cruz Azul) 4
Gabriel Pereyra (Pubela) 4
Emanuel Villa (Cruz Azul) 4
Matias Vuoso (America) 4
11. Wilmer Aguirre (San Luis) 3
Edgar Benitez (Pachuca) 3
Danilinho (Jaguares) 3
Aldo de Nigris (Monterrey) 3
Johan Fano (Atlante) 3
Dario Gandin (Necaxa) 3
Dante Lopez (Pumas UNAM) 3
Hector Mancilla (Toluca) 3
Miguel Sabah (Morelia) 3
OTHER GAMES
Past week's results (home teams listed first)
Tuesday
CONCACAF Champions League: Monterrey 2 (De Nigris 23, Paredes 55), Marathon (Honduras) 0
CONCACAF Champions League: Municipal (Guatemala) 2 (Rodriguez 28, Castillo pen. 87), Santos Laguna 2 (Ruiz 8, Peralta 13)
Friendly: Guadalajara 0, Chivas USA (MLS) 0 (Chivas USA wins on penalties, 4-2)
Wednesday
CONCACAF Champions League: CONCACAF Champions League: Toluca 3 (O. Gonzalez 18, J. Cuevas pen. 76, Cerda 92+), Puerto Rico Islanders (Puerto Rico) 0
CONCACAF Champions League: Arabe Unido (Panama) 0, Cruz Azul 6 (J. Orozco 10, 22, 27, Villa 67, 80, Biancucchi 86)
This week's games (all times Pacific)
Tuesday
CONCACAF Champions League: Santos Laguna at Columbus Crew (USA), 5 p.m.
CONCACAF Champions League: Toronto FC (Canada) at Cruz Azul, 7 p.m.
Wednesday
CONCACAF Champions League: Seattle Sounders FC (USA) at Monterrey, 5 p.m.
Thursday
CONCACAF Champions League: Toluca at Olimpia (Honduras), 7 p.m.
Past week's results (home teams listed first)
Friday
Altamira 2 (Castillejos 40, R. Rocha 90), Merida 0
UAG Leones Negros 1 (Balcazar 71), Albinegros de Orizaba 2 (E. Dos Santos 70, Cavallo 77)
Saturday
Leon 3 (Borgetti 44, Caniza 67, Bonells 87), Dorados de Sinaloa 0
Sunday
Atlante Neza 1 (S. Gonzalez 72), Pumas Morelos 2 (A. Rodriguez 17, S. Medina 40)
Club Tijuana XC 1 (R. Ruiz 25), Lobos BUAP 1 (J. Sara 92+)
La Piedad 2 (Pelayo 64, J. Barrera 78), Cruz Azul Hidalgo 2 (R. Jimenez 14, R. Nurse 38)
Guerreros FC 0, Alacranes de Durango 0
Indios de Ciudad Juarez 1 (Godinez 5), UAT Correcaminos 2 (R. Saucedo 18, L. Castro 53)
Standings: Club Tijuana Xoloitzcuintles de Caliente 19 points, Lobos BUAP 17, Veracruz 16, Pumas Morelos 16, Alacranes de Durango 15, Indios de Ciudad Juarez 14, Altamira 13, Irapuato 13, La Piedad 12, Albinegros de Orizaba 11, Cruz Azul Hidalgo 11, Dorados de Sinaloa 10, UAT Correcaminos 9, UAG Leones Negros 8, Guerreros FC 8, Atlante Neza 7, Merida FC 7, Leon 5
This week's games (all times Pacific)
Tuesday
Irapuato at Veracruz, 4 p.m.
Friday
Club Tijuana XC at UAT Correcaminos, 6:30 p.m.
Saturday
La Piedad at Pumas Morelos, 2 p.m.
Guerreros FC at Albinegros de Orizaba, 4 p.m.
Veracruz at Dorados de Sinaloa, 5 p.m.
Altamira at Alacranes de Durango, 5 p.m.
Atlante Neza at Irapuato, 5 p.m.
Leon at Merida FC, 5 p.m.
Sunday
UAG Leones Negros at Lobos BUAP, 10 a.m.
Indios de Ciudad Juarez at Cruz Azul Hidalgo, 10 a.m.
Schedule subject (and likely) to change