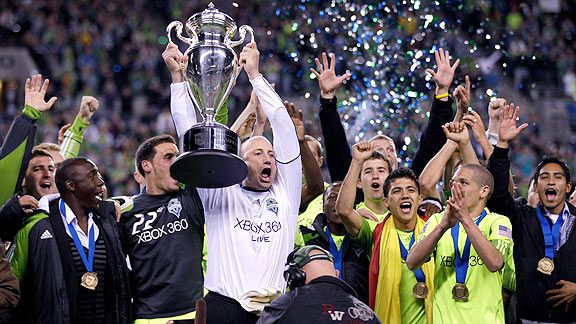 AP Photo/Ted S. Warren
Seattle goalkeeper Kasey Keller holds up the trophy after the Sounders won the U.S. Open Cup on Tuesday night.
Sigi Schmid, the most successful soccer coach to come out of Southern California, won another trophy Tuesday night when the Seattle Sounders toppled the Columbus Crew in an all-MLS U.S. Open Cup final.
Gambian midfielder Sanna Nyassi scored both goals for Seattle, which repeated as Open Cup champion with a 2-1 victory in front of 31,311 fans at Qwest Field in Seattle. MLS clubs have won 14 of 15 titles in America's oldest soccer competition, dating to 1916, since the league began in 1996.
The Sounders are the first back-to-back champions since New York's Pancyprian Freedoms won in 1982 and 1983. Schmid (Torrance/Bishop Montgomery HS and UCLA) has won the tournament three times, also in 2001 with the Galaxy and last year.
"We talked about being special, being the first MLS team to repeat [as Open Cup champions], the first team in a long time to repeat, and the guys really took it to heart …," Schmid said on the Fox Soccer Channel broadcast. "Luck was on our side, we were fortunate there, but we also worked hard and deserved it."
Schmid's Sounders are 3-0-2 against Columbus, the team he guided to the 2008 MLS Cup title, then bolted to take charge of Seattle when it made the jump last year from the second-tier USL Division 1 to MLS.
Nyassi scored in the 37th and 66th minutes after Kevin Burns gave the Crew a 24th-minute lead in a classy encounter featuring attacking soccer from both sides.
Burns finished four-pass sequence highlighted by Guillermo Barros Schelotto's one-touch connection between Emmanuel Ekpo on the right flank and Frankie Hejduk (UCLA) in the box.
Nyassi scored the equalizer after Tyson Wahl (Newport Beach/Newport Harbor HS) sent in a cross that Crew goalkeeper Andy Gruenebaum punched out to Seattle midfielder Nathan Sturgis. Schelotto knocked it away from Sturgis to Nyassi, just inside the box, and he whirled and fired inside the right post.
Nyassi netted the winner with a rebound after Steve Zakuani hit the crossbar.
Robbie Rogers (Huntington Beach and Palos Verdes/Mater Dei HS), just back from a knee injury, nearly pulled the Crew even near the end, striking the crossbar in the 85th minute.
The Sounders beat the Galaxy in the quarterfinals and Chivas USA in the semifinals en route to the title game.