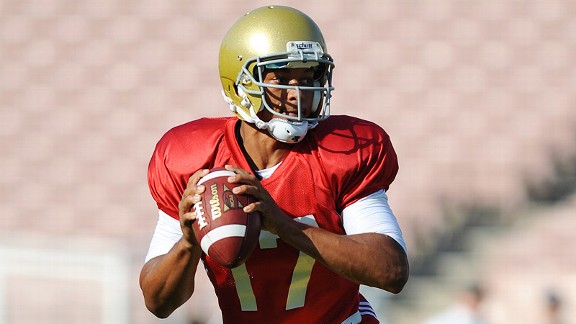 Chris Williams/Icon SMI
SAN BERNARDINO, Calif. -- Upon hearing he was named UCLA's starting quarterback, Brett Hundley allowed himself a few moments of joy.
He shed a few tears and called his parents to tell them. He shared the news with a few friends and they hooted and hollered in celebration.
And just like that, the party ended.
Hundley had poured a year and a half of sweat into achieving this goal and the emotion of the moment overtook him. But he was quickly brought back to reality.
"This means you have to work even harder now," Hundley said his friends and family told him.
Hundley is now the face of the UCLA program and the player looked upon to guide the team out of mediocrity. He's about to face the pressures and scrutiny of playing football at the Division I level for the first time and, fair or not, there is an expectation that Hundley will cure what ails UCLA football.
UCLA quarterbacks have struggled for quite some time and, no surprise, so has the program. The last UCLA quarterback drafted by an NFL team was Cade McNown in 1999. In the 12 years since McNown left, UCLA's record is 77-81 and the Bruins have won more than seven games only twice during that stretch.
Hundley, young and talented, is the next hope for ending the UCLA football doldrums. At 6-foot-3, he's a dual threat who is among the most exciting quarterback prospects the Bruins have had in quite some time.
Yet he's also living proof of how difficult the transition from high school to college can be. He arrived at UCLA in January 2011 as a highly touted recruit but couldn't win the job despite enrolling early to participate in spring practice.
He worked even harder at making the transition, learning the playbook and figuring out how to read college defenses, and when he showed up at spring practice he began to show the potential that had followed him from Chandler High School in Arizona.
Then as he began to outperform Kevin Prince and Richard Brehaut, it became clear who would start for UCLA as new coach Jim Mora steered the program in a new direction. Prince and Brehaut had the experience, but putting a new face on the most visible position had to happen for a team looking to change its identity.
"It's cool to have a new quarterback," Hundley said. "It is a fresh start. We have new coaches, it's a new beginning, we're turning a new leaf on to the season."
Let's be clear, Hundley won the job mostly because he outperformed Prince, Brehaut and Jerry Neuheisel last spring and the first week of training camp at Cal State San Bernardino, not just because he's a new face. Prince and Brehaut have shared the starting duties the past two seasons and both have had some good performances in big games, so having one of them win the job would not have meant the end of the season before it began.
But Hundley has the potential. You can see it in the way he performs in practice, his smart decisio- making and natural leadership qualities. His career arc is still on the rise, while Prince's and Brehaut's seem to have hit plateaus. That said, Hundley is still an untested redshirt freshman with no game experience, and potential means very little without hard work.
"I told Brett, don't mistake potential for performance," offensive coordinator and quarterbacks coach Noel Mazzone said. "You still have to perform when the lights go on."
And that's the great unknown with Hundley: How will he perform under the glare of major college football? In high school, he performed quite well. ESPN.com ranked him the No. 6 quarterback in his class after he passed for 2,348 yards and 20 touchdowns with only two interceptions and rushed for a team-leading 856 yards and 9 touchdowns.
But this is college, with college defenses playing college coverage and sending college blitzes. And this is major college, with rabid fans and scrutinizing media watching every decision the quarterback makes.
Luckily, Hundley has two experienced veterans in Prince and Brehaut standing beside him. Prince recalled leaning on Kevin Craft after Prince won the job in 2009 and said he would play a similar role for Hundley.
"There's just stuff that you don't deal with in high school that you have to learn how to deal with in college," Prince said. "There's a lot of pressure that comes along with being a quarterback in the Pac-12."
Craft "knew what I was going through," Prince added. "He knew the pressures that come along with being a Pac-12 quarterback, he had experienced the ups and downs, and so anytime I didn't know how to handle it, he was there to give me guidance and give me advice. That's what I'll do for Brett."
Hundley will get tested early. His first game is at Rice, and while the Owls are not exactly a powerhouse, it's still a road game for his first career start. Then, he'll face Nebraska, a top-20 team, in the second game of the season.
Mora is willing to take that risk, however, believing that the payoff will be down the road as Hundley adjusts to the college game and gets more comfortable under the spotlight.
"He's still a young, developing quarterback," Mora said. "But we just really believe that as he gets more and more playing time he's really going to be an outstanding football player for UCLA."
Hundley knows all about the expectations that followed him to Westwood a year and a half ago and he's intent on doing whatever he can to live up to them. Learning he won the job was a special moment, but winning the job is only the beginning.
"Now I've got the job, but I've still got to keep getting better every day," Hundley said. "I can't lose sight of that."