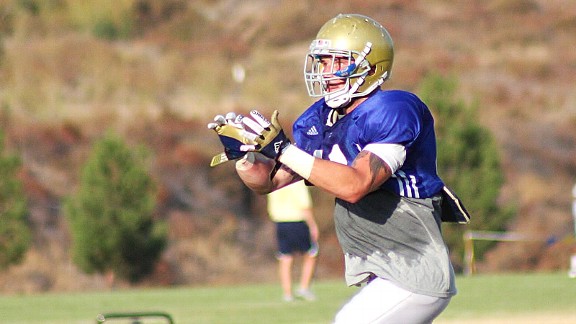 Peter Yoon for ESPNLosAngeles.com
David Allen, a former linebacker, has been called on to play fullback this season. UCLA did not use fullbacks the past two seasons and had none on the roster when Jim Mora took over as coach.
SAN BERNARDINO, Calif. -- Fullback was a foreign word around the UCLA football program the past two seasons as the Bruins ran an offense that never used a fullback. Now the Bruins might sometimes have two.
Coach Jim Mora and offensive coordinator Noel Mazzone are running a scheme that occasionally uses a two-back set and sometimes uses three backs. It looks quite a bit different than the uncrowded backfield of the Pistol and took some roster massaging in order to make it work.
UCLA had no fullbacks on the roster when Mora and Mazzone arrived, so they raided some other position groups to fill the roles. David Allen, a former linebacker, has taken the lead at the position with former tight end Luke Gane and converted linebackers Phil Ruhl and Alek Cusick joining the mix.
And then there is Keenan Graham, the defensive end-turned-linebacker who now is getting reps as a short-yardage fullback in three-back sets.
"It's a changeup pitch every now and then," Mazzone said. "It's just a part of the system. I used it the last couple of years, and it's always been in the game plan, but you see it more now because I just feel like we have a couple of guys here who are more fullback-ish type guys."
The position is not a blocking-only role, either. Allen has caught numerous passes and even got a few carries during Tuesday's practice at Cal State San Bernardino. Mora said the fullback in this offense needs to have versatility.
"First of all, you have to be a good blocker in the run game," Mora said. "You have to be a good pass-protector. You have to have some versatility in terms of sometimes you line up on the wing, sometimes you line up in the backfield. You like a guy that can catch the ball out in the flat and turn it up and make some positive yards."
Allen has impressed in all those areas so far and looks tailor-made for the part even though he hadn't played offense since his senior year at South Pasadena High in 2007. A transfer from Tulane, he had played only on special teams since arriving at UCLA and jumped at the chance when the coaches approached him about making the switch.
"I was excited," Allen said. "I love contact and I think I can contribute as a fullback. I just kind of look at it like fullback is the linebacker on offense -- just a real physical player."
Still, the fullback in this offense might catch the ball more than run it, so Allen's experience as a tight end in high school will come in handy. He's shown good hands thus far in camp, and his toughness helps him get extra yards after contact.
Graham, on the other hand, looks like he will have a blocking role only in short-yardage situations. He played fullback in high school and still will mostly play linebacker but will switch sides when needed.
"I think he sees himself as a little bit of a [Mike] Vrabel type of player," Mora said. "He actually picked it up very, very well. I don't know how much he'll be a part of the first- and second-down package, but he could figure in in third-and-short and fourth-[and]-short or goal-line [packages]."
Graham said he's still working on picking up the offensive terminology because he began taking reps at fullback only Saturday.
"I was a little shocked, but at the same time, I was honored that they asked me to come in [and] play fullback," he said. "I just like to block. I think it's pretty fun. I take it on my shoulders to get the running back some positive yards."
Mora isn't expecting the fullbacks to get many touches. He guessed that Allen would end the season with "five or six catches" and "a couple of runs" although Allen has different ideas.
"I'm always in Coach Mazzone's ear," Allen said. "I'm always trying to get my number called out there."