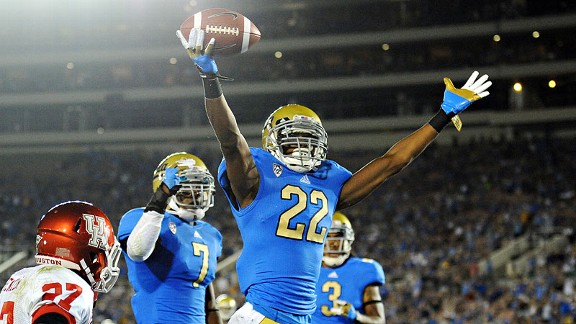 Chris Williams/Icon SMI
PASADENA, Calif. -- This one simply didn't satisfy, which speaks volumes about the current standards of UCLA football.
The Bruins blasted Houston 37-6 on Saturday night at the Rose Bowl, and yet the players and coaches came away feeling as if they didn't play a complete game.
UCLA rolled up 567 yards in offense, more than in any game last season, and yet the Bruins walked away talking about missed opportunities. UCLA limited a high-octane Houston offense to six points and left the game disappointed that it wasn't a shutout.
Last season around this time, the Bruins put on happy faces and came away with "happy to get any win" attitudes after scratching out a 27-17 victory over San Jose State. This year, a 31-point win, which was more lopsided than all but one UCLA victory last season, simply didn't satisfy.
"It's says we're raising [the standards]," coach Jim Mora said. "And every week we're going to try and raise them higher and I don't think you should ever be satisfied until the end of the year when you are a champion. And until we are the champion, we won't be satisfied."
Every team sets the bar at winning a conference title, but the difference is that this year's Bruins truly believe they can do it. That's why a 31-point victory over a team that lost to first-year FBS program Texas State left an empty feeling.
The Bruins had five turnovers in the game and committed eight penalties for 62 yards. Those are the numbers they will remember more than the 567 yards, which happen to be a season low by nearly 100 yards.
Running back Johnathan Franklin had 110 yards rushing and 58 more receiving, and yet it's a testament to how high the expectations are now that it's referred to as only 110 yards rushing. Franklin had 214 and 217 yards in his first two games.
"I think the standard for a team starts with individuals," Franklin said. "For me, I could have done a lot better. Made better reads, ran harder. So we all have to get better and we have to correct the mistakes."
Reminded that his team had just scored more points than it had in all but one game last season -- a 45-6 victory over hapless Colorado -- Franklin just shook it off.
"We're just not satisfied because we understand how good we can be," Franklin said. "God willing, we'll maximize our potential and reach that, but we all understand the talent we have, the skill we have and how good this coaching staff is."
Defensively, the Bruins were brilliant. A unit that had not yet put together a complete game, finally did. Houston, one of the most prolific offenses of the past few years, came in to the game averaging 509.5 yards in offense, but had only 388 Saturday.
UCLA had given up 24 first-half points in each of its first two games, but had a shutout going until Houston quarterback David Piland broke an 86-yard touchdown run against a mostly second-string UCLA defense with 4:54 to play. Still, nobody left content.
"We could have played a lot better," said defensive end Datone Jones. "Great teams finish and we didn't finish tonight. It should be important for any defense to come out with a shutout. A goose egg is a great feeling. We know we're capable of it now so we should be able to get it done next time."
It wasn't all doom and gloom around the Bruins after the game. They are now 3-0 for the first time since 2009, have scored at least 36 points in three consecutive games for the first time since 2005 and should move up a couple of notches in the national rankings.
It's just that the Bruins have a taste for more. Perfection might be a little too much to ask, but as quarterback Brett Hundley said, it's not too much to ask to get "as close as we can get" to perfection.
"The players are happy that we won, but I don't think they are satisfied with the performance of our team and I think that's a really good thing," Mora said. "We can't let it drag us down. We can't feel bad about it, but we have to realize that we still have a lot of work to do."
Yes, the Bruins have to get better, even though Hundley became the first UCLA freshman to pass for 300 yards in consecutive games (he had 320 Saturday). And they have to get better even though Sheldon Price tied a school record with three interceptions. And they have to get better even though Franklin had his 13th career 100-yard rushing game and moved into second place on UCLA's all-time career rushing list with 3,210 yards -- 522 from topping that list.
It wasn't that they won, Franklin said -- it was how they played the game.
"It was just one of those days where it was an ugly win," Franklin said. "I'm happy it happened early in the season and we can learn from it. Now we just need to step up and make sure it doesn't happen again."
A 37-6 win was ugly?
Yes, indeed, the standards have been raised at UCLA.