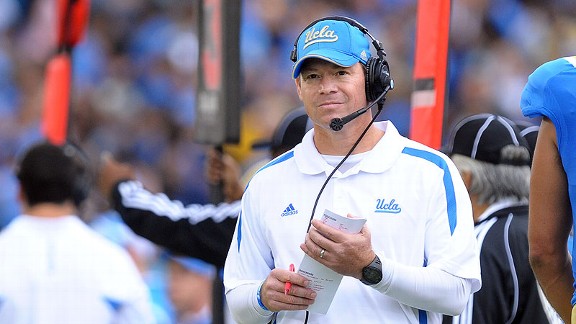 AP Photo/David Hood/CSM
LOS ANGELES -- UCLA football has returned to the national rankings, is in the BCS bowl picture and continues to thrive in big game after big game, so naturally the rumors have begun involving coach Jim Mora being targeted for other high-profile jobs.
Take a deep breath, UCLA fans, Mora isn't going anywhere.
He has helped rescue a Bruins program stuck in mud for most of the past decade and has UCLA in position for a very special season, so he's going to draw some interest from teams such as Tennessee that are looking for a similar type of turnaround.
He's a veteran of the NFL ranks with head coaching experience with the Atlanta Falcons and the Seattle Seahawks and because his star is brighter than it has ever been, that makes him a natural target for pro teams looking for coaches this offseason.
But Mora isn't interested in returning to the NFL or leaving for another college job. Especially not right now, with a huge game against Stanford on Saturday at the Rose Bowl that has major ramifications for the futures of both teams.
"I'm only thinking about Stanford," Mora says, delivering his stock answer when asked about his future.
Mora seems to be having way too much fun at UCLA to be considering leaving right now. Coaching college kids has sparked a fire in him and he believes he has found his calling as a college coach.
And Mora is loyal. He'll do anything for his players and that is why they will do anything for him. His actions and words are calculated moves designed to help protect and improve UCLA football and that's why the program is improving.
He never bad-mouths his players in public, he's honest with them and stays true to his word. A guy with that kind of character doesn't seem like the type to bail out on UCLA after one or two years of a five-year deal.
He is a national coach-of-the-year candidate who joined Terry Donahue (1976) as the only coaches in UCLA history to win nine games in their first season. He joined Tommy Prothro (1965) and Bob Toledo (1996) as the only UCLA coaches to defeat USC in their first season, and two wins over the next three games would get UCLA to the 11-victory mark for the first time in school history.
Those kinds of results turn heads around the country and some schools in the Southeastern Conference have become hot rumored destinations for Mora, but Mora has major ties to Southern California. His parents went to college here and still live here.
About the only job that would make sense for Mora is at Washington, his alma mater, but Steve Sarkisian, Mora's good friend and Washington coach, isn't exactly on the hot seat.
Besides, before this season began Mora talked about how he felt as comfortable at UCLA as he had anywhere in his coaching career. He raved about how much of an impact a college coach can have on players whose minds are still developing, how he was in the right place in his life to settle down and how UCLA was a prime place to build a national power in college football.
"I didn't want to go to a place where I felt like it was just a stop along the way," Mora said. "I wanted to go to a place where I knew I could set some roots and hopefully have an impact and stay for a long time and not be looking for the next thing."
He talked about how most of his career he had hopped from job to job, but always seemed to have his eyes somewhere else.
"It's not about me climbing anymore," Mora said. "I think so many times you're looking for the next thing. I think what feels really good to me about coming here is that I'm not looking for the next thing."
Doesn't exactly sound like a guy who wants to take the next big paycheck, does it?
Of course, there are some situations that could cause Mora's sense of wanderlust to percolate. He'll need to hang on to his assistant coaches and probably will need to give some of them raises in order to do so. UCLA's facilities also are a work in progress -- the new turf at Spaulding Field is only the first step in getting them up to par with those of major programs across the country and across town at USC.
Mora's main goal is to turn UCLA into a consistent national power that will contend for the championship on a regular basis. If UCLA wants to be that kind of a major player, it will have to continue to pony up the resources. If not, Mora may get frustrated and look for a program that is committed to his vision.
Mora wants to keep improving and until UCLA is among the best, if not the best, on a consistent basis, he won't be satisfied. To get there, he'll need continued and additional support from the school and if he gets it, he will be at UCLA for a very long time.