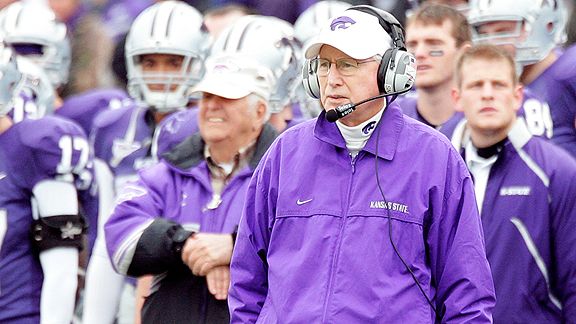 Sean Sewell/Icon SMI
Kansas State coach Bill Snyder watches his Wildcats at Bill Snyder Family Stadium in Manhattan, Kansas.
Any discussion of Kansas State football has to begin with Bill Snyder.
That's Coach Bill Snyder to anyone who doesn't have a stadium named after him.
"I have great respect for Bill," UCLA Coach Rick Neuheisel said before catching himself. "I don't know that he's given me the right to call him Bill. "Maybe I should say Coach Snyder."
That's shows the kind of respect opposing coaches have for the Kansas State legend whose 142 victories are 12th among active FBScoaches and whose innovative thinking -- he's credited with creating the "Wildcat" offense -- can be as much of a factor as any in determining the outcome of UCLA's opener Saturday at Kansas State.
Snyder, 70, came out of a three-year retirement last season and returned to lead a Wildcats program that he had put on the college football map during his first stint from 1989-2005.
He made himself into a legend by taking a downtrodden Wildcats football program and turning it into a national power and now he's trying to do it again.
"It's certainly a challenge in a variety of different ways," said Snyder, who had Kansas State's Stadium named after him when he retired. "I think we're making a little headway, but it's not going to happen overnight. It didn't happen overnight initially and won't again."
Snyder is best known for building a nationally prominent program out of a team that Sports Illustrated once dubbed the worst in the country. The Wildcats were 0-21-1 in the two years before Snyder took over in 1989, but went 136-68-1 during his tenure.
"He's as good as there is at building football teams," Neuheisel said. "We have to anticipate that we're going to play a very fundamentally sound team."
Though Kansas State finished 6-6 last season, including a 23-9 loss to UCLA, the Wildcats steadily improved throughout the season and got into the Big 12 North title race before dropping their final two games.
Expect Snyder to have an even more improved team after having a year of molding the players to fit his system.
"The whole thing is just about trying to get ourselves better," Snyder said. "It takes some patience on our part, but by the same token we have to make that progress and if we can improve our lot on a weekly basis, then we're headed in the right direction and things will work out."
A hallmark of Snyder's rebuilding efforts has been recruiting at the community college level. He once brought in a recruiting class that featured 12 JC transfers and this year brought in four. Three of them will play a significant role Saturday against UCLA.
Snyder said he has looked to community colleges because of difficulty recruiting against Texas, Oklahoma and other Big 12 schools.
"A lot of people feel uncomfortable with recruiting community college guys," Snyder said. "Those are programs that are so fortunate to have the kind of depth that they do. For us, those players have helped supplement our depth when needed."
Three Kansas State Players to watch:
Daniel Thomas, RB -- The Big 12 leader in rushing last season with 1,265 yards, the 6-2, 228-pound back had 247 carries last season and is clearly the focus of Kansas State's offense. He's a big load, has tremendous speed and has the ability to take over a game.
Tysyn Hartman, SS -- This ball-hawking safety led the team with five interceptions last season and his 54 tackles were fourth on the team. He's a two-year starter so he brings experience and was an academic All-Big 12 pick, so he also brings smarts.
Brandon Harold, DE -- He's returning after missing last season with a knee injury, but was a starter as a freshman in 2008, when he 45 tackles, including 10.5 for a loss. The 6-5, 265 pounder is big and quick and is expected to contend for all-conference honors this season.