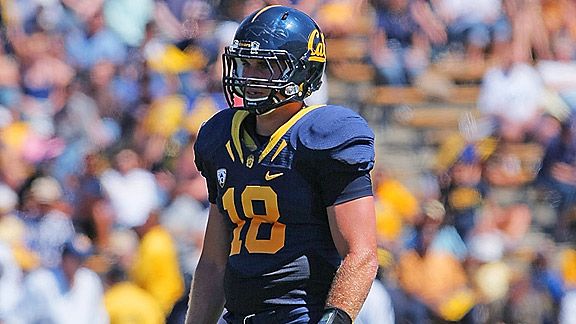 Dave Stephenson/Icon SMI
Cal linebacker Mike Mohamed did not play when the Bears were routed by Nevada, which runs the same offense as UCLA.
As California prepares for its game Saturday against UCLA, you can bet the hot topic of conversation both in film rooms and on the field is the Pistol offense.
Namely, how to stop it and what went wrong the last time the Golden Bears tried.
Nevada, the originators of the offense UCLA now runs, torched California, 52-31, on Sept. 17. The Bears gave up 497 yards in that game, including 316 on the ground.
This is a California defense that has given up only 6.7 points and 62.7 yards rushing in its three other games, so clearly the scheme had something to do with the lopsided loss.
Now the Bears must face it again, going up against a UCLA attack that has used it to average 322 yards rushing and 35.6 points during its current three-game win streak.
But having seen it before will make a big difference, UCLA coach Rick Neuheisel said, and the Bruins will have to assume the Golden Bears have studied hard on how to stop it—especially considering they are coming off an open date and will have had two weeks to prepare.
"I think it's a huge advantage having seen it, and also having two weeks to prepare for it," Neuheisel said. "One of the things about having kind of a novelty offense is that teams don't have a lot of time to get ready for you, but for the second year in a row they have an extra week to get ready for us."
California also has an extra week to stew on a two-game losing streak, having dropped a 10-9 heartbreaker against Arizona, which hit a 51-yard pass and then scored the game-winner with 1:11 to play in that Sept. 25 game.
That means the Bears will be antsy to get the taste of that loss out of their mouths and you can bet they will be focused on stopping the Pistol to do it, although Neuheisel acknowledged that UCLA's version is not quite as advanced as Nevada's.
"Nevada is much further down the road than we are, so I don't think we're carbon copies of each other," he said.
One thing UCLA will have to face that Nevada didn't is the presence of All-Pac-10 linebacker Mike Mohamed, who missed the Nevada game because of a toe injury. Mohamed led the Pac-10 with 112 tackles last season and had 14 in a game earlier this season against Colorado.
On offense, running back Shane Vereen is one of the best in the conference, averaging 106.5 yards a game, and leads a Bears attack that is averaging 36 points a game and scored 52 points in each of its first two games.
California also has history on its side. The Bears haven't lost to UCLA at home since 1998 and have won three of the last four overall against the Bruins, so Pistol or no Pistol, Neuheisel knows the Bruins have their work cut out for them.
"This is going to be a very tall challenge for us to go in there and try to find a way to get one more point than they have," he said.