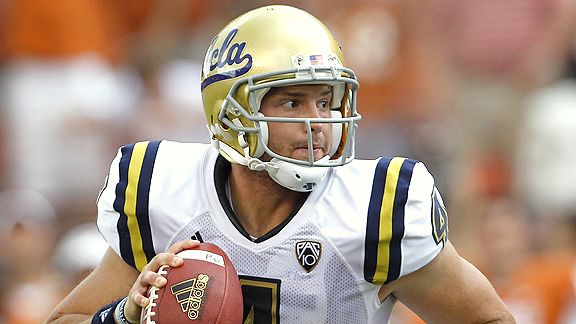 Aaron M. Sprecher/Getty Images
Quarterback Kevin Prince's knee is still giving him problems during practice this week.
UCLA quarterback Kevin Prince had his practice time limited Thursday because his injured right knee has been acting up.
Prince practiced full speed in passing drills and seven-on-seven drills, splitting reps with Richard Brehaut, but ran only three reps during 11-on-11 drills because of a knee he called "stiff and swollen."
"We're trying to rest it and get it better," Prince said. "Get the swelling out of there and get back the full range of what a knee is supposed to be able to do."
Prince originally inured his knee Sept. 25 against Texas. He sat out the following week against Washington State but returned and started last week against California. He has not missed practice this week but sat out the end of practice on Wednesday before taking limited reps Thursday.
He had the same knee surgically repaired when he was a senior in high school and he said that has made it difficult to get a diagnosis of what is causing this injury to linger.
"It's kind of a muddy picture," he said. "So they're not 100% sure on why it is, but the facts are that it is and we're just trying to manage the symptoms."
Prince said that drop-back passing does not aggravate the injury, but that running has caused him problems.
"When you don't have full extension in your knee, it's tough to run, especially getting to top speed," he said. "So running and explosive type movements—cutting and things of that nature—are more difficult than usual."
The flare up comes at an inopportune time as coach Rick Neuheisel was using this bye week to evaluate the quarterback position. Prince and Brehaut were supposed to be in an open competition for the job, but this has hampered Prince's ability to make an impression.
"Obviously if you're not out there, it's tough to compete," Prince said. "I'm just staying faithful that I'll be back out there on Sunday and able to compete and do everything that I need to do."
The Bruins are off Friday and Saturday, so Prince will have a couple of more days to rest before trying to practice again Sunday. UCLA plays Oregon on Thursday, Oct. 21.
Other tidbits from practice:
Neither quarterback had a very good day passing, with several interceptions and more incomplete passes than completions even in one-on-one and seven-on-seven drills. Prince did have a nice long ball to Randall Carroll in one-one-one.

Offensive lineman Eddie Williams missed practice. He went to Hawaii to attend a funeral. Freshman Chris Ward filled in for Williams on the first team.

Andrew Abbott and Courtney Viney continued to get most of the first-team reps at cornerback with Aaron Hester subbing in. Safeties Tony Dye and Rahim Moore mostly played their regular positions but also worked in some at cornerback, as they have all week.

Cornerback Sheldon Price was still on crutches and in a knee brace, but said he hoped to be ready by next week's game. F-back Anthony Barr sat out because of a left calf strain. Receiver Nelson Rosario is off crutches but is still in a protective ankle boot as he tries to return from an ankle sprain.

The team closed practice with a spirited live scrimmage between the scout teams. Redshirt freshman linebacker Isaiah Bowens and freshman linebacker Aramide Olaniyan stood out with several big hits as the defense dominated the scrimmage.