Jacquizz Rodgers is about as versatile as running backs come, and nobody knows that better than UCLA.
Last year, Rodgers helped Oregon State defeat UCLA, 26-19, by using his legs, his hands and his arm.
In that game, Rodgers had 112 yards rushing, 92 yards receiving and completed a 14-yard touchdown pass out of the Wildcat formation.
"Jacquizz is a bona fide superstar," UCLA Coach Rick Neuheisel said. "A for sure NFL back. And he does so much more than carry the ball. He's a wildcat quarterback. He's very adept at protecting the quarterback. He's a great receiver. He's a very versatile player. And very tough to bring down."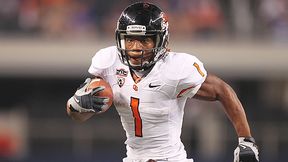 Win McNamee/Getty Images
Oregon State do-everything back Jacquizz Rodgers has 15 total touchdowns on the season, just five fewer than the whole UCLA offense.
This year, Rodgers is second in the Pac-10 and 14th in the nation with 105 yards rushing per game. He's scored a rushing touchdown in every game this year and has a streak of 12 consecutive games with at least one rushing touchdown. His 15 touchdowns this season are tied for the most in the nation.
For his career, Rodgers, a junior, has 3,430 yards rushing--10th on the all-time Pac-10 list, and his 126 career receptions are more than any running back in Oregon State history.
"I don't say this about many players, but he has no weaknesses," UCLA safety Rahim Moore said. "He's tough, quick, fast. Patience. He can catch the ball and throw touchdowns. It's going to take all 11 of us to get to him because if we don't, he's going to be running for days."
Perhaps the most amazing thing about Rodgers, other than his versatility, is his size. He's listed at 5-feet-7, 191 pounds, but looks even smaller than that. But he more than makes up for his lack of size with excellent field vision, shifty open field moves and, most of all, heart.
"People think because he's short and he's not 220, he's not strong," Moore said. "He gets stronger every play every quarter. He's a complete back."
And his touchdown pass against UCLA was no fluke. Rodgers frequently lines up as quarterback in the Wildcat formation and while he most often runs out of it, he threw another touchdown pass last week in a 35-7 victory over California.
"He can pretty much do it all," UCLA linebacker Akeem Ayers said. "There's a lot of things we have to watch out for against him."
Three others to watch:
Stephen Paea, DL, Sr.--This returning All Pac-10 selection is one of the premier defensive linemen in the nation. At 6-1, 311, he is a run-stuffing load and often powers into the backfield. He has 23 career tackles for a loss, including 12 sacks.
Markus Wheaton, WR, So.--Wheaton, a sprinter on the Oregfon State track team, has blazing speed and has picked up the receiving slack in the absence of injured James Rodgers. He has 32 catches for 406 yards and has two rushing touchdowns.
Dwight Roberson, LB, Sr.--The Beavers leader with 50 tackles, he has a sack in each of the last three games. He has 23.5 tackles for a loss in his career and has forced six fumbles. He was an honorable mention All Pac-10 selection last season.