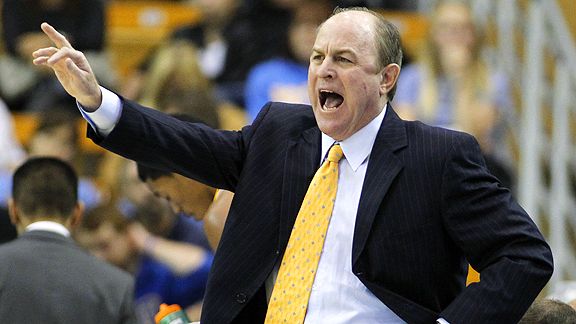 AP Photo/Danny Moloshok
UCLA coach Ben Howland saysit was "very painful to lose" last season, but he has confidence this season will be better.
It seems somewhat strange for UCLA be entering a college basketball season talking about having something to prove and it's just downright sacrilege to dismiss the Bruins basketball team as an also-ran.
But one of the nation's most storied college programs of all time hit a down cycle last season and that sub-par year has dropped the Bruins off the national radar as they prepare to open their season Friday night against Cal State Northridge.
The Bruins went 14-18 last season, only the third losing season at UCLA since 1948, and now find themselves in the unfamiliar role of trying to reestablish their presence a mere three seasons removed from a string of three consecutive Final Four appearances.
"It's very painful to lose and it's a very difficult process to go through, especially at a place like UCLA where the standards are very high," coach Ben Howland said. "But I think that the players who return from last year have really worked hard and they want to have a successful campaign."
That begins with the season opener against Northridge. Last year at this time, the Bruins were preparing to open against Cal State Fullerton, another mid-major that teams like UCLA are supposed to devour in a gimme opening game.
But Fullerton defeated the Bruins, 68-65, in double overtime, a harbinger of the tough season that was ahead. You could argue that the Bruins never recovered from that loss as they went on to lose seven of their first 10 games en route to posting the second-highest loss total at UCLA since 1939.
The Bruins, who also lost to Long Beach State and Portland early last season, learned an important lesson from that opening loss to Fullerton last season and are determined to get off to a better start this season.
"Having last year as an example to look towards this season, we're not taking anyone lightly no matter what division they're in or what their record is," said forward Tyler Honeycutt, the team's leading rebounder last season.
To get the program headed back in the right direction, the Bruins are going to rely on a trio of returning starters in Honeycutt, guard Malcolm Lee and forward Reeves Nelson.
But a lack of depth — UCLA has only 10 scholarship players available this year — means that newcomers will also play a significant role. True freshman Joshua Smith will start at center and junior college transfer Lazeric Jones is the starting point guard. Shooting guard Tyler Lamb is expected to get significant minutes off the bench.
And with that short bench, the Bruins can ill-afford any major injuries, but still, Howland said his team is in a much better place than it was at this time last year.
"Better chemistry," Howland said. "Much better team chemistry. That's the main thing that separates it."
The players have also improved. Intense off-season conditioning has gotten the players in better shape and as a result, made them better athletes. As a result, the Bruins plan to push the tempo in transition this season — a style that seems to fit the athletic Bruins players.
The players also spent a great deal of time working on their outside shooting and Howland said he expected to be a much better team from the outside than the one that shot 32.5% from three-point range last season.
The defense is still a work in progress, though. UCLA was ninth in the Pac-10 in field-goal percentage defense and Howland says that is his biggest concern as the team enters the season.
"We've got to get better defensively," he said. "We're going to get hurt by better teams which are all coming up on our schedule if we don't get better at that."
Still, Howland says he is excited about the potential of this team. With Smith, a 6-10, 305-pound, highly-recruited center manning the middle, the Bruins have a significant post presence that can make an immediate impact.
And they also seem to have the right attitude. Their uniforms say UCLA and the history books say they are supposed to be good, but the players know that doesn't mean a thing until they show it on the court.
"We know a lot of people see us as an underdog this year, and it hasn't been like that in a long time," Lamb said. "So I think that just helps us. It makes everybody come in here and work that much harder every day so we can go prove everybody wrong."