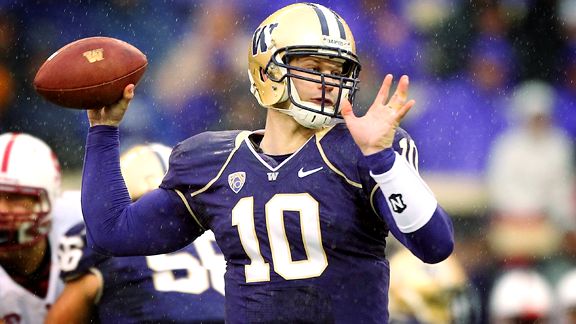 Otto Greule Jr/Getty Images
Washington's success against UCLA could depend on whether quarterback Jake Locker is healthy enough to have an impact.
There are two very important questions Washington will try to answer as it prepares for UCLA in a battle between teams fighting to save their seasons:
1. Will Jake Locker be able to play?
2. If he does, which Locker will show up?
Locker, the Huskies' start quarterback, missed Washington's last game because of broken ribs and his status is still uncertain for Thursday night's game against UCLA at Husky Stadium. His availability may well determine whether Washington (3-6) can end its three-game losing streak and keep alive its hopes for becoming bowl eligible by winning its last three games.
UCLA (4-5) is in a similar situation, needing two victories in its last three games to become bowl eligible and that should add to the intensity of a prime time game to be televised nationally by ESPN.
"It's a big game for both programs because we're both trying to stay alive in post season," UCLA coach Rick Neuheisel said. "There will be plenty of excitement going up there."
Locker, a projected first-round NFL pick, has not exactly been blowing teams away on a consistent basis this season. Sure, he has passed for 882 yards and 10 touchdowns in Washington's three victories, but he has also passed for only 793 yards with four touchdowns and five interceptions in the five Huskies losses he started.
And in his last four games, Locker, considered a legitimate running threat with 1,807 yards rushing and 26 in his career, has rushed for only 43 yards.
Still, Neuheisel said Washington is a better team with the experienced senior leading the team.
"Jake has a boatload of experience," Neuheisel said. "He's been in these kinds of games and has been successful."
If Locker doesn't play, backup Keith Price, a redshirt freshman who started Washington's 53-16 loss to Oregon on Nov. 6, will get the call. Neuheisel said Price plays a similar style to Locker.
"Both are mobile guys so I don't see a real difference in how we approach defending their offense," Neuheisel said.
Attacking their defense might be an easier proposition. Washington ranks No. 114 in the nation against the run, giving up 219.56 yards per game on the ground, which should come as good news to Johnathan Franklin and UCLA's pistol offense. The Bruins are averaging 194.44 yards rushing per game to rank 26th in the nation.
The Huskies are giving up 440 total yards per game, which is 107th in the nation and have given up 36.22 points per game to rank 109th.
Based on common opponents, this should be a fairly even matchup. Both had close home victories over Oregon State, both were shut out at home by Stanford and both were blown out at Oregon.
But Neuheisel warns that Washington's home field will produce and even bigger advantage than normal because the game will be nationally televised by ESPN and because it is Washington's last home game this season.
"It's always a tough place to play and it'll be even more so this time," Neuheisel said.
And he should know. One of the subplots of the game is Neuheisel returning to Washington, where he coached from 1999 to 2002 before he was fired. This is his second trip back there with the Bruins and said this one doesn't have quite as much meaning.
"It was a big deal the first time two years ago," he said. "And that doesn't mean that this is any less significant. It just isn't as emotional for my personal family as it might have been the last time."