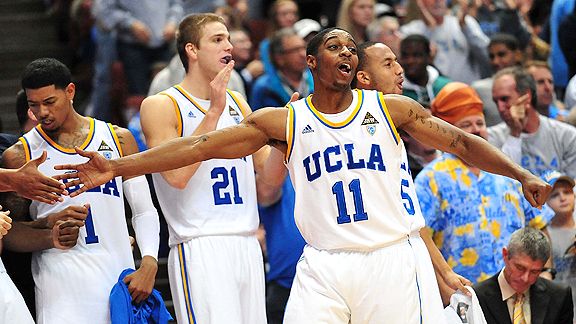 Gary A. Vasquez/US Presswire
Lazeric Jones and his UCLA teammates enjoy the victory over Brigham Young in the Wooden Classic.
ANAHEIM, Calif.--An energized and emotional UCLA played its most complete game of the season and upset No. 18 Brigham Young, 86-79, Saturday at the Honda Center.
It was the first Wooden Classic game since legendary UCLA Coach John Wooden died in June, but his presence could be felt in the way UCLA played the Wooden way -- hard and unselfishly -- for 40 minutes.
"I think it was a big deal because last year we didn't play very well here and that was the last time Coach [Wooden] got to see the game that is named after him played and we didn't represent very well," UCLA forward Reeves Nelson said.
UCLA, which lost to Mississippi State, 72-54, in the Wooden Classic last year, dedicated Saturday's game to Wooden, and while winning for the event's namesake was the highlight of the day, there were some subplots that made this victory significant in the context of the current season.
Here are five things to take from UCLA's valiant victory:
1. The NCAA tournament got a little bit closer for the Bruins.
There are no ifs ands or buts about it: UCLA needed this victory to pad its resume for the NCAA tournament. The Bruins had already lost to Villanova and Kansas and might not face another team ranked in the top 25.
The Bruins have weak nonconference opponents remaining and the Pac-10 is in a down season, so the Bruins are unlikely to get many standout victories the rest of the way. Now, that RPI should get a boost.
"This was a great win for us against an outstanding BYU team" UCLA coach Ben Howland said. "They were high in the RPI and undefeated coming in. That's why this win is satisfying. We beat a team that is definitely going to be in the NCAA tournament. They're going to be a high seed. They're going to win a lot of games so I'm really happy for that."
2. UCLA is figuring out how to win big games
We've heard all season about how young UCLA is and how it would take time for some of the players to learn how to play on the big stage, but now we are seeing signs of that happening.

The Bruins fell behind, 16-6, and it appeared that their nemesis -- the early deficit -- would hurt them again. But UCLA showed marked progress by erasing that deficit. Against Villanova and Virginia Commonwealth last month, UCLA never could climb out of early holes.
"It showed a lot of toughness to fight right back and get back in the game," Howland said. "Our big thing is to continue to work hard and continue to build. We want to keep improving. I'm excited for our team. I think we learned a lot this week and I think it's going to help us as we move forward."
Howland said the Bruins increased their intensity in practice this week and that carried over into the game. He has high hopes for the team if it can continue to play at the same level.
"We're still learning, but it's great to see that when we work hard and prepare as hard as we can and come out and play as hard as we can, we can beat anybody -- anybody in the country -- on a given night," Howland said.
3. Joshua Smith is figuring out the college game
Early in the season, Smith found himself in routine foul trouble and it affected his play. Saturday, he played more than 10 minutes of the second half with four fouls and did not foul out.
His presence was crucial against BYU because he became, in effect, a zone buster. He used his 6-10, 305-pound frame to seal off defenders and UCLA players continually fed him the ball inside for baskets. He finished with 15 points and eight rebounds in only 20 minutes.
"He's as difficult a matchup as we've had here in, this is my sixth season," BYU Coach Dave Rose said. "He's really big, he's strong, he can really catch it."
Smith's only weakness so far has been the ability to stay on the floor because of foul trouble, but showing the ability to stay in the game for an extended period is a big step forward for the big guy.
"When I got my fourth, I'm not going to lie, I let that get to my head," Smith said. "I just did what my dad told me, you get five fouls. Just clear your head."
And Smith with a clear head showed that he can be one of the most unstoppable big men in the country.
"I'm glad we don't play him again because we don't have to game plan for him," Rose said. "But if we did we probably would do some things a little bit different. Right now I don't know what that would be."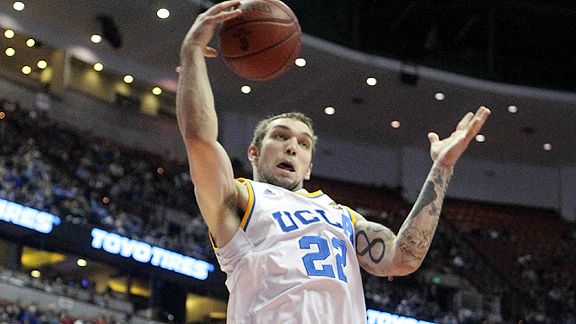 AP Photo/Jae C. Hong
Reeves Nelson scored a career-high 23 points against BYU.
4. Reeves Nelson can be a force
Nelson had what was easily his best offensive game with a career-high 23 points. he also had two assists, one time leading a fast break by bringing the ball up the court and passing off to Malcolm Lee for an 81-72 UCLA lead.
The entire team played unselfishly as the Bruins had 17 assists and only 10 turnovers, but Nelson -- who can play selfishly at times and has disappeared on the offensive end at times -- showed he can be a complete offensive player.
"I liked how aggressive he was," Howland said. "He scored in a lot of different ways. He attacked the basket when we needed, he hit a really nice jump shot against the zone. He's just going to keep getting better and better. It was really gratifying to see him rewarded for his hard work."
5. The Bruins must back it up
The last time it appeared UCLA had turned a corner was when they lost at the buzzer, 77-76, at Kansas on Dec. 2. They followed that up with a lackluster performance in a 66-57 loss to Montana and have not exactly been convincing in victories over Cal Poly San Luis Obispo and UC Davis.
If this victory is indeed to serve as a springboard for UCLA's season, the Bruins must show the same kind of intensity this week in games against Montana State and UC Irvine -- opponents the Bruins should handle with ease -- and not play down to the level of their competition.
"We've already talked about that," Howland said. "That's not going to happen. We're going to have a great practice on Monday and we're going to be really ready to play here on Tuesday night."
The Pac-10 season begins Dec. 29 against Washington State and then comes a New Year's Eve matchup with conference favorite Washington, so any form of a letdown this week would generate the wrong kind of momentum heading into conference play.
But this could be different only because the Kansas game was a loss. Winning against a ranked team generates a different feeling than coming close and losing, so the Bruins should feed off of this result.
"We had come close a couple of times against some really good teams, but we hadn't come out with a win," Nelson said. "It feels good to beat a really good team and show that when we are at our best, we can beat anybody."