The UCLA baseball team has unveiled a new weapon this season, but it's not a freshman or junior college transfer (though Beau Amaral and Dean Espy, respectively, fall into those categories). It's not a change in bats or gloves, either.
The new weapon? Stirrups. Yes, stirrups.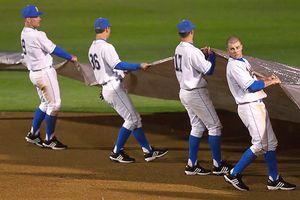 "We went old-school," coach John Savage said. "The whole team did it right when we got together in the fall. I like it -- it's a good look, it's good, old-fashioned baseball. Fans are going to like this team because they play hard."
There has to be more than that, right? Well, yes.
"We realized that the team's we play that have the socks up get lower pitches called balls," said catcher Steve Rodriguez, who should know a thing or two about an umpire's tendencies. "We always get those low pitches called strikes."
Ah hah! It might be an optical illusion, but it's not crazy to think that wearing high socks raises the bottom part of the strike zone just a tad bit. UCLA, a team that prides itself on wearing out opposing pitchers by taking multiple pitches, has drawn 21 walks through four games.
"It seems to be working so far," senior first baseman Justin Uribe said. "Everyone is pretty much buying in. Our pants were normally on the bigger side, so I don't know if we're going to get them tailored this year."