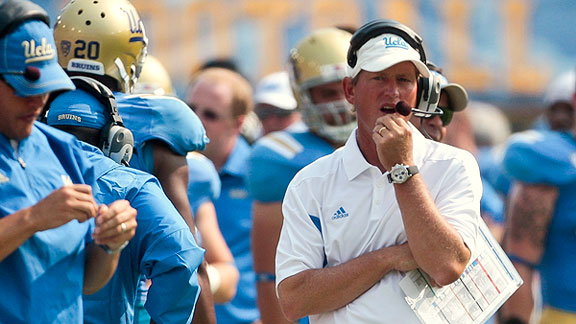 AP Photo/Bret Hartman
The Bruins say they believe in Rick Neuheisel, but playing like they do is another matter.
PASADENA -- He came into the season with a stiff wind in his face and only the force of his relentless optimism pushing him forward.
UCLA could be better. It had to be. Rick Neuheisel was always going to believe that.
But two weeks ago he asked a question that shook at this program's core and will now and forever define his legacy here.
"I can't be the only one who cares!" he screamed at his team after a listless practice leading into the Bruins' non-conference game
against San Jose State.
It was a statement as much as a question. Now, after UCLA's lethargic 49-20 loss to Texas in front of 54,583 at the Rose Bowl, it is the only question that matters: Is Neuheisel the only one who cares?
It's really pretty simple: If Neuheisel is the guy these players want as their coach, if they believe in him as much as he always says he
believes in them, the Bruins play better than they did Saturday afternoon. They just do.
They play cleaner and harder and tougher and smarter. They fight their way back from the 21-0 hole quarterback Kevin Prince never should've been in position to dig for them with three first-quarter interceptions. The kid is clearly not right or healthy yet; he shouldn't have started.
They don't finish with four defensive offsides penalties or have Josh Smith's brilliant kickoff returns called back on holding penalties. They tackle Texas quarterback Case McCoy on his wild scramble at the end of the first half or they defend the wide-open Mike Davis on the play that probably sealed their fate before halftime.
Three Bruins had a shot at McCoy, none of them brought him down. Three more Bruins had a chance to get in Davis' way before McCoy found him
for a 25-yard game on a third-and-18 play. None of them even bothered. Texas scored on the next play to go up 28-7.
Why did they all miss? That's the question Neuheisel and everyone who cares about UCLA must answer as soon as possible.
"I don't want to say it's toughness, because I don't think anyone on our team is scared or anything," junior defensive lineman Datone Jones said. "I just feel like guys are overexcited to make plays and they come up short."
Making plays is one thing, trying to land a big hit that'll make the late edition of "SportsCenter" is another.
"It's an issue," Jones said of the Bruins' tackling woes on that play and too many others Saturday. "We're not wrapping up. I feel like guys are trying to get big hits and they're bouncing right off. That's how I feel."
To Jones' credit, he took responsibility for UCLA's defensive issues personally.
"That's a mental thing," he said. "We have to check it in practice. The coaches can't go out there and tackle for you. You have to check yourself, you have to police yourself and the leaders of the team gotta police you also."
That may be so, and that may indeed happen as UCLA goes forward. But what happened here Saturday wasn't as simple as poor tackling or
decision-making. And it wasn't about technique or toughness. It's about trust.
Neuheisel has never wavered in his belief in his players. He recruited them here and he has coached them. They are his guys and he
will stand behind them, no matter what they do or how badly this season goes.
"I still believe it's possible," he said for probably the 5,000th time since he accepted the UCLA job in 2007. "What's important is that
everybody believes it's possible and go back to work and see if we can't get it done.
"But you haven't got me to the point where I'm pessimistic. I'm still relentlessly optimistic and don't plan to change any time soon."
I've asked a number of those players whether they are as positive about their team and their chances as Neuheisel always is. At times, a
few have questioned the decisions he's made, but not one has spoken ill of the man's character or ability as a coach. But saying you've got a guy's back and playing like you do are two different things.
"I feel like we're trying," Jones said. "All the puzzle pieces are there, we just haven't put them together yet. When we do, you'll see a totally different UCLA team."