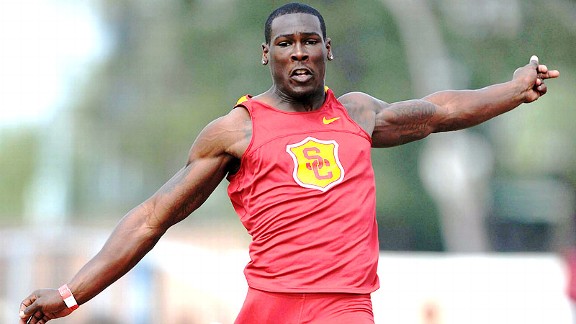 Kirby Lee/Image of Sport/US Presswire
USC receiver Marqise Lee didn't really play much receiver the last couple of months.
The star sophomore-to-be turned to track full-time after spring football came to an end and qualified for the NCAA Championships in the long jump, where he finished second among all freshmen in the country.
He finally returned to the football field last week, participating in unofficial throwing sessions with the Trojans on Tuesday and Friday and building back chemistry with quarterback Matt Barkley. We caught up with him after Friday's hour-long session:
Q: So you spent like six or seven weeks exclusively with track. Be honest: Did you feel like track athlete first, football player second for a while there?
A: I did. It's just the fact of once you're with a team for a while, you start to adjust to what they do, and that's exactly what I did. I know in my heart I'm always a football player, but while I was there I felt like, 'I'm a track athlete, and it's my job to help this team.' But track people were telling me I'm still a football player. At the end of the day, it's all the same.
Q: What about when you were in Iowa for the championships? Did you get a lot of people from across the country coming up to you, recognizing you? There weren't many other athletes there with your level of national notoriety. Did that make you stand out in any way?
A: Most people knew who I was, but they were focused on the fact that I was out there for track, not that I was just a football player. They gave me props sometimes, like, 'Oh, you did good this season,' and all that.
Q: Well, the guy who won your event was also a football player, right? Marquise Goodwin from Texas. And that brings me to another topic. There were three people with your name in the long jump (Florida's Marquis Dendy being the third), and all three were spelled differently. That doesn't happen very often.
A: Yep. It's crazy. At the track meet they kept saying, 'Marqise, Marqise, Marqise.' And I'd turn around and ..., 'Oh,' it wasn't for me. And that's not common at all for me.
Q: Do you think, in October or November, midway through the football season, you're going to be able to look back at your track season and say, 'I'm glad I did that?' And do you feel like it's going to make you a better football player too?
A: I'm pretty sure it is going to, just from the aspect of speed. I feel like I got way faster than what I was. I feel like last year people would tell me I was fast, but I never felt that fast. This year, I'm pretty sure I got way faster, and I think my jumping ability got a little bit better. And the long jump gives you a sense of urgency where you gotta jump without paying attention, just knowing when. And it's the same thing for football, when the ball's in the air. You don't have time to think about it. And track can help me with that.
Q: So do you see yourself doing track again next season? Is it something you enjoyed enough to tough it out with football again next spring? And, if you do, what kind of goals do you have? You finished 17th among all long jumpers as a freshman.
A: I know I'm gonna attempt to do track again next year, I'm not gonna lie. Next year I'm actually gonna take it a little bit further. I'm going to try to make at least top eight in long jump, get on the podium, and I'm really thinking about running. I think I'll do the 100 and I'm pretty sure I'm going to do the 400 too. Just to get back in that shape where I can run for days without getting tired. That 400 will help me with that.
Q: About football, then: You caught 11 touchdown passes last season and posted a bunch of other crazy numbers. You were arguably the most dominant receiver in the country in the final five or six games of the regular season. Do you think you can improve on those numbers and your overall play this year?
A: Oh, yeah. There's a great deal of improvement to be made. I mean, there's a lot I have to improve on. People say, 'Oh, you scored and you did this and you did that,' but that's not the most important part to me. I feel as if I could improve on everything -- my catching, my running, my routes.
Q: And what about your teammate, Robert Woods? You're out here doing football and he's still sitting out in sweats (with lingering inflammation in his surgically repaired ankle). Does that worry you at all, based on what you guys did as a tandem last season and what you could do this season?
A: I know Robert will come over it. It's the smart thing to do to sit out and not necessarily mess it up any more. It's gonna improve -- I'm not worried about it. I wish he was out here with us, but he's still here no matter what, sweats or not. He's out here coaching us up and teaching us what we need to do. There's a lot of things that I still need help with that he's here for. So as long as he's here, I'm not really worried. I know by the time the season comes he'll be ready."