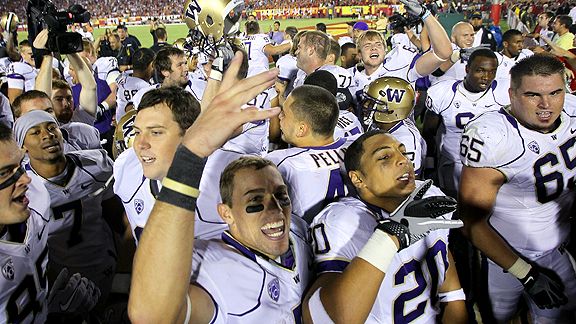 Stephen Dunn/Getty Images
Washington players celebrate after their 32-31 victory over USC on Saturday at the Coliseum, which doesn't seem as intimidating a place as it used to be.
Lane Kiffin called it a "very strange feeling."
It had to be.
Until Saturday night, Kiffin had not walked out of the Coliseum after watching the Trojans lose since 2001, when he was a 26-year-old tight ends coach and Pete Carroll was four games into his coaching rebirth after a failed NFL run.
Unfortunately for Kiffin and USC fans, that sickening feeling could become more and more familiar as time goes on. USC no longer has much of a home-field edge. It may not have any.
The Trojans have lost three of their last five games at the Coliseum. The aura that used to surround the building went up in smoke when Stanford, a 41-point underdog, pulled off that shocking win in 2007, snapping a 35-game home unbeaten streak for USC.
The weirdest thing about Saturday night's 32-31 loss to Washington was that it didn't feel all that revolutionary. Just one middle-of-the-pack team beating another.
You certainly can't blame the fans, more than 80,000 of whom have shown up twice this year to watch a team that just got slapped silly by the NCAA and can't play in a bowl game for two years. The students still yell plenty loud. They still paint their chests. I was on the field just before Jake Locker completed that 18-yard pass on fourth down in the fateful drive and, believe me, it was plenty loud. It just didn't rattle Locker or the receiver, D'Andre Goodwin.
Five years ago, that roar would have been equally deafening, but it would have had the power to scramble an opponents' nerves. These are subtle psychological distinctions.
The Huskies had beaten USC in Seattle a year ago and surely they were aware of the blowout loss USC swallowed to Stanford at the Coliseum last year, coupled with a close loss to Arizona in the final game of the season.
It has reached the point that Trojans fans can no longer guarantee themselves a good time when they buy a ticket these days.
The problems, of course, go deeper than one piece of real estate south of downtown. Kiffin has a little theory about the intimidation factor USC enjoyed at the Coliseum just before he left campus to take over as the Oakland Raiders' head coach in 2007.
"I don't think teams are intimidated playing us because we're not playing very well," Kiffin said. "Even when we were 4-0, we weren't dominating people like we were in the past. The players haven't played well enough to where guys are in fear of playing them.
"That's what happens unless you're one of those five teams at the top who are dominating people, like Oregon is right now. I don't think we have that factor."
One more thing about the old USC way, gone by the wayside.