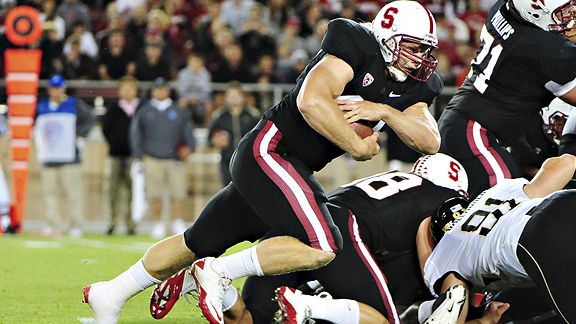 Kyle Terada/US Presswire
Stanford's Owen Marecic can be a menace on both sides of the ball.
In some ways, USC and Stanford really aren't so different.
Both teams are coming off Pac-10 losses that punctured their national aspirations and deflated their fans' highest hopes. Both teams rely on power running games sprinkled with efficient play from quarterbacks who figure to have NFL futures. Both teams like to talk about "toughness" a great deal.
Here's a difference: Stanford is ranked.
For the first time since 1986, the No. 16 Cardinal is going into a USC game with a higher ranking than the Trojans. It has happened only five times in the 100-odd years the teams have been squaring off: in 1940, 1941 and 1971, too. Stanford, which came to Los Angeles and won 55-21 last year, will try to beat USC for the second season in a row. The last time that happened was 2001.
Even with quarterback Andrew Luck, a likely No. 1 overall pick in next spring's draft -- if he declares -- Stanford still relies a good deal on running between the tackles. The Cardinal averages 214 yards rushing per game, just four yards off the pace of last season, when it had Heisman runner-up Toby Gerhart.
This season, Luck hands the ball around. Five tailbacks have played extensively thus far, led by sophomore Stepfan Taylor, who is averaging 75.6 yards per game.
Another bad omen for USC, which has struggled to mount a consistent pass rush, is that Stanford has one of the sturdiest offensive lines in the nation. The Cardinal has given up only two sacks. That's the seventh-best mark in the nation. Last year, these guys gave up only seven sacks, second in the nation to Boise State.
The Cardinal also has the most legitimate two-way player in the nation. Owen Marecic starts at both fullback, where he's viewed as a promising NFL prospect, and at inside linebacker. According to Stanford's press notes, Marecic is "perhaps the only player among FBS school starting on both sides of the ball."
After watching Erik Folk beat their team last week with a 32-yard game-winning field goal, USC fans may not want to hear this, but Stanford also has an ace kicker. Nate Whitaker is 9 for 9 in field-goal tries this season and has made 14 in a row stretching back to last year.