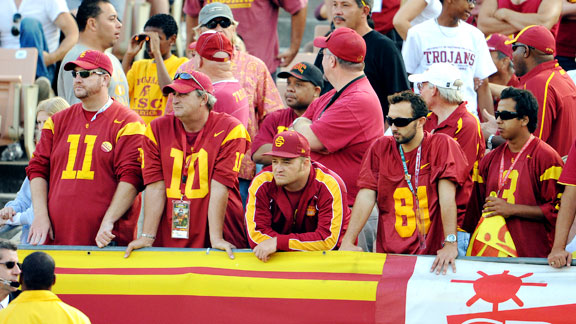 Chris Williams/Icon SMI
USC fans haven't had much to enjoy at the Coliseum lately.
LOS ANGELES -- Casey Matthews had always dreamed of playing in the Coliseum. He watched his brother Clay play on four Rose Bowl teams at USC and had heard stories of his dad, Clay Sr., and uncle, Bruce, making their mark as All-Americans as Trojans.
He always wanted to start a game at the Coliseum and walk off the field as a winner. On Saturday he did just that, albeit in a different uniform than he envisioned while growing up. Then again, if you want to win at the Coliseum these days, it seems your best bet is to play for the opposition.
After Saturday's 53-32 loss to Oregon, USC has lost four of its past seven games at the Coliseum, with two of those losses coming by 21 or more points. The Trojans' defense has given up over 50 points in both of those losses.
"Winning in the Coliseum is huge for me," Matthews said. "It's definitely not like it used to be, though. They're still a good team but it's not the same."
The Coliseum "Red Out," which had been planned and publicized by USC fans for two weeks leading up to the game, turned into a smattering of different colors in the fourth quarter as many of the 88,726 fans left to beat the traffic, unable to watch the end of the blowout loss.
It has become common over the past year but it's still an odd feeling to Lane Kiffin, who was an assistant at USC when the Trojans won 35 straight home games from 2001 to 2007. He wasn't around to see the winning streak snapped by Stanford, a 41-point underdog, three years ago and see the Coliseum's mystique completely shattered last season when Stanford beat USC 55-21. It was the most points ever scored against USC and its worst homecoming loss.
"In the end, you have to win the game to build that mystique," Kiffin said. "When I had left, we had gone five straight years without losing a game at home. This season has been my first experience walking off this field after a loss in eight years."
The Trojans were thrust into the national spotlight this week when undefeated Oregon, the top-ranked team in the AP and coaches' polls, came into the Coliseum. They brought ESPN College GameDay, the national media and a sold-out crowd with them. USC hadn't experienced a home game with this kind of buzz since 2008, when No. 5 Ohio State came into the Coliseum to play USC in the home opener.
Back then, USC was the No. 1 team in the country and in the midst of going to its seventh straight BCS bowl game. This time around, the Trojans -- already with two losses and ineligible to play in the postseason -- played second fiddle to the Ducks, hanging on their national title-contending coattails. USC's athletic department even tried to parlay the buzz around the game by selling ticket packages that included tickets to USC's last two home games against Arizona State and Notre Dame.
All the history and all the buzz and all the mystique of playing in the Coliseum, however, couldn't help USC beat an Oregon team that is doing to opponents this season what USC once did back when the Coliseum was an intimidating venue to play in.
"There's an advantage at home but ultimately they're not going to win the game for us," USC quarterback Matt Barkley said. "It's us who's playing and us who's making the plays. If we're not making plays like we didn't do tonight and we didn't do against Washington, it doesn't matter if we're home or away, we're not going to win. We have to make plays and that didn't happen."
Next week USC will return to the Coliseum as an unranked team to play an unranked Arizona State team, which means the Coliseum will probably be half empty. It's a sight Kiffin hasn't seen in a while but saw regularly when he first arrived at USC in 2001 with Pete Carroll. Back then the team would routinely play in front of crowds of fewer than 50,000 fans at the Coliseum. It's probably a deserved turnout for the first USC team since 2001 to have three losses before Halloween. The only way to attract crowds like they had on Saturday and recreate the mystique they once had at the Coliseum is to do the one thing they have failed to do consistently at home the past two seasons -- win. While Kiffin likes his roster now, he knows it will need to get better if the Coliseum is to become an intimidating place to play again.
"If we get the right players and we do a better job coaching, then the mystique comes back. If we don't, then it doesn't," Kiffin said. "You have to have the confidence that you're going to go in there and win. We have some guys, but now we have to get a lot of them. "