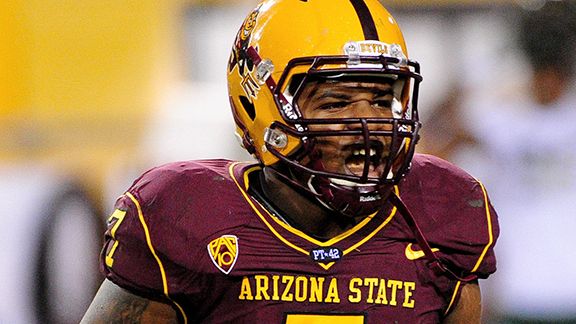 Matt Kartozian/US Presswire
Vontaze Burfict originally was going to be a Trojan but changed his mind and ended up at Arizona State.
In a way, Vontaze Burfict is already in the Trojans' heads.
The Arizona State middle linebacker, a Corona Centennial graduate who once pledged to play at USC before changing his mind, has been a hot topic of conversation around USC's Howard Jones Field this week. The Trojans' offense has spent time trying to figure out how to block or avoid him.
He's that good.

"When he wants to turn it on, he just dominates the game," coach Lane Kiffin said. "I wish he was here."
But they've also spent some time telling themselves not to let his on-field theatrics and (they say) dirty play get them unhinged. Coming off a shutout win over Washington State, the talented ASU defense will be looking to slow down USC's powerful offense Saturday night at the Coliseum.
"I know he's going to be talking, probably late hits and things like that," tailback Allen Bradford said. "I've just got to keep in my game, keep my head and don't play into his games."
Quarterback Matt Barkley, who went to Santa Ana Mater Dei High, played against Burfict four straight years in high school. He has a pretty good idea what to expect from him and two other ASU linebackers, Brandon Magee and Shelly Lyons, who also attended Centennial. In all, ASU has six players on its roster from the Riverside County school.
"Hits after the whistle or late hits out of bounds, trash talking," Barkley said. "We're not going to go that way. He's a good player and all three of those linebackers do certain things like that. Whatever. This weekend, we can't go down that road."
Only a sophomore, Burfict (6 feet 3, 245 pounds) is already well known to NFL scouts and to Pac-10 officials. Sun Devils coach Dennis Erickson briefly benched him after multiple hits after the whistle against Oregon State, a game in which he head-butted quarterback Ryan Katz and threw a punch at an Oregon State lineman.
"We've been talking to him a long time, and we'll continue to do that," Erickson said.
They can talk to him all they want, but that doesn't mean he'll stop talking. The following week, after ASU's 24-14 victory over Washington, Burfict was running up the tunnel when he spotted a group of reporters and shouted, "Tell (Jake) Locker he's overrated!"
Burfict declined an interview request for this story. An ASU spokesman said Burfict has conducted only three interviews since training camp began. Magee, who has been friends with Burfict since they were in middle school, said his teammate has toned down his antics somewhat.
"Especially playing (middle linebacker), you have to be aggressive from the snap. Vontaze is just an aggressive guy. He loves the game of football and goes all out on each snap," Magee said.
Magee said Burfict has a quiet personality away from the game. Bradford said Burfict commented on his Facebook page after last year's game, when they both had a few things to say in USC's 14-9 victory in Tempe, Ariz.
"It's between me and him, but we know what's up," Bradford said. "It's all on the field, competition on the field."
Burfict has become a YouTube sensation, not only for his wild-man demeanor but for his freakish athleticism. Against Georgia last season, he jumped headfirst over the line of scrimmage to stuff the Bulldogs fullback in the backfield on a fourth-and-short.
"He's big, he runs, he hits the hole hard," Bradford said.
The Sun Devils say Burfict is the highest-rated recruit ever to sign at ASU. At the time of his change of heart, he told uscfootball.com that the Sun Devil coaches convinced him he couldn't make it academically at USC.
"Academically, it was a really good fit and he liked the way the program ran," Magee said.
Three others to watch:
QB Steven Threet, JR -- He can be erratic and, not surprisingly, his two best games came against lesser opponents, Northern Arizona and Washington State, but he does have the ability to connect on deep passes. That's a concern for a USC defense that can't seem to find the right combinations in the secondary.
DE Junior Onyeali, FR -- His signature rush, the spin move, has made it challenging for opposing tackles. He had three sacks, four tackles for loss and two forced fumbles against Washington State. He leads the team in tackles for loss and sacks.
RB Deantre Lewis, FR -- Dennis Erickson's teams are better known for deep passing than steady run games, but this guy appears to be emerging as a counterbalance. He's entering the game off three straight 100-yard rushing games. It's the first time since 2003 that an ASU back has pulled that off.