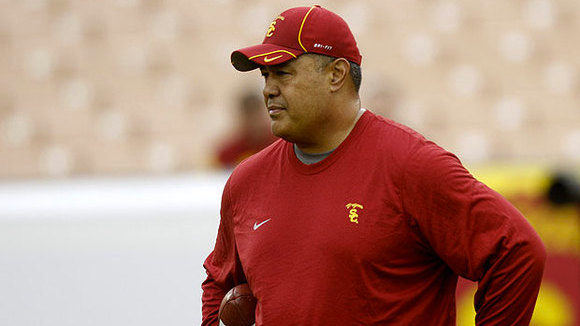 Getty Images
USC running backs coach Kennedy Pola is in Samoa this week to support nephew Troy Polamalu's summer camp, and he's commemorating the occasion by changing his name back to Polamalu. Pola left a recent voicemail for a reporter this way: "Hey ... this is Kennedy Pola. Er, I mean, Kennedy Polamalu."
He has corrected himself a lot these days.
In the second year of his second stint with the Trojans after some time coaching in the NFL, the Trojans' offensive coordinator and running backs coach has decided to formally change his name back to its original form of Polamalu -- leaving behind the shortened version (Pola) he adopted when he first arrived in the U.S. in 1977 at 14 from his homeland of American Samoa.
Why did he change it in the first place, and why is he changing it back now?
"Just like how a lot of immigrants who come to the United States shorten their name, it's just one of those things that people do," Polamalu said by phone last week. "We tried to adjust to the American mainland lifestyle."
He has another perfect example of that in his first name. Polamalu was born on Nov. 22, 1963 and named after the American president assassinated that day, John F. Kennedy. Kennedy is a translation of his birth name as well -- his passport still reads "Keneti."
And, about why he's changing the name now -- in short, he always intended to but just never found the opportunity. He has three kids who are 19 or younger, and he has spent all of their lives parenting, coaching and recruiting -- or moving on to his next job in a new city. He hasn't been back to Samoa since his oldest son, Kennedy Christopher -- K.C. -- was born in 1991.
Kennedy's four other siblings contemplated changing their names too, but he was the first, and he has stuck with it through the years. Former Penn State defensive lineman Al Pola, two years younger, went by the shortened version in college but has gone by Polamalu for some time now. His son, touted high school running back Maika Polamalu, who will play football at Navy next season and reported for camp Thursday, has always used the full version.
The fact one of the most famous athletes in America -- Troy Polamalu -- shares the last name is an interesting twist, but it seems his kids play the biggest role in the matter. Kennedy says his three children -- 19-year-old K.C., a former walk-on at USC, 18-year-old Matthew and 13-year-old Raymond -- have dealt with people asking them about their heritage throughout their lives.
"This is the first time my family is going to Samoa, my wife and kids," Kennedy said. "The other part is that my kids have always wondered why everyone in the family is Polamalu and why not us. Their friends always ask them why, and they're like, 'Oh, my dad shortened it,' because I was the first one they sent to the States.
"Going back to Samoa for the first time with my whole family, I think it's kind of a cool thing."
Troy Polamalu, the attention-getter in the family, is a veritable idol in Samoa. When the traveling party of family members arrived there earlier this week to begin preparation for a camp to teach native Samoans the finer points of American football, governor Togiola Tulufano and his wife were at the airport to meet them. A local newspaper in the city of Pago Pago ran a countdown to the arrival on its website.
Joining the Polamalus in Samoa this week are eight other NFL players, including two former Trojans, guard Deuce Lutui and linebacker Rey Maualuga. Fellow Steelers safety Ryan Clark and Bengals defensive lineman Domata Peko are two of the more recognizable names.
More kids signed up for the camp than Kennedy, Troy and the organizers originally anticipated -- Kennedy estimated 600 or 700 last week -- but they had a plan to organize the competitors into general weight classes and shuffle them between the classroom and the field to maximize learning time.
"We'll go and coach and teach them the game in the avenue that it's allowed us to get an education, and that's what's nice," Kennedy said. "It's not just for football and making the NFL, it's an avenue to, like my parents did for me, not only graduate from high school but graduate from college."
A number of Polynesians growing up in Samoa and Tonga and other areas have followed in the footsteps of Kennedy since his arrival in the U.S. nearly 25 years ago, and he's clearly proud of that. He's also proud, and thankful, to have that opportunity to finally introduce his children to Samoa and give them their real family name.
The legality of changing his name isn't yet finalized, but Kennedy says the trip home will help sort that out. Kennedy has representation assigned to take care of it and he says he anticipates it being in full effect by August.
For now, he's just excited for this week.
"It's one of those things where you finally get to go back home," Kennedy said. "And when you go back home, you have those sentimental times, you know.
"It's gonna be neat."