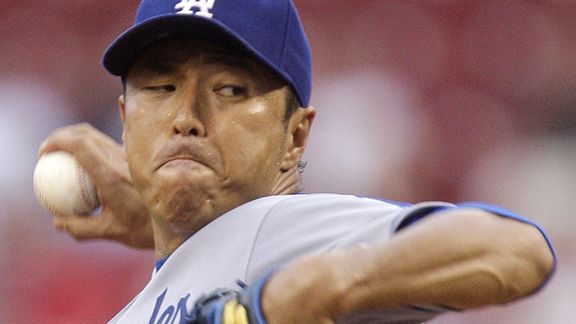 Al Behrman/AP
It was a long night, but Hiroki Kuroda struck out eight in five shutout innings with no walks.After a rain delay of more than two hours, Hiroki Kuroda came back out to pitch the fifth inning for the Dodgers tonight in Cincinnati.
I have no expertise to be able to discuss if this was a risk or not. All I know is that in my roughly 35 years of following baseball, this kind of thing is almost never done because of the fear it will bring injury to the pitcher. But on the day they announced Chad Billingsley was going on the disabled list, the Dodgers did it.
Here's what the Dodgers stood to gain:
1) The 23rd win in the United States for Kuroda, who had thrown four one-hit shutout innings while striking out seven.
2) Possibly a better chance of winning tonight's game, because Kuroda is better than the Dodgers' middle relievers.
3) A little more rest for the bullpen, which figures to be taxed between now and Sunday.
4) Status as pioneers in the You Can Bring Back Starting Pitchers After Rain Delays Movement.
Here's what the Dodgers stood to lose:
1) The game, if Kuroda couldn't regain his effectiveness after the break. He loaded the bases in the bottom of the fifth before getting the final out.
2) The sanity of Dodger fans.
3) Shine off Torre's reputation.
4) Kuroda.
The Dodgers might have made the right decision. I don't know. I do know that most people would say it was a bad bet, and I'm curious why they made it.