Before every series, players are given scouting sheets to supplement film and other work done in practice to help prepare them for the opposition. As an assistant to Byron Scott in New Orleans, coach Dave Miller was responsible for producing such reports, and then to help make sure they make it to a player's gray matter. Below, you'll see an example of a typical personnel report, what Miller might have given the Lakers were he on Phil Jackson's staff.
"I would have handed this out at the first practice after winning Game 4 in Utah," he says.
From there, coaches will go over the details and gauge absorption during the days before Game 1. How much guys actually internalize the material varies by player, but the best guys, Miller says, go well beyond what's handed to them. "The guys who get minutes, they pay attention. I've had guys in the NBA who will read it, learn it, and then come to me and say, "Hey coach, this guy does X or Y." And they're right, and I'll add it to the report. Kobe Bryant doesn't need this. This could maybe be a refresher course for him, because he's a student of the game."
Of course, none of us is Kobe, so the information below is quite handy when it comes to understanding the players L.A. will face starting Monday, and it's an interesting peek inside the preparation process for players and coaches in the NBA. Miller describes this sort of report as "meat and potatoes." Coaches try initially to boil things to the most important information, since (particularly against a team like Phoenix), a player will need to know the tendencies for multiple players on the opposition, if not all of them.
As more film is broken down, coaches will hand out DVDs to players, and continue to add chapters to the scouting book as the series goes on.
Click below to see the report...
PHOENIX SUNS PERSONNEL REPORT
6'3" 178 Steve Nash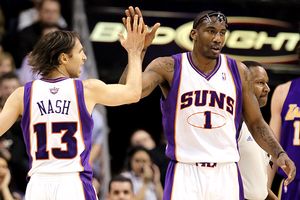 Barry Gossage/NBAE via Getty Images
Our scouting report of Nash and Stoudemire: They're, like, good and stuff.
2-time MVP, Floor general...Loves to push it and/or probe...will also pitch ahead to wings & rim runners
Can score...Loves in/out dribble
Looks to create in pick & roll...can pull up for jumper or finish at the rim
Excellent passer...Excellent FT shooter
Has nice floater in the paint
Amazing offensive player but Average defender but will fight over screens just based on his toughness
Shooting 51% from the field...46% from 3...89% from the FT line in the playoffs
LOCATE in transition and stop the ball...PICK UP EARLY!

Make him come back to receive the ball...Can not let him get a head of steam crossing half court

Stay squared...Keep in front...No paint penetration

Make him shoot over the top of us

Keep him off the free throw line

Don't over HELP

We must wear him down: Make him work!
6' 6" 225 Jason Richardson
Very Athletic...Very EXPLOSIVE...Runs the floor...Will leak out...
Slasher...Driver...Awareness of back cuts for LOBS
Be aware of him on the weak side wing when ball is swung...looking to get to RIM!
Is a VOLUME SHOOTER...with deep 3 range...(Question his shot selection at times)
Dominate right hand driver
Very good offensive rebounder
On LEFT BLOCK: uses rhythm dribble & jump hook over left shoulder
Shooting 51% from the field...52% from 3 in the playoffs
MUST LOCATE IN TRANSITION...(watch for leak outs)

Stay down on his shot fakes...Stay between him and the basket...No direct line drives

Pressure him as a ball handler...NOT a playmaker

Help side defense look to take CHARGES

Contest all shots, but don't foul. Volume shooter. Keep him off the line.

BLOCK OUT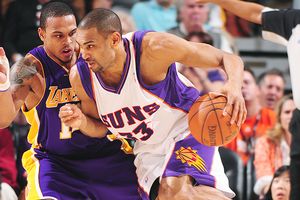 Barry Gossage/NBAE via Getty Images
Non-scouting report value added Grant Hill information: Outstanding piano player, good left hand.
6' 8" 225 Grant Hill
Veteran smarts...still very skilled...High basketball IQ
Good handles...good passer...great decision maker
Wants to put the ball on the floor, pull up
Not as athletic anymore...but knows how to get his shots...plays efficient
Very good finding teammates off of penetration
Loves to drive left and cross over back to his right
Will shoot the three, especially from the corners
Still an excellent perimeter defender
Still rebounds
More efficient with jumper from middle to left side of the floor, colder to the right...
Locate in transition

Still plays the passing lanes quite well

Drive him to rim and make him guard you

Don't foul good free throw shooter

Block Out
6' 10" Amare Stoudemire
EXPLOSIVE PLAYER...Extremely ATHLETIC! Quick jumper...Long reach
Wants to attack rim and DUNK as much as possible
From the wings and elbows will drive favoring right hand
Will catch in post, when he gets it almost always shoots- can be a black hole
Have active HANDS...struggles to pass with pressure... turnover prone
Has inside pivot face up move...
Will leak out in transition so the bigs must run with him
On the blocks he likes to back you down and remember prefers right hand
WATCH him rolling for lobs after he sets middle or sideline pick & rolls
Goes after every rebound (HIT him FIRST when you put a body on him)
Most looks come in the paint, but shooting range is effective all the way to the 3 point line. Mid 40% from 10-15 feet, can hit from 16-20
Locate in transition...Meet and greet and allow NO early or deep post ups

Make him work for everything (We must fight his touches)

Look to TAKE charges on him

Protect middle...Push him baseline when you can

Defend straight up...if he gets started DOUBLE on the post catch

BLOCK OUT
6' 11" 250 Jarron Collins
Fundamentally sound big who will set solid screens
NOT offensively minded... will take charges, looks to disrupt your offense
Has decent hands
Slow footed...and finds himself in foul trouble when up against quicker offensive players
Limited back to basket game...will face up and shoot free throw line jumper
Position rebounder...can hold ground and uses long arms to rebound
Lacks lift inside on second jump
Struggles to score versus physical defenders
Low percentage offensive option, even inside... don't overplay, don't send to the line
BLOCK OUT

When guarding him, be prepared to be a help defender

When the shot goes up, FIND HIM and BLOCK OUT

Run him and look for early rim run scores

Make him guard you in the post

Allow NO initial deep post ups
6' 11" 245 Channing Frye
Long...Good athlete...NOT a great athlete
He is a perimeter player first and foremost
Stretches the defense to give Stoudemire all the room in the world to operate
Looks to trail the break and get a shot in transition
Will pick & pop (stay attached)
In the 1/2 court will spot up for shots
Uses his length defensively...has active hands...alters shots
Averages more than five 3 balls a game, second most on the team, 44% during regular season
Locate him in transition and give NO open shots!

MAKE HIM A DRIVER

Close out with high hands taking away shot first

MUST be physical with him!

CONTEST ALL SHOTS and block out...long shots produce long rebounds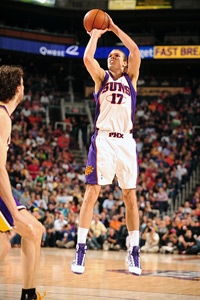 Barry Gossage/NBAE via Getty Images
If Louis Amundson rises to shoot a jumper, that's probably a good thing.
6'9" 238 Louis Amundson
Very ACTIVE offensive rebounder...brings great energy into the game
He gets most of his points off offensive tips & rebounds
Almost all his shots are at the rim... away from the basket, he's no threat to shoot
Uses his athletic ability to score...would like to dunk everything...plays extremely HARD
Foul prone
Wants to block shots
More ORB per 48 minutes than anyone else on their team in playoffs and regular season
Must exceed his ENERGY level when entering the game

Put a BODY on him every shot...KEEP HIM OFF THE GLASS!

Can not let him contribute!
6'3" 202 Leonardo Barbosa
Very versatile...Can play the 1,2,3
May be the fastest end to end player in the league
Quick first step...good ball handler
Looks to score
Uses pumpfakes
Spot up shooter with 3 range...has slow set up and release
Righty, but loves to go LEFT
Has very quick hands - PROTECT your dribble
Decision making often questionable, turnover prone as a guard... stay in front and make him make choices
LOCATE in Transition

Have an AWARENESS of him all night

Can score in bunches: Don't let him get started

No direct line drives

Stay down on his pump fakes

Look to take charges

Attack him offensively...struggles to defend physical aggressive offensive players

Much better weak side defender where he has great timing for STEALS
6' 7" 225 Jared Dudley
Brings unbelievable ENERGY off the bench...sparkplug of the 2nd unit
Can score in bunches...does all the little things...dives on loose balls
Makes things happen on sheer hustle & DETERMINATION
Could become an excellent 6th man in this league
Offensive rebounds
Plays like a junkyard dog
TWEENER
He's like a SWISS ARMY KNIFE > does a little bit of everything!
Can score effectively without having plays called for him
Deadly from right corner for 3... 7 of 13 from that spot in playoffs, only four attempts from left corner
Locate in transition

Exceed his energy level

BLOCK OUT - BLOCK OUT

Beat him to all loose balls...Keep him a non-factor
6' 3" 190 Goran Dragic
Lefty...
SHOOTER! Had a 23 point 4th quarter vs. Spurs
Does a little bit of everything
Has played well in enough minutes to eventually replace NASH
Does not look as ATHLETIC as he is...will finish at the rim and has 3 ball range
Will defend!
Big leap from last year to this year, and must be taken seriously.
Locate...

Pick up early and pressure

Have an AWARENESS of him all night...Contest all shots

Be there on the catch

Limit his paint penetration...stay down on his pivots when he is in the paint